Beyoncé & JAY-Z Just Announced Another Joint Tour & Here's How To Get Tickets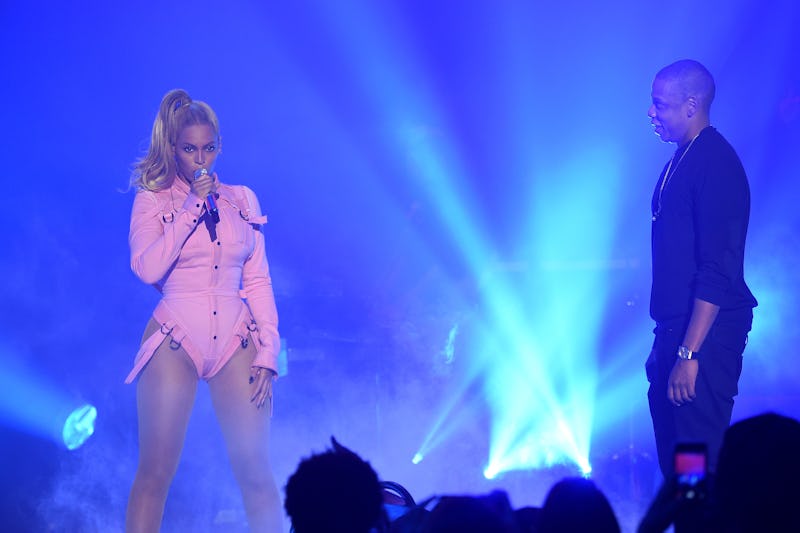 Jamie McCarthy/Getty Images Entertainment/Getty Images
Get ready to spend all the money you have, because the rumors are true. JAY-Z and Beyoncé are going on tour together once again, and the OTR II Stadium Tour is coming to a venue near you this summer. The tour was announced via Beyoncé's Instagram, where she posted a series of videos advertising the joint venture between her and her husband. If you're looking for tickets to see JAY-Z and Beyoncé this summer, then here's what you need to do.
According to the official press release, the OTR II Tour will start on June 6 in Cardiff U.K. before stopping at "15 cities across the U.K. and Europe and 21 cities in North America." But you can start buying tickets as early as March 19 through LiveNation.com as well as other outlets. Unless you're looking to hop a flight in addition to the cost of the tickets, you're likely only interested in the North American tour dates, which can be seen below:
July 25 — FirstEnergy Stadium, Cleveland, OH
July 28 — FedEx Field, Washington, DC
July 30 — Lincoln Financial Field, Philadelphia, PA
Aug. 2 — MetLife Stadium, E. Rutherford, NJ
Aug. 5 — Gillette Stadium, Boston, MA
Aug. 8 — US Bank Stadium, Minneapolis, MN
Aug. 10 — Soldier Field, Chicago, IL
Aug. 13 — Ford Field, Detroit, MI
Aug. 18 — New Era Field, Buffalo, NY
Aug. 23 — Vanderbilt Stadium, Nashville, TN
Aug. 25 — Mercedes Benz Stadium, Atlanta, GA
Aug. 29 — Camping World Stadium, Orlando, FL
Aug. 31 — Hard Rock Stadium, Miami, FL
Sept. 11 — AT&T Stadium, Arlington, TX
Sept. 13 — Mercedes-Benz Superdome, New Orleans, LA
Sept. 15 — NRG Stadium, Houston, TX
Sept. 19 — University of Phoenix Stadium, Phoenix, AZ
Sept. 22 — Rose Bowl, Los Angeles, CA
Sept. 27 — SDCCU Stadium, San Diego, CA
Sept. 29 — Levi's Stadium, Santa Clara, CA
Oct. 02 — BC Place, Vancouver, BC
Tickets to all of the above dates go on sale from March 19.
This isn't, of course, the first time that the married duo have gone on tour together; in fact, this stadium tour is a sequel to the last one the pair went on. Ironically, the On The Run tour was marked with rumors that Beyoncé and JAY-Z would be getting a divorce. The rumors were fed by a moment on the tour when Beyoncé changed the lyrics to her single "Resentment," a song that's about a woman suffering infidelity at the hands of her husband.
Though the song lyrics state "been ridin' with you for six years," Beyoncé sang, "been ridin' with you for 12 years," which is the amount of time that she and JAY-Z have been together. However, the couple ended the tour as strong as ever, with Beyoncé's Instagram serving as a visual testament to how much they care about each other.
In the time since the On The Run tour, and the release of Beyoncé's Lemonade, which kicked the rumors back up, JAY-Z has admitted to being unfaithful:
You have to survive. So you go into survival mode, and when you go into survival mode what happen? You shut down all emotions. So even with women, you gonna shut down emotionally, so you can't connect ... And then all the things happen from there: infidelity.
But, according to the rapper, thanks to therapy and working on their relationship, the two truly are doing better now. So much so that they're about to hit the road again, and this time OTR II is unlikely to be plagued with any of the same rumors. So start saving up for those tickets. This is a show no fan will want to miss.