Could You Be One Of Beyoncé's "Formation Scholars"?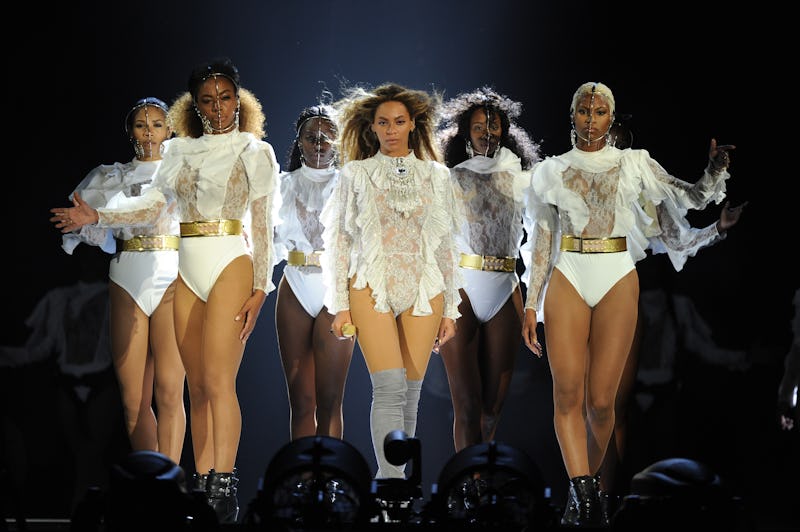 Handout/Getty Images Entertainment/Getty Images
It's been a year since Queen Bey stopped the world to serve us an ice, cold pitcher of sweet Lemonade. In honor of the one-year anniversary of her award-winning visual album, Beyoncé announced the Formation Scholars program for the 2017-2018 academic school year. A statement on the 35-year-old's website explains the philanthropic effort aims "to encourage and support young women who are unafraid to think outside the box."
Beyoncé is awarding scholarships to four college or graduate students who are pursuing a creative career path. So four lucky ladies from four different colleges will be set to uphold Beyoncé's artistic legacy with their academic excellence.
The statement reads:
"To add to the celebration of the one-year anniversary of LEMONADE, Beyoncé Knowles-Carter announces the establishment of Formation Scholars awards for the 2017-2018 academic year, to encourage and support young women who are unafraid to think outside the box and are bold, creative, conscious and confident. Four scholarships will be awarded, one per college, to female incoming, current or graduate students pursuing studies in creative arts, music, literature or African-American studies. The schools selected for participation are Berklee College of Music, Howard University, Parsons School of Design and Spelman College. All details and application deadlines are available directly from the colleges."
Any old school fan of Beyoncé from her Destiny's Child days knows she's all about girl power. Blue Ivy's mama is known for her women's empowerment anthems such as "Independent Women" and "Run the World (Girls)", and she has also supported women-centric events including the Women's March and International Women's Day.
Expanding her inspiring empire to the academic world seems only natural for the future mother of three. Bey picked the perfect variety of schools to support too. Berklee grooms future music stars, Parsons breeds haute couture fashionistas, Howard is one of the most outstanding historically black colleges in all the land, and fellow HBCU Spelman is an all-girls college that crafts some of the nation's greatest leaders, artists, and innovators. Whoever is bey-stowed this outstanding honor certainly has big shoes to fill. But if your work is awesome enough to catch the all-seeing eye of Beyoncé, you're bound to be unstoppable.