Beyoncé Shared Super Adorable Pics From Her Recent Family Vacay With JAY-Z & Blue Ivy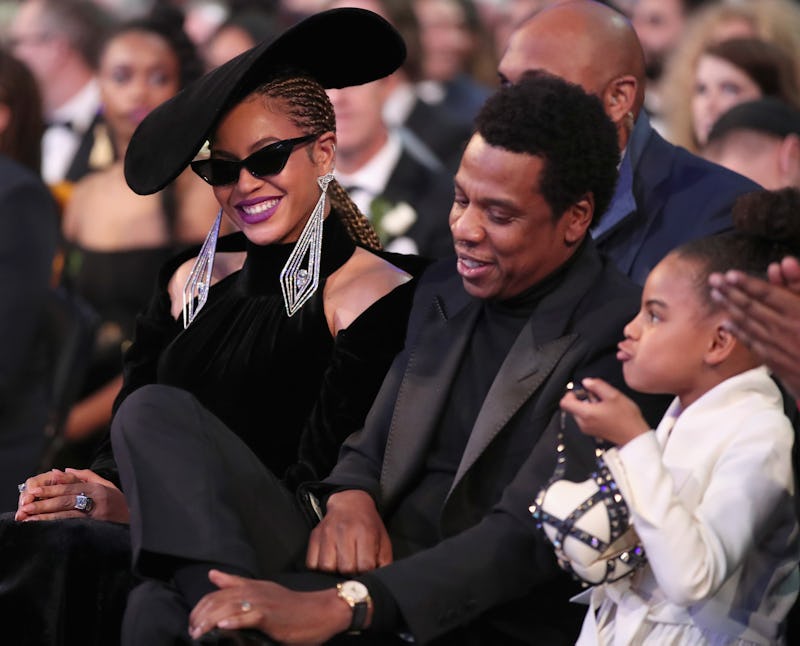 Christopher Polk/Getty Images Entertainment/Getty Images
Attention, everyone: The Carter family is ready to brighten your day. As JustJared noted, Beyoncé posted a family photo on Instagram that is seriously too sweet. Considering the fact that Beyoncé and JAY-Z are famously private when it comes to their personal lives, it's especially significant to see such a casual snap of the fam together.
The "Formation" singer posted a series of Instagram photos from the family's recent vacation. While she didn't tag a location for the snaps, according to E! News, they took the pics while on a trip in Cannes. The beautiful French landscape was on full display on Beyoncé's Instagram account. But it wasn't the only thing that was on full display. In one photo, she shared a rare photo of her family (minus twins Sir and Rumi). The superstar singers and their oldest child, Blue Ivy, all sported big smiles as they posed altogether.
There was no caption needed for the snap, honestly. It's glamorous and sweet all on its own (not to mention, Beyoncé is so iconic that she doesn't really need captions anyway). While the couple's young twins couldn't be a part of the fun snapshot (which you can see if you click through to the third photo in the gallery below), it was nice to see Bey, Jay, and Blue Ivy having some fun in the Cannes sun.
That wasn't the only photo shared from the family's vacation, though. She posted a couple of other pics to her Instagram account, including one where she posed alongside her husband and another with the French Riviera on view in the background. The singer also shared a fun boomerang video of her and JAY-Z. It's nice to see the Carters enjoying their time off, especially since they've been so busy with their On The Run II tour.
Beyoncé rarely shares photos of her family, especially ones that more casual, as these recent Instagram posts are. Of course, she has shared snaps of her growing family in the past, even if those times have been few and far between.
Most recently, she posed alongside JAY-Z and Blue Ivy once again in an Instagram post from March 20. Although, the photos of the family were taken from a red carpet event for WACO Theater's Wearable Art Gala, which was an event that her mother, Tina Knowles, co-founded and hosted, per ELLE. So, it wasn't as though it was all that similar in nature to the pics from their Cannes vacay.
In both of these recent instances, the twins, Sir and Rumi, weren't photographed at all. But it may just be that the pair are going an even more private route as it concerns their youngest children. Ever since the twins were born in June 2017, per People, the Carters have stayed particularly mum on social media as it concerns their kids. The only photo that they've shared which has featured them was one posted by Beyoncé in honor of the twins' first month. Everything about the snap was stunning. Still, it's been the only time that fans have gotten a glimpse at the newest additions to the Carter family.
As for why the husband and wife pair have gone this private route as it concerns their family, they have unsurprisingly been tight-lipped about their choice. But it may just be that they want to keep some of their private moments in their personal life exactly that — private. Seeing as that seems to be the case, it is nice when they decide to go the opposite route by posting a slew of amazingly beautiful (and incredibly casual) photos featuring their lovely family.