Beyonce Wore Little Makeup & No Wig On Her 'Vogue' Cover To Celebrate Her "Natural Body"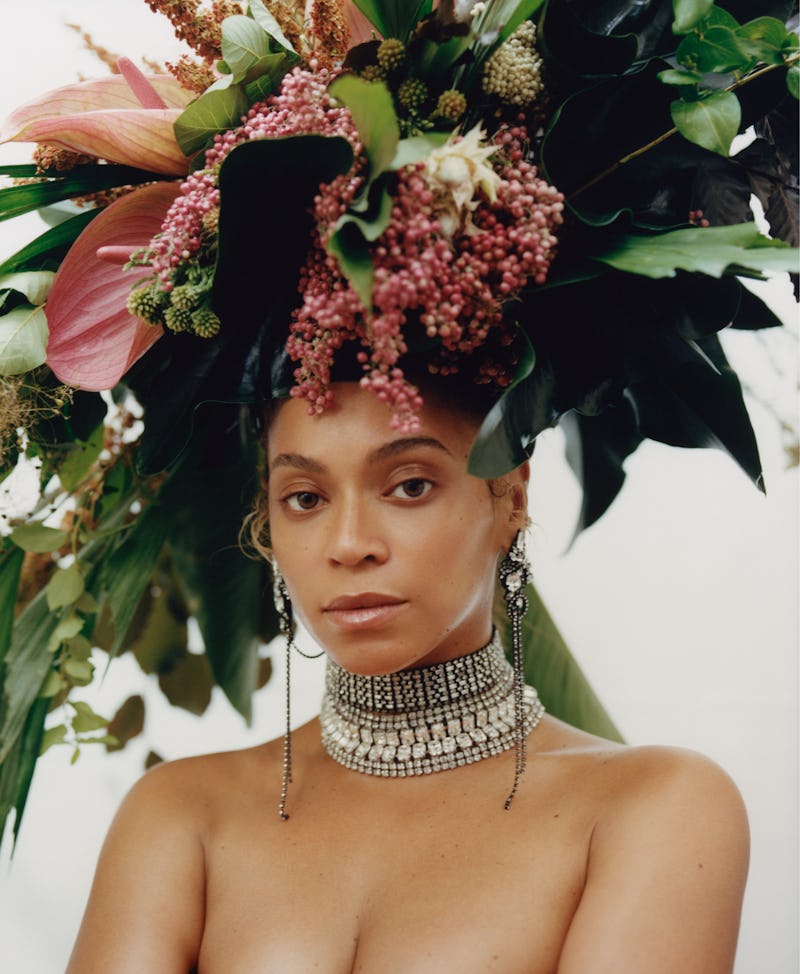 Courtesy Vogue
The moment you've been waiting for is finally here. Beyoncé's September Vogue cover has been released and it features the singer in a super extra flower crown that you will instantly be obsessed with. All the florals mixed with open conversation about body image and a historical photographer moment make this cover epic to say the least.
In case you might have forgotten, Beyoncé was fully in control of her September Vogue cover. From the initial news that she chose a black photographer — a first for the publication — everyone knew that it would be incredible.
Beyoncé opted to make the cover all about celebrating "natural bodies," which included an over-the-top floral headdress from Rebel Rebel for the cover of the magazine. The London-based floral business created some seriously stunning creations for the shoot. The singer pretty much wore an entire field of flowers on top of her head.
It wasn't all about the flowers though. Beyoncé made the issue all about "natural bodies," according to the interview. She wore little makeup and no wigs at all for the shoot.
"I think it's important for women and men to see and appreciate the beauty in their natural bodies," Beyoncé said in the Vogue interview. "That's why I stripped away the wigs and hair extensions and used little makeup for this shoot. To this day my arms, shoulders, breasts, and thighs are fuller."
These shots might be more stripped down than usual, but they definitely did not disappoint. The soft lighting, incredible floral arrangements, and minimal makeup prove that Beyoncé is not playing around when it comes to taking direction.
Don't be fooled by her confidence on the cover though. The singer is not immune to body image issues. She opened up about her own struggles with body image in the interview that went along with the shoot.
"After the birth of my first child, I believed in the things society said about how my body should look. I put pressure on myself to lose all the baby weight in three months, and scheduled a small tour to assure I would do," Beyoncé said in the Vogue interview. "After the twins, I approached things very differently."
While other publications are amping up the makeup and creating new fashion trends with its September Issues, Beyoncé chose to do the exact opposite. You know, while still rocking Gucci and Alexander McQueen dresses.
"I'm in a place of gratitude right now," Beyoncé said. "I am accepting of who I am. I will continue to explore every inch of my soul and every part of my artistry. I want to learn more, teach more, and live in full."
If this flower crown is the type of artistry that she will be doing more of, then the future looks very bright.
This cover is more than just a pretty image and an incredible floral headdress. It's a new era of body positivity and a real conversation about the pressures of social. Now please excuse me while I go craft my own floral headdress and spread the message.