Beyoncé's Twins Could Be Gemini & Twitter Loves It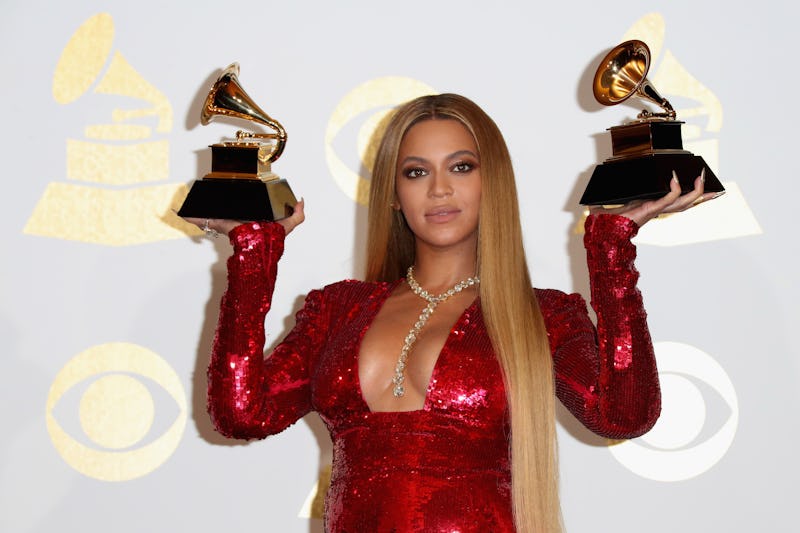 Frederick M. Brown/Getty Images Entertainment/Getty Images
The time has come: On Saturday, June 18, news broke that Beyoncé has reportedly given birth to her twins earlier this week, according to Us Weekly. And social media users have made a keen observation: Beyoncé's twins could be Gemini and Twitter is loving the coincidence. Because zodiac sign Gemini's symbol is the twin — get it? And if indeed Beyoncé and Jay Z's twins were reportedly born at this point in June, that would make Blue Ivy's younger siblings twins who are represented by twins in the stars as well and it's just so cool. (Bustle reached out to reps for Beyoncé and Jay Z for comment, but did not receive an immediate response.)
According to astrologer Susan Miller of Astrology Zone, Gemini season is between May 21 and June 20, making any person born during that time represented by that zodiac sign. Astrologer Mecca Woods wrote in her Bustle astrology column last fall that Geminis are known for "their duality and their ability to find commonality amongst contradiction, as well their ability to say two things at once." And if astrology is to be believed, it sounds like Queen Bey's twins will be a wonderful and fun addition to the Carter family.
And Twitter had plenty to say about the twins' potential zodiac sign. Some fans in the Beyhive were thrilled about the coincidence.
Another fan pointed out that the twins share the Gemini distinction with some other famous names.
This fan wasn't particularly fond of the zodiac sign.
Another Twitter user felt that since Bey's twins are Geminis, everyone should now be kind to the sign.
This fan has somehow determined that if Bey gave birth to two Geminis, they are essentially four people — twins who have the astrological duality of twins, get it?
And this Twitter user felt that the Carter twins have already won astrology, so we can all go home now.
No matter what their zodiac sign, it's clear that the Beyhive already has a lot of love for Beyoncé and Jay Z's twins.