Beyoncé & Jay Z May Have A Boy & Girl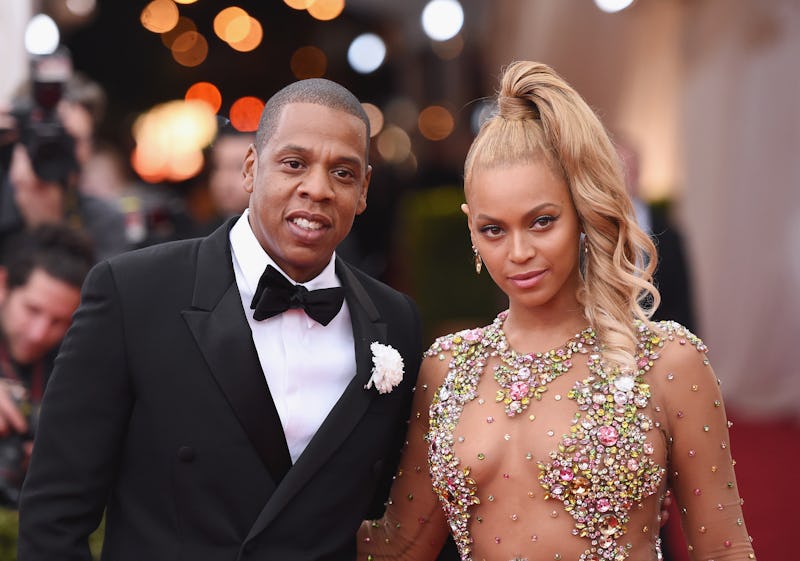 Mike Coppola/Getty Images Entertainment/Getty Images
Beyhive, you may want to sit down for this. According to Us Weekly, Beyoncé's twins may be a girl and a boy. Bustle has reached out to Beyoncé's and Jay Z's reps for comment, but had not heard back at the time of publication. If the rumors prove to be true, then little Blue Ivy could have both a baby brother and a baby sister — seriously, how amazing would that be?
Of course, if the twins are a boy and a girl, then that means the hint Obama dropped at Jay Z's induction in the Songwriters Hall of Fame was misinterpreted. Obama said, "Jay and I are also fools for our daughters, although he's gonna have me beat once those two twins arrive." Many fans took that to mean the former President had the inside track on the babies' sexes, but he could have also been talking about the number of kids the rapper would soon have — two compared to Jay Z's three.
While the couple has yet to confirm the birth of their twins, never mind the sex, Us Weekly claims multiple sources have confirmed the news to them. Additionally, E! Online reported a woman was spotted heading into the Los Angeles hospital where Beyoncé allegedly may have given birth carrying "Baby Boy" and "Baby Girl" balloons. The gift also included a card that read "B & J" — it's not proof the balloons were for Queen Bey and Jay Z, but it's definitely interesting.
Of course, what's most important in all this is that Beyoncé and the twins are all healthy. Hopefully, the superstar will offer an official update soon. But in the meantime, her fans are sending lots of good vibes her way. And if she and Jay Z did welcome a baby boy and a baby girl, then they are sure to have their hands full with their new bundles of joy in the months ahead.