Fans Think Obama Spilled The Beans About Beyoncé's Twins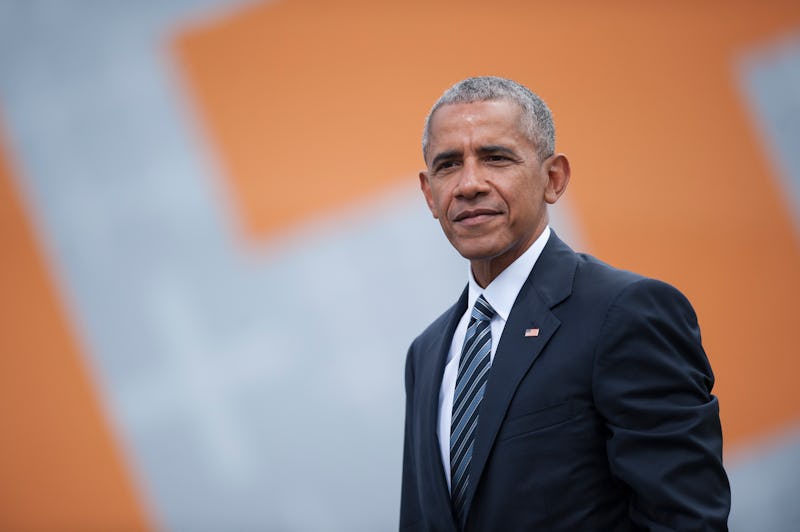 Steffi Loos/Getty Images News/Getty Images
Ever since rumors began earlier this week that Beyoncé has possibly already given birth to her twins, I've been refreshing Twitter on the hour, looking for updates on the state of her womb. But as of late Thursday night, there's a chance we might have gotten some new information on her babies-to-be... completely and totally on accident. Some fans think that, during a speech honoring Jay Z's induction in the Songwriters Hall of Fame, Obama mentioned the sex of Beyoncé's babies, and it's become the subject of a great debate. So what's the deal? Did Obama reveal the sex of Beyoncé's twins or what? Bustle has reached out to Jay Z and Beyoncé's reps but did not yet hear back at the time of publication.
There's one line in question from the speech that started this whole thing, and since then, Twitter has totally run with it. While listing off the similarities between him and Jay Z, Obama said, "Jay and I are also fools for our daughters, although he's gonna have me beat once those two twins arrive."
Immediately, fans lost it, thinking that Obama had just revealed that the twins are girls. Of course, it's far more likely that's not necessarily what he meant; since Obama has two kids (Malia and Sasha), Jay Z will have him beat in the number of children he has when the twins are born and make him a father of three.
But then again, there's always the (much slimmer) chance that Obama did just accidentally tell the world that Beyoncé is having girls, and as if on cue, everyone freaked out.
Some people thought it was an accident:
While others thought that maybe, Jay Z was going for a new level of epic, having a former president announce the sex of his babies:
And some people are just confused:
While it totally would have been cute if Jay Z had asked Obama to share the sex of his babies, it doesn't seem that plausible; if that were the case, the announcement would have been a bit grander and less subtle. It also didn't seem like Obama let anything slip, either. He was the president, you know. So he's kind of good at keeping secrets, even ones this juicy.
Far more likely? Obama was just talking about Jay Z's three kids to his two. Boring, yes, but at least it gives us the room to focus on what this speech is actually about: Jay Z's accomplishments and the adorableness of the entire video as a whole.
All will be revealed about Beyoncé's twins soon enough, and until then, speculating is pretty fun. Maybe Obama would like a fair shot to weigh in on his prediction — but intentionally, this time. My money's on one boy and one girl.