The Reason Beyonce Hired A Black Photographer For Her 'Vogue' Cover Is So On Point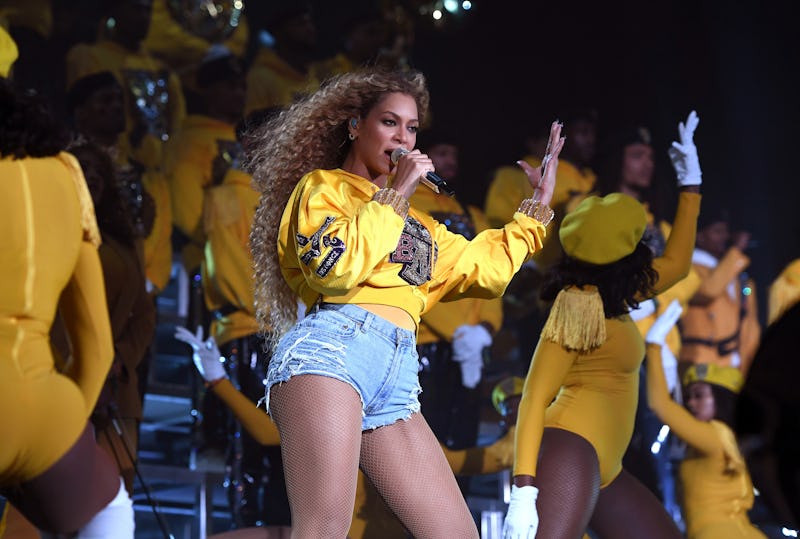 Larry Busacca/Getty Images Entertainment/Getty Images
On Monday, Aug. 6, the first pieces from Beyoncé's Vogue September issue were released. While she posted Instagrams of the covers on her account, Vogue also published her cover story, as told by Beyoncé herself. In the piece, she talks about her body, her relationships as a mother and a wife, and her famous Coachella gig this year. But Beyoncé's comments on diversity in art are especially revelatory, and explain why "opening doors" to other artists, like she has done with her Vogue cover shoot, is so vital for growth in art and entertainment.
In a move that made history, Beyoncé was given "unprecedented control" over her Vogue feature, according to a report form HuffPost, and on top of that, she enlisted Tyler Mitchell, to photograph her, which is the first time, ever, that an African America photographer has shot the cover of Vanity Fair, a magazine that has been around for 126 years. The 23-year-old photographer has captured artists, brands, and even did the Teen Vogue cover that featured the March For Our Lives women, as reported by The Cut.
In the article, Beyoncé explained why it was important to her to give a young artist like Mitchell a chance. "Until there is a mosaic of perspectives coming from different ethnicities behind the lens, we will continue to have a narrow approach and view of what the world actually looks like. That is why I wanted to work with this brilliant 23-year-old photographer Tyler Mitchell." Taking full control of this momentous cover on one of the biggest Vogue issues of the year, Queen Bey is truly stepping in to fight for diversity in art and in general.
She goes on to say that she was once told she could never do magazine covers or photoshoots of that kind, because "black people did not sell." A myth Beyoncé has disproven time and time again — this is, after all, her fourth Vogue cover to date. But even though she might have proven herself worthy of being on the cover of a magazine, she knows it's not enough just to enjoy her success, she wants to share it.
If anyone has the power to invite more diverse voices into artistic spaces like Vogue, it's Beyoncé. And that's exactly what she plans on doing. "There are so many cultural and societal barriers to entry that I like to do what I can to level the playing field, to present a different point of view for people who may feel like their voices don't matter," she told the magazine, noting legends like Nina Simone, Aretha Franklin, and Whitney Houston, who, just by existing, opened the door for her to do what she does today.
Beyoncé added that a diversity of voices doesn't just help those who feel underrepresented, it helps all people who want to encourage and enjoy art. "If people in powerful positions continue to hire and cast only people who look like them, sound like them, come from the same neighborhoods they grew up in, they will never have a greater understanding of experiences different from their own," she said. By keeping the circle of creatives small, the singer asserted, people in power are also choosing to limit what people can create. In other words, if people continue to do what they've always done (which is cast mostly white actors and write mostly white stories or have mostly white writers in general), then there will always be the same art and entertainment. It's why Beyoncé said she enjoys social media, telling the magazine, "The beauty of social media is it's completely democratic. Everyone has a say. Everyone's voice counts, and everyone has a chance to paint the world from their own perspective."
In a world that is just starting to truly gain different perspectives, this push for increased diversity needs to be recognized as vital to the growth of the art and entertainment industries. With supporters like Beyoncé behind it, it'll hopefully be successful in the long run.