The 'Big Little Lies' Author Has A New TV Series In The Works About Strong Women Characters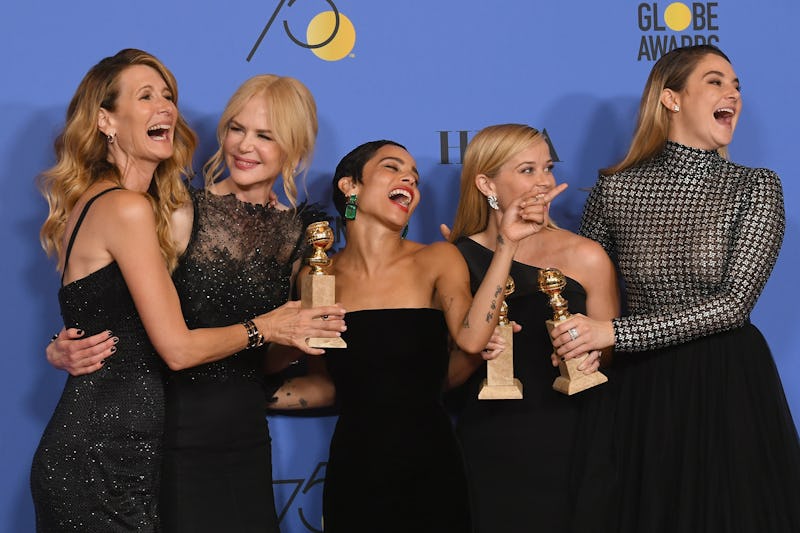 Kevin Winter/Getty Images Entertainment/Getty Images
Hold on to your seats, Big Little Lies fans, because another novel by BLL author Liane Moriarty titled Three Wishes is being adapted for television, according to Deadline on July 11. As many continue to wait patiently for the return of Big Little Lies Season 2, the recent revelation that Three Wishes is being spun into a TV series is pretty exciting news given that it will chronicle, yet another thrilling story from the Australian author that features an entirely female-led cast. Although the tale won't be another Big Little Lies, per say, details surrounding the female-focused storyline are extremely intriguing, to say the least.
Per Deadline, Three Wishes will follow the lives of three vastly different sisters whose lives are changed drastically after a glamorous wedding weekend ends in an unthinkable tragedy. The sisters' tight bond is tested as a scandalous mystery enters to threaten each of their personal lives. The outlet indicates that EveryWhere Studios has secured the rights to Moriarty's Three Wishes for the forthcoming series and details that it will be written by Younger's Lila Feinberg. EveryWhere Studios confirmed to Bustle that they have optioned the novel and Feinberg will be writing the script.
Deadline also reported that the project is reportedly being developed by Netflix. (Bustle reached out to Netflix for comment, but has not yet received a response; EveryWhere Studios could not confirm Netflix's involvement with the project.)
Though a lot of information still remains under wraps about the proposed series, The Wrap shares that the televised Three Wishes will be executive produced by Moriarty alongside EveryWhere's CEO Tom Mazza, Executive Chairman David Calvert-Jones, with the studio's newly-minted Head Of Development Karen Glass serving as co-executive producer. Moriarty also serves as a producer for Big Little Lies.
Despite being her first novel ever published, Three Wishes will become the second of Moriarty's best selling stories to be turned into a television project as it will follow-up on the huge success of the HBO miniseries Big Little Lies. Moriarty is the author of seven bestsellers in total, with her books Big Little Lies, The Husband's Secret and Truly Madly Guilty all taking the top spot on the New York Times Best Seller list, according to Deadline.
Mazza shared his excitement for the project upon the announcement and gave some insight how the studio is seeking to add important roles for female actors. Per Deadline, the studio's CEO explained:
"We are thrilled to work with Liane and Lila on this fresh and relatable story about three sisters and their flawed yet wonderful dynamic as they navigate through life. As soon as Karen came on board she identified this story as one that would have broad audience appeal and provide three strong roles for female actors. We are aiming to move forward with production in 2019."
Similar to the predominately female-led cast of BLL, which included the likes of Reese Witherspoon, Nicole Kidman, Laura Dern, Shailene Woodley and Zoe Kravitz, the upcoming casting for Three Wishes could potentially turn out some pretty huge star-power should the project follow the same landscape as Moriarty's small screen predecessor.
BLL's seven-episode first season became a ratings hit for HBO and was nominated for 16 Emmys overall. It ended up winning eight of those trophies, including Outstanding Limited Series as well as best acting awards for Kidman, Dern, and Alexander Skarsgård. The trio also took home Golden Globe Awards for their roles, while the series snagged the Golden Globe for Best Miniseries or Television Film.
While the dynamics and storyline for Liane Moriarty's television return will be largely different from her debut with Big Little Lies, her gift for storytelling is sure to make Three Wishes a major hit with fans.