'Big Little Lies' Has One Major Flaw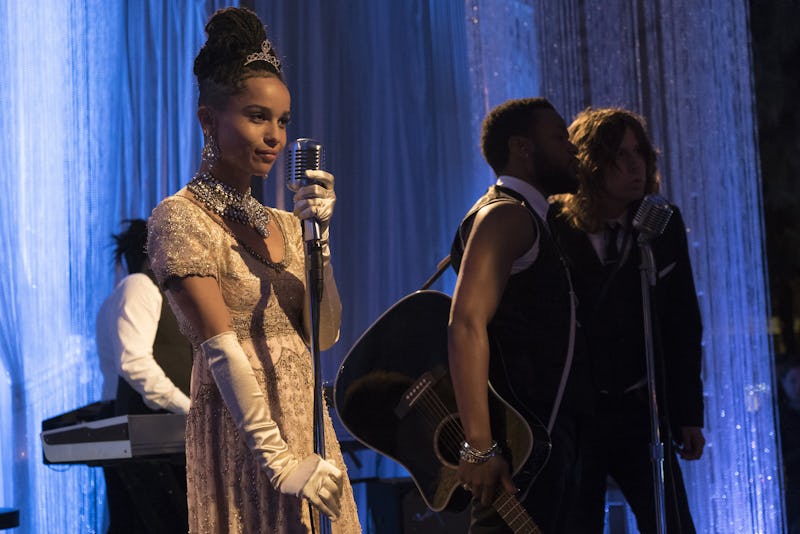 Hilary Bronwyn Gayle/courtesy of HBO
The HBO miniseries Big Little Lies aired its final episode on Sunday, April 3, and brought closure to a seven-episode stretch of some of cable's best television. At its core, Big Little Lies is about the complex interiority of women's lives — from the way domestic violence and rape fractures trust of self to how we comport ourselves to escape dissatisfaction in loveless relationships. Although Reese Witherspoon, Laura Dern, Nicole Kidman, Shailene Woodley, and Zoë Kravitz flawlessly brought these complicated characters from the page to the screen, Big Little Lies still has one critical flaw: It promotes colorblindness at the expense of its sole black female character: Bonnie.
In the series, Kravitz portrays Bonnie Carlson, the only visible black woman in a wealthy, coastal California town. She's married to Nathan Carlson (James Tupper), ex-husband of Monterey, California's queen bee Madeline Mackenzie (Reese Witherspoon). Bonnie is a disciple of Erykah Badu: She teaches yoga. She encourages her step-daughter to embrace her sexuality instead of hiding it. She believes in fueling her body through healthy foods. She even makes her own jewelry.
In a community that's obsessed with appearances and wealth, Bonnie is most concerned with keeping herself, her husband, and their daughter balanced and peaceful. Yet, Madeline spends the entire series pinning the demise of her marriage on Bonnie. It manifests in her resentfulness toward her ex-husband's newfound happiness. She attributes all of the positive aspects of his life to Bonnie, including his sudden embracing of yoga and his willingness to seek counseling to learn how to effectively co-parent.
Being in the same room as Bonnie and Nathan makes Madeline seethe, but even in their one-sided rivalry, race appears to be an afterthought. For instance, when Celeste (Nicole Kidman) and Perry's (Alexander Skarsgård) son, Max, is revealed as the class bully, behavior he's learned from his father's escalating abuse of his mother, Bonnie and Nathan's biracial daughter — one of the only mixed children in their orbit — is spared. If she is bullied about having a black mom or having darker-skin, the show fails to mention it.
Yet, biracial children are often subjected to bullying. Clemson University's 2013 "Status of Bullying in School" report found that 31 percent of the 160,000 children bullied in school every day are biracial. Choosing not to address Bonnie's race, and thus her child's multiracial background, is one of the myriad ways race is invisible on Big Little Lies.
It's also part of how colorblindness operates on television. Rather than addressing the omnipresence of race, especially in a town that's populated by wealthy white people, Big Little Lies ignores Bonnie's race altogether.
Ajume Wingo, director of the Center for Values and Social Policy at the University of Colorado at Boulder, told The Denver Post that color-blindness is "the idea of an official policy of indifference in regard to race in the formulation of racial politics." It's not only on television. Colorblindness is also prevalent in law, politics, and greater media. Rather than being conscious of race and difference and accounting for it, colorblindness calls for the erasure of race altogether.
In this way, race becomes an afterthought. Instead of Bonnie's blackness and womanhood being integral to her identity in Monterey, it's considered separate, distinctive, and unworthy of acknowledgement. She's a character who just happens to be black.
Colorblindness operates as a form of silencing in this way, according to Alyssa Rosenberg, a popular culture critic at The Washington Post. As she explained in an essay for ThinkProgress, colorblindness doesn't acknowledge how race factors into our understanding of each other and systems, like racism.
"Not all stories are only about race. But none of our lives are untouched by our racial identities," she wrote. "Colorblindness is a form of privilege, of refusing to connect with people by hearing about their experiences, and of refusing to benefit by understanding the role race plays in your own."
Colorblindness as privilege is best exemplified in the final scenes of Big Little Lies. In the series' closing sequence, (SPOILERS AHEAD) Bonnie is revealed as Perry's killer. Earlier that evening, she notices a terse conversation between Celeste and Perry that appears to be more than the routine argument between spouses. With the help of a therapist, Celeste has created an escape plan that Perry discovers on the night that he dies. Their argument escalates outside where the other women, including Madeline and Jane (Shailene Woodley) are gathered. The women quickly realize Celeste is in danger and unite to thwart Perry's flurry of punches and kicks aimed at her. Their efforts aren't enough to subdue him, but Bonnie runs toward him and fatally pushes him down the stairs.
Quickly, all of the women decide to tell investigators that Perry lost his footing and fell backward as he attempted to kick Celeste. The investigators don't believe their collective tale, but are unable to prove that one of the women killed Perry. Instead, they let them all go and deem Perry's death an accident. His death brings the previously-feuding ladies closer together. The final scene shows all of the women enjoying a beach day together. There doesn't appear to be infighting. Instead, they've bonded over a dangerous secret that could risk the perfect lives they've built.
While the ending satiated viewers, it also belies reality. In real life, how many white women would risk themselves and their perfectly-constructed lives to protect a black woman? Colorblindness presupposes this idyllic outcome, regardless of how much it differentiates from the strained, racially-conscious experiences black and white women have had.
The lack of racial awareness is Big Little Lies' singular flaw. It is also its least surprising. After all, if domestic violence is hidden because it will crack the veneer of a seemingly-perfect marriage, racial tension is, unfortunately, par for the course. Addressing race would've given Bonnie's character additional depth. It might have moved her from the periphery of the story to the center, and unfortunately, that wasn't considered vital to the near-perfect arc of Big Little Lies.