'Big Mouth's 'Bachelorette' Parody Nails How Confusing Choosing Birth Control Can Be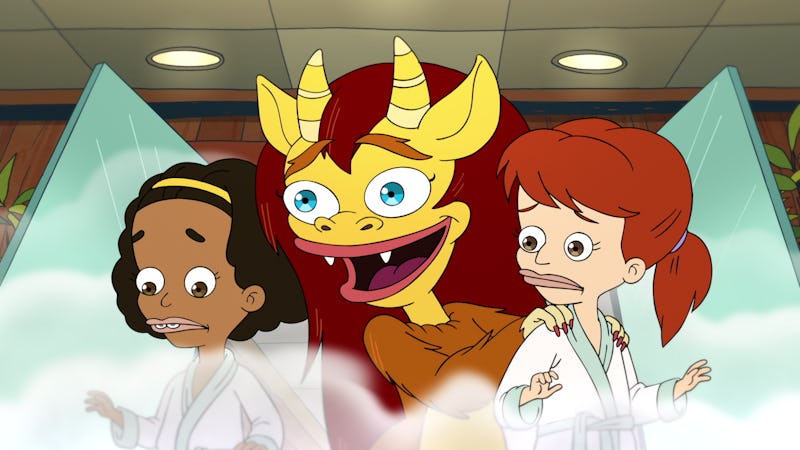 Netflix
Big Mouth is no stranger to confronting "taboo" subjects, and in its second season, it doubles down. But the show isn't just about gross-out jokes and shock comedy — it also doles out important truths about how difficult adolescence can be. Case in point: Big Mouth's Bachelorette parody in Season 2's fifth episode, a brief but hilarious spoof on how hard finding the right birth control can be. Mild spoilers ahead for Season 2 Episode 5 of Big Mouth.
The focus of this particular chapter is sex education. Faced with a wildly incompetent teacher who essentially has no idea what he's doing, the students take matters into their own hands, instead teaching each other about birth control, the importance of Planned Parenthood, and urban legends surrounding sexually transmitted diseases. In the Bachelorette parody, Leah (Kat Dennings) plays a young woman at the center of a reality show that helps her choose which method of birth control is best for her. The skit is as ridiculous and outlandish as it is gut-bustingly funny, but it's also rooted in the reality many women face as they weigh their safe sex options.
"Babies: they're like tuna melts," begins Matthew (Andrew Rannells), who acts as the Chris Harrison-esque host of Miss Conception. "They sound good, but do you really want one right now?" And then, in true Bachelorette form, Leah's options — some definitely less ideal than others — file out of a long line of limousines.
The condom is relatively inoffensive, and unafraid of telling Leah all he can accomplish. "I hate talking sh*t, but none of these other choices prevent STDs," he tells her. The pill can offer her security, but requires way more daily attention than the others. "I need to know that you're serious," she says. "You have to make a commitment to me every day." And the diaphragm, complete with a smoker's voice and spreading bone cancer, is painfully aware of her dwindling popularity. "We both know you're not gonna pick me. I'm just here for the buffet," she says. "Your mother and I were really good friends."
There's also the IUD, who warns Leah that it'll keep her safe from pregnancy for years, but it'll hurt like hell to start the process. A surgically implanted birth control makes her case, too, before finally, a drunken man representing the pull-out method attempts to irresponsibly sweep her off her feet.
"This is the hardest choice I have ever had to make," Leah says at the end of the cocktail party, really nailing the tortured Bachelorette tears fans of the franchise have come to know and expect. She's initially swept away by the pull-out method, who can be found in the background shotgunning a beer, but her mother smartly intervenes and insists she use both the pill and condoms. Ultimately, the lesson is that birth control options can be both overwhelming, but with a little research (and a lot of guidance), you can find the one that works for you.
Big Mouth may largely center around two boys, but the comedy is kind of awesome at ensuring women's issues are given space onscreen. Here, it nails how intimidating broaching the world of birth control can be, aptly noting that it can feel as stressful as picking a husband on national television, while also subtly stressing how the onus for safe sex too often falls on women alone. The Bachelorette parody is Big Mouth at its best: clever, raunchy, and unabashedly real.