Bill Cosby Is What Happens When Sex Crimes Expire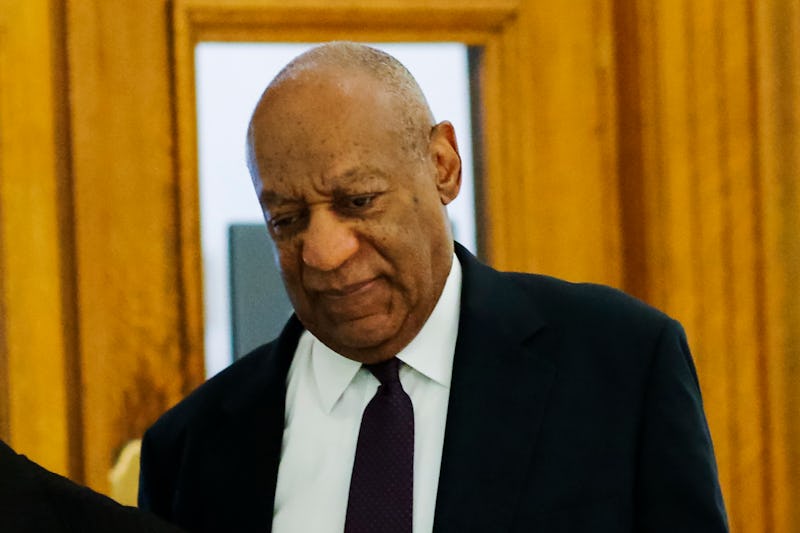 Pool/Getty Images News/Getty Images
This week, the man once considered "America's Dad" began his trial for alleged sexual assault. The charge against Bill Cosby centers on a single incident brought by Andrea Constand, who met the actor in 2001 during her tenure as Director of Operations for Temple University's women's basketball team. From 2014-2015, dozens of women came forward accusing the actor of drugging and assaulting them, all claims that have been denied by Cosby. Due to statute of limitation laws, Constand's accusation is the only one that made it to court.
In an affidavit, Constand accused the actor of giving her three blue pills during an encounter in 2004, which, she said, impaired her senses. According to the affidavit, Constand alleged that Cosby preceded to fondle her breasts, put his hands into her pants and place her hand on his erect penis, without her consent. While she initially filed a civil lawsuit in 2005, with 12 other "Jane Does" who also claimed to be sexually assaulted by the actor, the prosecutor chose not to pursue a criminal case. The suit was ultimately settled in 2006.
Cosby has consistently denied any allegations of wrongdoing. In his deposition and in interviews with police, Cosby said his contact with Constand had been consensual and that he gave her Benadryl, according to a New York Times report.
It wasn't until 2014 that Cosby's history of assault once again emerged in the public eye, after comedian Hannibal Buress said, "you rape women, Bill Cosby. So turn the crazy down a couple notches," during a show at a Philadelphia comedy club. A clip of the joke went viral and quickly unleashed a media frenzy as new women came forward alleging Cosby of sexual assault.
In the midst of the outpouring and attention Pennsylvania prosecutors reopened Constand's initial complaint. If prosecutors had waited just an additional two and a half weeks, though, Constand would likely not have had her day in court. Instead, she would have been like the various women who also accused Cosby of similar attacks but aren't allowed to file criminal charges. The date of Constand's alleged assault was Jan. 15, 2004. And, according to Pennsylvania's statute of limitations for rape and sexual assault, victims only have 12 years to come forward.
Across the country, over 30 states have statutes of limitations on filing rape or sexual assault charges, ranging from three to 30 years. These laws permit the amount of time a victim can come forward to report a crime. Once the statute has expired, the state loses jurisdiction to prosecute a case.
For victims of sexual assault and rape, these laws can be devastating in bringing justice against offenders.
"Sexual assault destroys lives. It impairs its victims like no other crime. It's a form of torture and can have incredibly devastating ramifications, and those ramifications are magnified when the victim is not supported," says Michele Landis Dauber, the Frederick I. Richman Professor of Law at Stanford Law School. Dauber is also the chair of the campaign to recall Judge Aaron Persky, who earned criticism for sentencing Stanford student Brock Turner to only six months in prison and three months of probation after being found guilty of sexually assaulting an unconscious woman.
"It's too bad that more of his [Cosby's] victims are not being allowed to testify," she adds.
Proponents of a strict statute of limitations argue it supports timely reporting of the crime and ensures evidence presented in trial has not deteriorated. "The ability to find evidence that can support a defense 20 years later — it's an almost insurmountable task," said criminal defense lawyer Nina J. Ginsberg in an interview with the New York Times in 2016. "Having these really long statutes of limitations where it makes it virtually impossible to disprove what the victim is saying is grossly unfair."
However, opponents argue these laws jeopardize victims of sexual assault who may be fearful of coming forward, especially in a country prone to victim shaming.
The majority of sexual assaults are not reported to the police, according to the Rape, Abuse & Incest National Network (RAINN), the nation's largest anti-sexual violence organization. RAINN reports that only around 334 out of every 1,000 sexual assault incident is reported to the police — meaning two out of three incidents go unreported. Out of every 1000 rapes, 994 perpetrators will walk free, according to RAINN.
"The bottom line is, it doesn't matter who the assailant is. Most victims don't come forward because they don't think they'll be believed or supported," says Kristen Houser, chief public affairs officer of the Pennsylvania Coalition Against Rape. "They worry their privacy will be violated, that people are going to put their actions under a microscope instead of the offenders, that they will lose friends since so often it's happening in their social circle. They fear retaliation. They know they live in an environment where we overall don't believe in support for survivors."
Houser, who has been sitting in on the Cosby trial, points to how Constand was repeatedly questioned for continuing contact with Cosby after the initial attack — even though she believes the focus should instead be on the actions of the alleged perpetrator.
"Today in the court room they said 'He [Cosby] made a pass at you and then made a second one and then another one, why did you keep going back?'" Houser notes. "Instead, look at it and say 'She didn't respond the first time, she didn't respond the second time, why is he having a third pass?'"
Houser explains why even this line of questioning can discourage other victims of sexual assault from sharing their stories. "If you are in denial that something horrible happened to you, and that happens to most victims who want to get back to life as normal, they go back to work and don't tell anyone and retest the relationship," she says. "And again if your professional life is tied up in that relationship, having ongoing contact is a common occurrence."
Because there is feared stigma about reporting sexual assault, Dauber says a major innovation for victims are anonymous rape kits. "A victim doesn't have to decide on the day of the attack whether they want to make a police report or pursue charges," she explains. "They can have the evidence preserved and that evidence will continue to be preserved."
In the aftermath of the allegations made against Cosby, some states have also abolished or altered their statutes. In September, Governor Jerry Brown of California signed a measure, SB 813, that eliminated its statute of limitations for rape and sexual assault. Last June, Colorado doubled the amount of time for victims to come forward from 10 to 20 years while Nevada extended its limit from four to 20 years after testimony emerged from one of Cosby's accusers.
"Rapists should never be able to evade legal consequences simply because an arbitrary time limit has expired," State Senator Connie Levya said in a statement praising the California law.
While progress has been made in reporting rapes and sexual assault, advocates for victims still argue that there is a long way to go. Eradicating what they perceive as strict statutes of limitations is one part, but they also see a larger need to address a culture where sexual violence is often not treated with sufficient seriousness.
"Letting victims testify, letting victims bring charges even if it's years after the fact — we need to turn this around and stop stigmatizing victims and start stigmatizing offenders. The first step in that direction are things like removing the statutes of limitations, preserving evidence, voting on this issue," says Dauber. "This crime is not a traffic ticket. It is not a DUI. It is not graffiti. It is not vandalism. It is close to murder. It murders the souls of their victims."