Bill Cosby & Roman Polanski's Film Academy Memberships Have Officially Been Revoked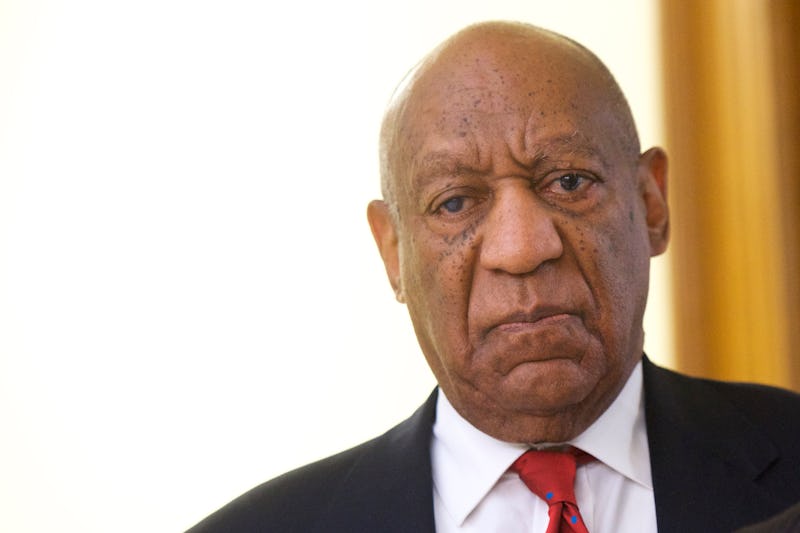 Mark Makela/Getty Images Entertainment/Getty Images
Exactly one week after Bill Cosby was found guilty of sexual assault, both Cosby and Roman Polanski's Academy of Motion Picture Arts and Sciences memberships have been revoked, Variety reported. The Academy voted to expel the stars during a scheduled board meeting on Tuesday, May 1, and issued a brief statement explaining their decision on Thursday, May 3.
As per Variety, the official statement from AMPAS read,
The Academy of Motion Picture Arts and Sciences' Board of Governors met on Tuesday night (May 1) and has voted to expel actor Bill Cosby and director Roman Polanski from its membership in accordance with the organization's Standards of Conduct. The Board continues to encourage ethical standards that require members to uphold the Academy's values of respect for human dignity.
Warning: This article contains information about rape and sexual assault, which some may find triggering.
The primary purpose of the Academy is to present the Oscars. Up until now, only two other members have been expelled — ever. Harvey Weinstein's membership was revoked on October 14, 2017, and actor Carmine Caridi was voted out on Feb. 3, 2004, The Hollywood Reporter confirmed.
With the exception of Caridi — who was removed from the Academy for sharing film screeners — each of the other three men (Weinstein, Polanski, and Cosby) have been kicked out after facing reports of sexual assault. Weinstein, for his part, has never been charged for his alleged behavior, and maintains his innocence.
Shortly before Weinstein was kicked out of the Academy, the New Yorker published a story that featured interviews with some of his accusers. A spokesperson for the producer responded to the story in a statement that said, "Any allegations of non-consensual sex are unequivocally denied by Mr. Weinstein. Mr. Weinstein has further confirmed that there were never any acts of retaliation against any women for refusing his advances."
In 1977, Polanski allegedly raped a 13-year-old girl, but pled guilty to unlawful sex with a minor after being charged. However, not long after Polanski submitted his plea, the director fled the country and has not returned to the U.S. since.
The last major development about the allegations against Polanski occurred almost four years ago. In 2014, a judge denied Polanski's legal team's plea to have the charges against him dropped. This was the second time the fugitive director had requested a dismissal, as his 2009 appeal was denied, as well.
"A Los Angeles County Superior Court judge has rejected an effort by well-known director Roman Polanski to have all sexual assault charges against him dismissed in a three-decade-old case that spurred him to flee to Europe to avoid sentencing," the Los Angeles Times reported of his 2014 request to have the charges dropped.
In total, it's taken 40 years for the allegations against Polanski to affect his position in the Academy. The Academy has yet to issue any additional details about why they chose to remove Polanski now (Bustle has reached out to the Academy for comment), but the considerable time gap has already been called into question. Polanski's lawyer told Variety that the director didn't get a chance to defend himself to the Academy: "It sets a very poor example. It seems to be wrong to just expel someone and make a decision without knowing all the facts."
(Bustle reached out to Polanski's lawyer for additional comment, as well as to Cosby's lawyer for comment, but did not receive a response.)
Cosby, on the other hand, was just convicted on three counts of aggravated indecent assault on April 26, after being accused of drugging and sexually assaulting Andrea Constand in 2004. The 80-year-old comedian won't be sentenced until later this year, but his team plans to attempt to appeal the conviction.
Cosby's lawyer maintained his innocence in a statement to the press after the verdict was delivered. "We are very disappointed by the verdict," Thomas Mesereau told reporters outside the Pennsylvania courthouse. "We don't think Mr. Cosby's guilty of anything, and the fight is not over."
In addition to the Cosby verdict, it's possible that the recent momentum of the Time's Up movement had considerable impact on the Academy's decision to revoke his and Polanski's memberships now.
If you or someone you know has been sexually assaulted, call the National Sexual Assault Telephone Hotline at 800-656-HOPE (4673) or visit online.rainn.org.