Bill Cosby Ranted & Cursed After His Guilty Verdict Was Read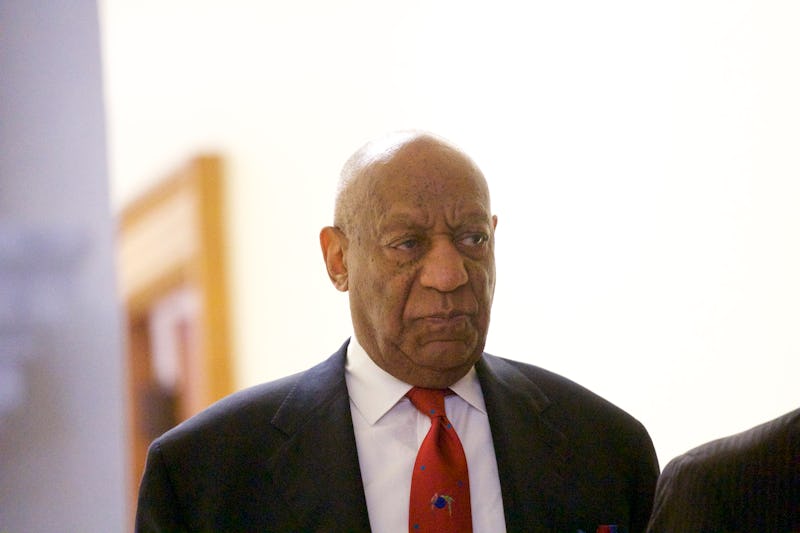 Mark Makela/Getty Images Entertainment/Getty Images
On Thursday, the jury deliberating over Bill Cosby's sexual assault trial delivered a verdict that the comedian was guilty on all three counts of aggravated indecent assault against Andrea Constand in 2004. After the reading of the verdict, Cosby's response was to lash out against the district attorney prosecuting him. According to the The New York Times, the outburst came after Kevin Steele, the Montgomery County District Attorney, asked the judge to revoke Cosby's bail and argued that he was a flight risk.
Steel said that Cosby owned a private plane while discussing revoking his bail, according to The Times. Cosby then reportedly shouted at Steele, "He doesn't have a plane, you a**hole."
After Cosby reportedly flung the expletive at Steele, Judge Steven O'Neill said, "Enough of that," and noted that he did not believe Cosby would be a flight risk, as Steele argued. O'Neill added that the comedian could be released on bail.
Such a release would come with two conditions, however, according to the judge. One condition would involve the comedian giving his passport over to law enforcement, and the other would mandate that Cosby stay close to his home. This presumably would cut off any possibility of Cosby fleeing.
The verdict in Cosby's case arrived on the second day of deliberations, when the jury found the comedian guilty on three counts of indecent assault. Although Cosby has been accused of nonconsensual sexual conduct by dozens of women, the jury was deliberating over only Constand's case. Cosby denies all accusations of sexual assault.
This isn't the first time that there has been friction between Cosby and Steele, either. In 2016, Cosby's legal team argued that Steele should be disqualified from prosecution, according to Montgomery News. Defense attorney Christopher Tayback said that Steele was not fit to prosecute Cosby, since he made an "express promise" to take Cosby to court. Tayback accused Steele of making the promise while he was campaigning for district attorney in 2015.
"He injected into the race an advertisement that qualified Cosby as a sexual predator who should be prosecuted and would be prosecuted if Steele was elected," Tayback said at the time.
But Steele denied the accusation of having made an "express promise" to prosecute Cosby. "That's not something for me to promise at the time and through when the charges were filed," Steele said. "That was not my position." Judge O'Neill ultimately rejected Tayback's request to bar Steele from prosecuting Cosby.
Although things appear to have gotten heated in the courtroom with Cosby flinging profanity at Steele, the atmosphere outside of the courtroom seemed elated. Cosby's accusers shared their thoughts and thanked the jury for siding with Constand. One of Cosby's accusers, Janice Baker-Kinney, shared her statement on Twitter.
"I am overwhelmed with joy, relief and gratitude. Joy that finally, justice has been served," her statement read. "Relief that the years of this toxic chain of silence has been broken and we can now move forward with our heads held high as survivors and not victims."
The accusers are all represented by Attorney Gloria Allred who said Thursday, "Justice has been done."
"After all is said and done, women were finally believed, and we thank the jury so much for that," Allred went on to say, as quoted by People magazine. "The #Metoo movement is alive, and is well, and is living in Montgomery County, throughout this nation and throughout this world."