Bill Murray Helped A Couple Reveal Major Baby News & It Will Make You Nostalgic For 'Caddyshack'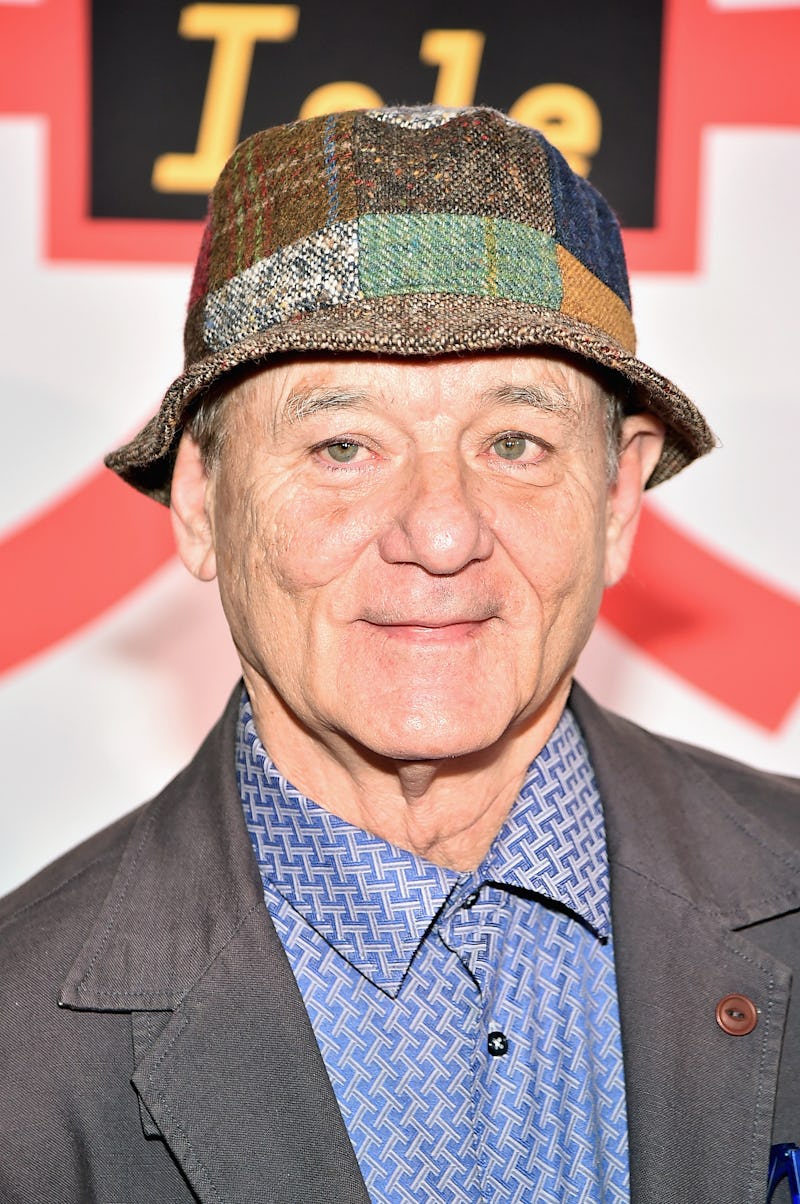 Theo Wargo/Getty Images Entertainment/Getty Images
The latest story about the Bill Murray at a golf course is a whole lot sweeter than his plot line in the 1980 cult comedy Caddyshack. According to the Daytona Beach News-Journal, Bill Murray participated in a golf ball gender reveal, despite not knowing the couple. The surprise assist from the living legend was a total surprise for the couple, and definitely adds to Murray's growing mythology as a man of the people.
In a video from the Daytona Beach News-Journal, Murray can be seen teeing up at the annual Murray Bros. Caddyshack Charity Golf Tournament in St. Augustine. The couple who are expecting the baby, Jacqueline and Michael Davis, are on the green standing behind the actor. Murray hits the ball with his club and a burst of blue powder erupts. With that, the crowd began shouting, "It's a boy!" Murray then walks up to the excited expecting couple to shake their hands. Both mom and dad thanked Murray, while Michael Davis jokingly asked, "Do we have to name him Bill now?"
The cute moment was an unexpected surprise for the couple, who originally planned on the dad-to-be to hit the specially-made gulf ball. "My husband was in one of the foursomes [in the tournament]," Jacqueline told the Daytona Beach News-Journal. "While we were there, we thought we would have my husband hit the ball."
When the duo got to the tournament they ran into John Resig, president and co-owerner of The Chive. As a fan of his website, Michael asked Resig to do the honors of hitting the ball. Resig agreed, but then he secretly asked Murray to do it instead. "When we got to the green, we were surprised by Bill Murray standing there," Jacqueline told the outlet. "He said it was his first gender reveal."
According to the tournament's website, Murray has been hosting the charity event with his four brothers since 2001. The five sibling donate the money to provide funds for "medical services, educational programs, lifesaving equipment."
In the film Caddyshack, however, Murray does not get a chance to be as charitable — he's far too busy with his own comedic B-plot. He plays Carl Spackler, a groundskeeper, who is obsessively working to get rid of a gopher infestation by whatever means necessary. Though, then again — not to spoil a 38-year-old movie, but his explosive antics do end up saving the day.
Bill Murray's older brothers Brian Doyle-Murray co-wrote Caddyshack with Harold Ramis and Douglas Kennedy, and also played a small part as Lou Loomis.
Though this might have been the first time Murray participated in a baby's gender reveal, it was not the first time he's breezed into random strangers lives when they least expect it.
He has a history of crashing people's wedding events, including joining a bachelor party where he gave an impromptu speech and photobombing a couple's engagement shoot. In another instance, when he was recognized as a karaoke bar, he joined the group of revelers and sang a few tunes of his own. At the 2016 World Series he was basically every Cubs' fans' best friend, drinking beers and hanging with the other baseball lovers.
According to People, Murray addressed the "myth" surrounding him and his legendary surprise appearances in a 2018 interview with Sunday Today with Willie Geist. He explained that it wasn't on purpose, though he is aware of the attention. "You know, you can't [go] 'Oh Jesus, what am I doing about my myth?'" he said. "It's not like that." He added, "There's no plan there."
Though he has "no plan," he is aware of when to step in and when he should let others have their own time to shine. He explained:
"It's fun to drop in like that, but you don't want to change the event. You don't want it to be about you, it's just kind of fun to jump on those things once in a while."
Who knows? Maybe he'll be participating in another elaborate gender reveal if the occasion presents itself.