Bill O'Reilly Dismisses The Las Vegas Shooting As "The Price of Freedom"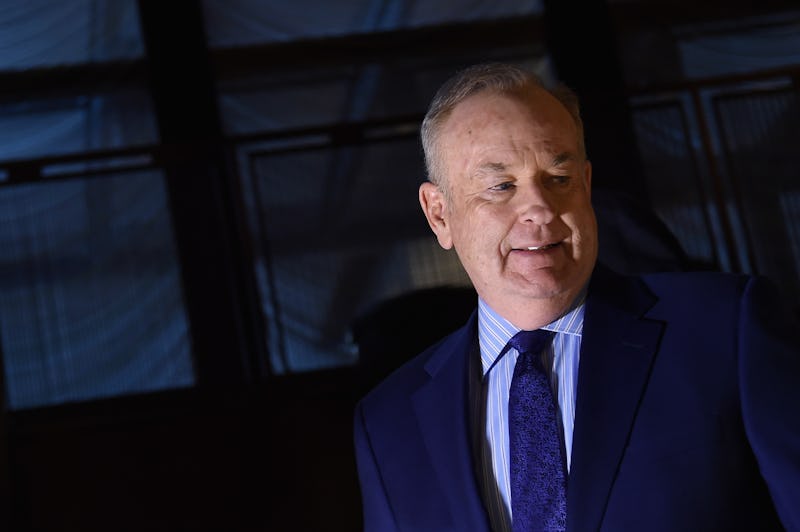 Ilya S. Savenok/Getty Images Entertainment/Getty Images
Fifty-eight people were killed in Las Vegas Monday when a gunman open-fired on concertgoers at a country music show. It was the worst mass-shooting in U.S. history — but according to Bill O'Reilly, atrocities like the Vegas shooting are simply "the price of freedom." In a blog post, the former Fox News host said that pushing for stronger gun regulations is a waste of time, because would-be shooters "will find a way" to harm people regardless.
"This is the price of freedom," the former host wrote on his blog Monday. "Violent nuts are allowed to roam free until they do damage, no matter how threatening they are. The Second Amendment is clear that Americans have a right to arm themselves for protection. Even the loons."
O'Reilly noted that in light of the shooting, "you can count on the gun control debate to ramp up." But he assured readers that government restrictions on gun availability won't reduce violence, and that "little will be accomplished" by even talking about it, because lawmakers aren't going to pass any new gun laws.
"I can tell you that government restrictions will not stop psychopaths from harming people," O'Reilly wrote. "They will find a way. Public safety demands logical gun laws but the issue is so polarizing and emotional that little will be accomplished as there is no common ground."
O'Reilly's comments Monday were notably different from his response to the June 2016 shooting in Orlando, Florida, which was to that point the deadliest mass shooting in U.S. history. After the Orlando shooting, O'Reilly declared that new gun laws were "definitely needed," and called on lawmakers to propose and consider new gun control measures.
"Congress should debate what kind of weapons should be available for public sale," O'Reilly said at the time. "The FBI and other federal agencies need the power to stop suspected terrorists or other evildoers from buying weapons." The then-television host added that "gun dealers all across America should be required to report the sale of certain kinds of guns, heavy weapons, directly to the FBI."
"There is too much gun crime in the USA, and high-powered weaponry is too easy to get," O'Reilly said on his show. "That's the fact. So let's deal with it."
According to CBS News, at least 58 people were killed and 515 injured when a man open-fired from his hotel room into the crowd of the Route 91 Harvest Festival, at which country singer Jason Aldean was performing. The shooter was reportedly in the 32nd floor of the Mandalay Bay Hotel and Casino; SWAT teams entered the casino soon thereafter, where they discovered the gunman dead inside his room.
The shooter's motives remain a mystery. The Islamic State of Iraq and Syria released a pair of statements claiming that the gunman had converted to Islam and was acting on the terrorist group's behalf; however, it offered no proof that this was the case, and a U.S. official told CBS Monday morning that intelligence and law enforcement hadn't uncovered any evidence that the shooter had any ties to radical Islamic groups.
"As this event unfolds, we have determined to this point no connection with an international terrorist group," FBI Special Agent in Charge Aaron Rouse said at a press conference Monday. "As this investigation continues, we will continue to work with our partners to ensure that this is factually, thoroughly and absolutely investigated to be able to bring comfort and peace back to this community."
According to the New York Times, authorities discovered more than 19 rifles and hundreds of rounds of ammunition in the shooter's hotel room after raiding it.