Bill O'Reilly Cracked A Racist Joke About Maxine Waters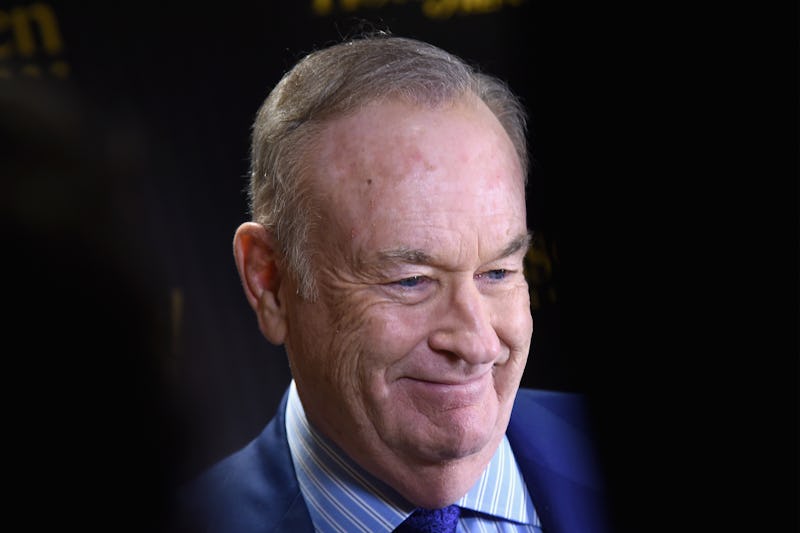 Ilya S. Savenok/Getty Images Entertainment/Getty Images
Another day, another smug, demeaning, and racist remark from a Fox News host. During Tuesday morning's episode of Fox & Friends ― a show that President Trump clearly watches and enjoys a great deal, having been a regular phone-in guest in years past ― Fox News mainstay Bill O'Reilly mocked Maxine Waters' hair, chortling that the 78-year-old Democratic representative from California's 43rd congressional district had a "James Brown wig."
O'Reilly and the Fox & Friends crew were watching a clip of Waters, a popular Democratic congresswoman and vociferous critic of President Donald Trump, detailing her view of the dangers posed by the current administration. Throughout the clip, O'Reilly ― who was pictured in a frame on the left side of the screen, although seemingly with his mic cut ― clearly didn't take her very seriously, visibly mouthing "that's right" and "right on" as she spoke, his body language oozing sarcasm and disdain.
Then, when the clip finished and he was asked to comment, he said that that he didn't even bother to listen. "I didn't hear a word she said," O'Reilly said. "I was looking at the James Brown wig. If we have a picture of James Brown, it's the same one."
When Fox & Friends co-host Ainsley Earhardt stepped in to defend Waters and ever-so-lightly chastise O'Reilly, calling the congresswoman "attractive" and saying "you can't go after a woman's looks," O'Reilly replied as follows.
I didn't say she wasn't attractive, I love James Brown! But it's the same hair, James Brown, the godfather of soul, had.
O'Reilly went on to describe Waters as "a sincere individual," and commented that he'd like to have her on his show someday, "when hell freezes over." Suffice to say, his skepticism that she'd accept such an invite seems pretty sensible. Amid the ever-widening scandal of a sitting president under active FBI investigation, an issue Waters has been extremely outspoken and unapologetic about, she's probably got plenty of things on her plate that outrank sitting down with an arrogant right-wing cable news host who just taunted her with a racist and sexist joke.
A Fox News representative tells Bustle that O'Reilly will address the matter on his show, and also provided the following statement from him.
As I have said many times, I respect Congresswoman Maxine Waters for being sincere in her beliefs. I said that again today on Fox & Friends calling her 'old school.' Unfortunately, I also made a jest about her hair which was dumb. I apologize.
This is far from the first time that some casual racism has emerged from the set of Fox & Friends. Co-host Brian Kilmeade made two such infamous remarks in years past, once asking black co-host Harris Faulkner whether she made Kool-Aid for Thanksgiving, and even more alarmingly, once suggested that Americans don't have "pure genes" and a "pure society" like the Swedes because of interracial marriage.