This Lourd & Lautner Vacation Pic Is Heartwarming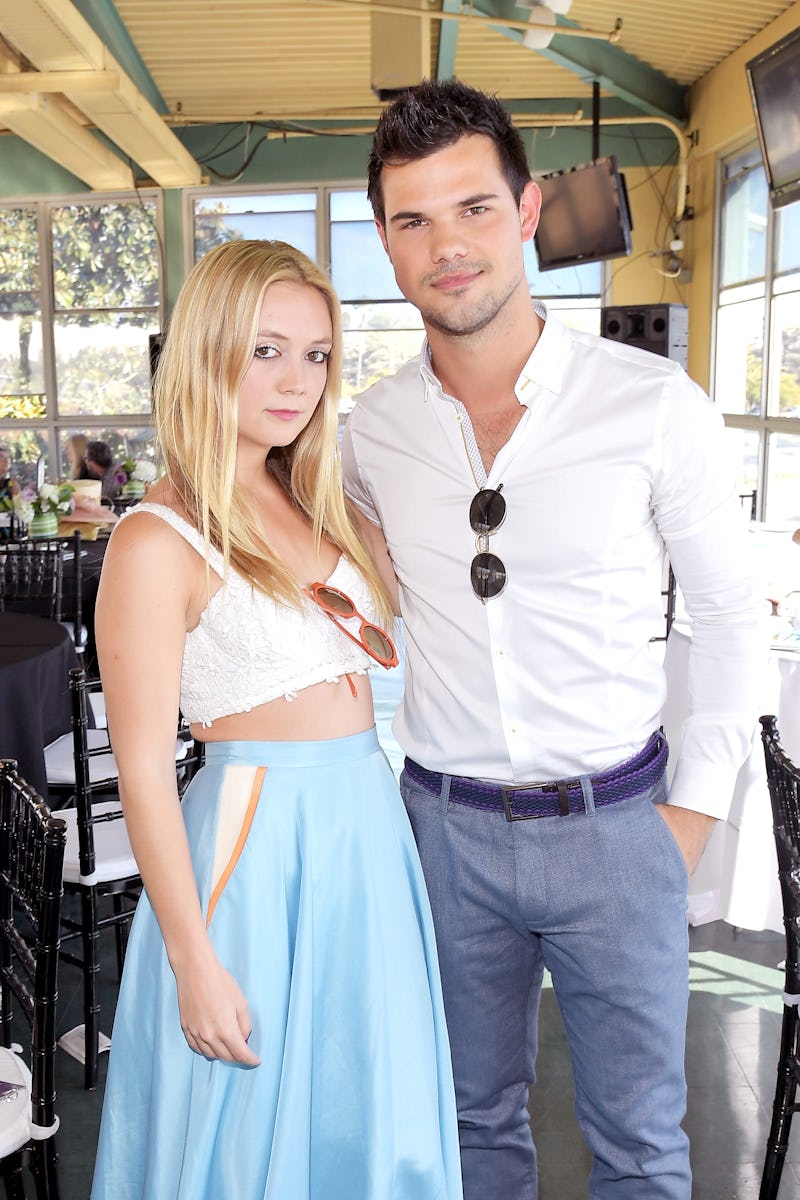 Charley Gallay/Getty Images Entertainment/Getty Images
The past few weeks have not been easy for Billie Lourd. The Scream Queens actor lost her mother Carrie Fisher and grandmother Debbie Reynolds just one day apart from each other. During this difficult time, Lourd's friends have rallied around her, and none more so than her Scream Queens co-star Taylor Lautner. In fact, Lautner and Lourd are vacationing in Mexico, taking a well-deserved break together and soaking up some sun.
On Friday, Lautner took to Instagram to post a photo of himself with Lourd, hanging by a pool in Cabo San Lucas, Mexico, according to People. While it is unclear whether or not the duo are officially dating, it does seem like they share a special bond. Lautner was one of the first people to take to social media to offer words of support for Lourd after the passing of her mother and grandmother. In an Instagram, he wrote, "This girl is one of the strongest, most fearless individuals I've ever met. Absolutely beautiful inside and out. I'm lucky to know you @praisethelourd." Since then, it seems he has been by Lourd's side whenever she needed him.
No matter what their relationship status is, Lourd is lucky to have such a supportive friend in her corner. Few things are harder in this world than grieving, and Lourd deserves every moment of happiness she can find. After everything she has been through, taking a break from her normal routine could be exactly what she needs to begin the healing process, and having Lautner with her means she won't have to be without a friend to lean on if she needs one.
Lourd has shown an amazing amount of grace, courage, and strength throughout this painful family tragedy. Just two days ago, she took to Instagram to share a sweet childhood photo of herself with her mom. She captioned the image,
"If my life weren't funny then it would just be true and that is unacceptable" — Carrie Fisher. Finding the funny might take a while but I learned from the best and her voice will forever be in my head and in my heart
There is no time limit on grief, but it is comforting knowing Lourd is surrounding herself not only with loved ones, but with her mother's wit and wisdom. What Lourd is going through is unimaginable for most people, and yet she continues to go out and experience all the world has to offer. Hopefully, her trip with Lautner will be relaxing, refreshing, and rejuvenating. May Lourd and Lautner have the happiest of vacations, and Lourd find herself laughing again soon.