The 'Scream Queens' Cast Has Billie Lourd's Back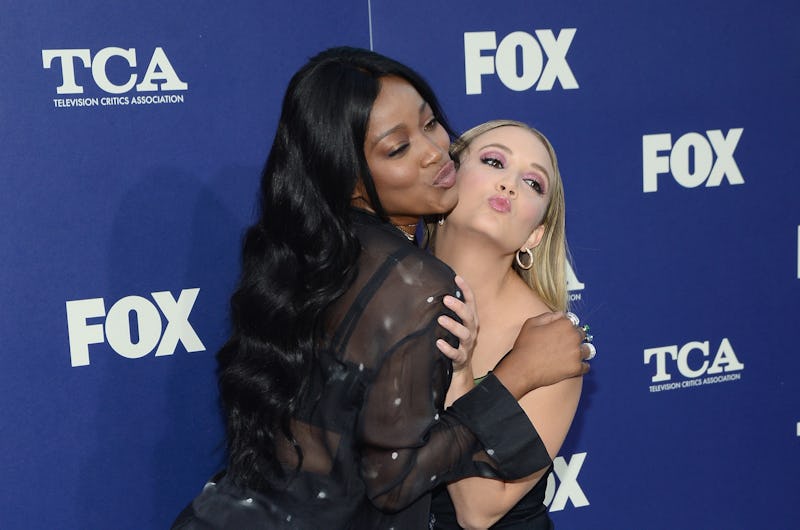 Matt Winkelmeyer/Getty Images Entertainment/Getty Images
When Carrie Fisher and Debbie Reynolds died over the holidays, perhaps no one was left more shaken than Billie Lourd, Fisher's daughter and Reynolds' granddaughter. Losing a parent is difficult enough, but having to mourn two loved ones in such a short time is unimaginably heart-wrenching. In the weeks since, Lourd's on-set family has stepped up to send their love and show their unyielding support. In a recent interview with People, Keke Palmer said the Scream Queens cast is rallying around Lourd as she continues to grapple with their sudden passings. Palmer said,
It's not even us rallying together, it's us just rallying to her. She's needed her space, so it's just us being patient and waiting. I mean, your mama and your grandmother?
Palmer went on to say that her heart goes out to Lourd, who plays Zayday Williams alongside Lourd's Chanel #3 on the Fox horror comedy. "I know Billie very well, and she was very close to her grandmother and her mom," she continued to People. "For that to have happened, I can only imagine how she feels, When I think about her situation, I just let her feel."
Fisher, best known for her legendary turn as Star Wars' Princess Leia, died on Dec. 27 after suffering a heart attack during a flight from London to Los Angeles. She was 60. Reynolds, her mother and a Hollywood icon in her own right, passed away from a reported stroke the following day at age 84.
After the news broke, Lourd's Scream Queens co-stars rushed to express their condolences on social media. "This girl is one of the strongest, most fearless individuals I've ever met. Absolutely beautiful inside and out. I'm lucky to know you," Taylor Lautner wrote on Instagram.
John Stamos, too, shared some kind words: "Oh how you loved telling stories about your mom - and I loved hearing them. I loved watching your face light up. You were so proud of her and she of you. She will live through you forever and we're all lucky for that."
And they weren't alone: Lea Michele, Jamie Lee Curtis, Ariana Grande, and Glen Powell all sent Lourd their best wishes. Considering Scream Queens only premiered a little over a year ago, it's touching to see how quickly the cast has jumped behind Lourd in such a trying time, and Palmer's comments are just another testament to how close they've all become.