Billie Lourd's Speech Rightfully Celebrates Leia As A Disney Princess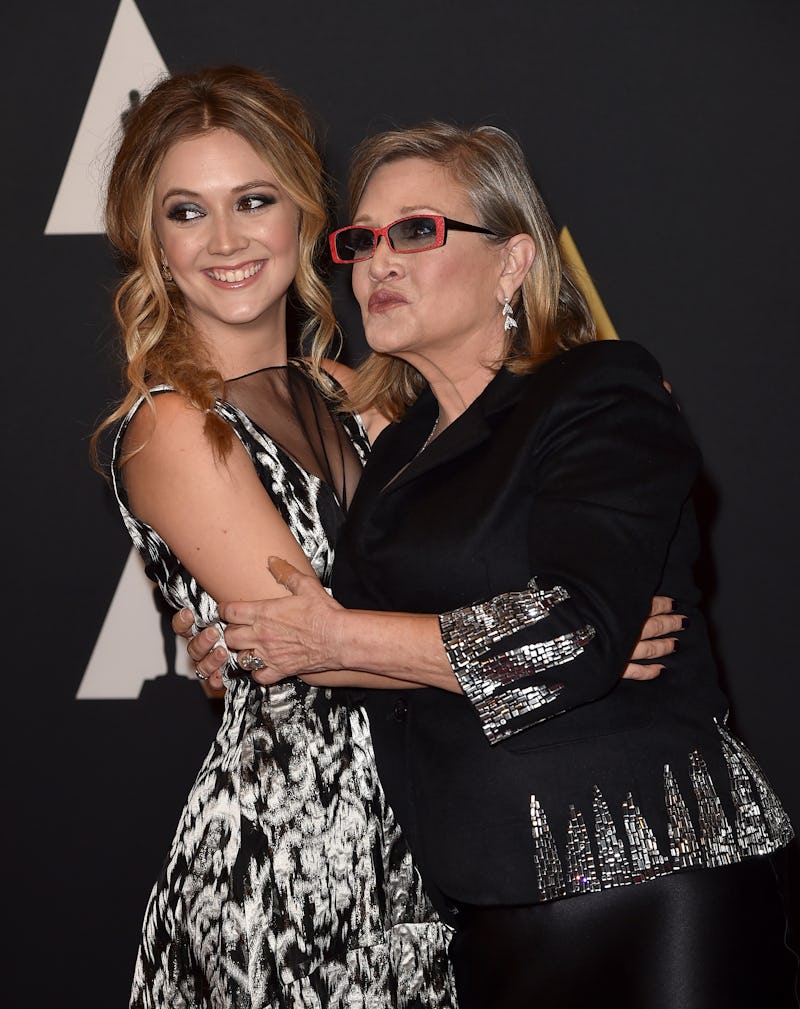 Kevin Winter/Getty Images Entertainment/Getty Images
Prepare some tissues, folks, because there was a tear-inducing Carrie Fisher tribute at the D23 Expo in California on Friday, where the late actor was awarded a posthumous Disney Legends Award, and it's bound to totally mess up your mascara. According to E! Online, Billie Lourd wrote an acceptance speech on behalf of her mom, serving as a fitting way to celebrate Fisher's legacy and latest accolade. While Lourd didn't attend the ceremony (she's currently working on American Horror Story), Disney chairman Bob Iger shared the warm anecdotes evoking Fisher's love of Disney. Not only that, but the speech brings to light a crucial truth: Princess Leia is the greatest Disney Princess of all.
In the speech, Lourd wrote,
"As far back as I can remember, my mom and I have been Disney fanatics. I was so obsessed with Ariel that I wanted to change my name. We went to Disneyland so much that I now realize she might have even loved it more than I did. Becoming part of the Disney family was truly an amazing moment for her. She secretly always wanted to be a Disney princess, so getting to be a Disney princess and a Disney legend would have been her ultimate dream."
The emotional tribute ended with the line, "May the force be with you always." In January, a petition to make Princess Leia an official Disney Princess was created by fans following the sudden death of the beloved Star Wars actor in December 2016. Currently, the list of official Disney Princesses includes Belle, Rapunzel, Ariel, Tiana, Snow White, Cinderella, Aurora, Merida, Pocahontas, Jasmine, and Mulan. However, while there's been debate over whether Leia should officially be made a Disney Princess or not, it's clear she's already considered one in the hearts and minds of her fans.
For some, Disney Princess might seem like a "reductive title for Leia," as a Vanity Fair article once put it, but it's also easy to see that Leia's affiliation with the title could actually reassert the definition of what a Disney Princess is and can achieve. Though Disney princesses like Mulan, Pocahontas, and Merida are certainly less passive than the others, Leia is a princess with a visible and inspiring character arc.
Throughout the Star Wars franchise, fans saw the character as capable of fighting her own battles, saving herself, and even rising through the ranks. The average Disney Princess might be enjoyable for her romantic outlook on life, dazzling fashion choices, and dramatic pursuit of love, but Leia was thrilling to watch. Her ability to cuss out her love interest (Han Solo is still a total Nerf Herder, guys), and face danger readied with a sharp quip and roll of her eyes continues to inspire women of all ages. She's a princess, alright. But she also happens to have an acid tongue and know her way around a battlefield.
Fans may never actually see Princess Leia receive official entry to the Disney Princess club. But Fisher receiving the Disney Legend accolade, which also happens to be the highest honor the Walt Disney Company can bestow on an individual, feels like the next best thing.
Official or not, Leia will remain to be the greatest Disney Princess of any galaxy. And as Lourd's moving speech highlighted, both the character and actor will continue spreading that Disney magic through their powerful legacies.