Billie Lourd's Post About Carrie Fisher Is For Anyone Who Struggles With Mother's Day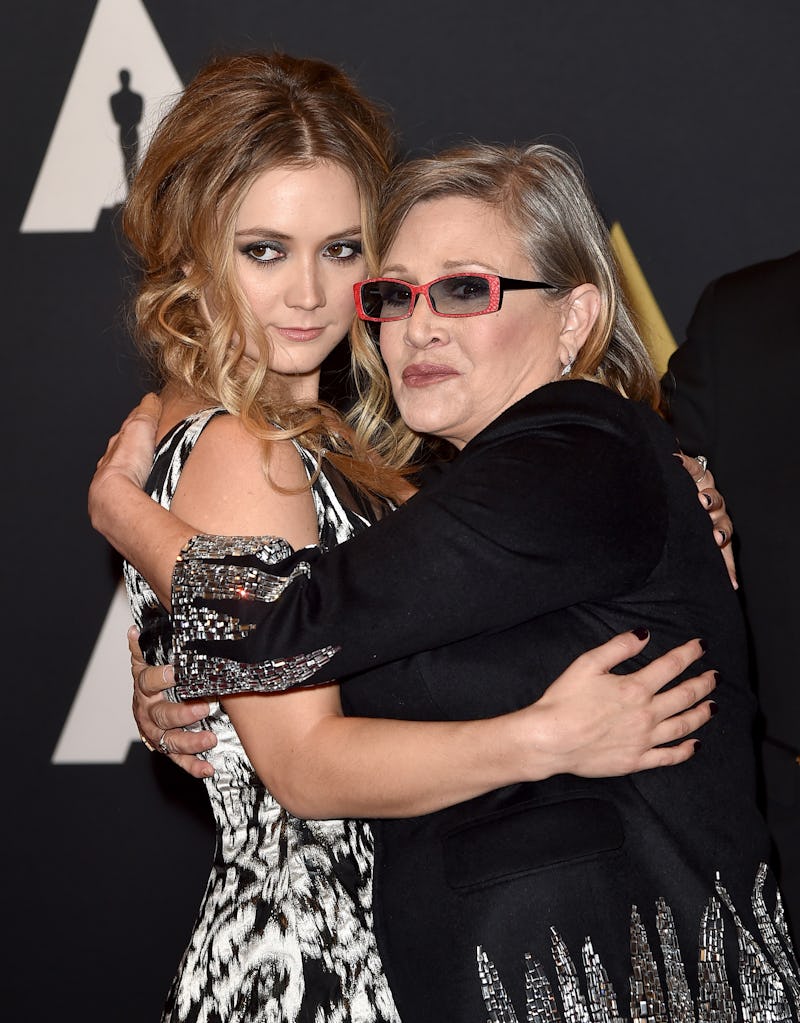 Kevin Winter/Getty Images Entertainment/Getty Images
Mother's Day isn't an easy holiday for anyone who has lost a parent, and Billie Lourd's Mother's Day post for Carrie Fisher is meant to comfort anyone having a difficult time. On Sunday, the actor shared a throwback picture of herself sitting on the lap of her late mother. The caption read: "This one goes out to anyone having a less than perfect Mother's Day today. We are not alone. Sending all my love and strength to anyone who needs it." It also had several heart emojis and a prayer hands.
Fisher passed away unexpectedly in December of 2016 after suffering a heart attack on a flight from London to Los Angeles. The star was 60 years old and her own mother, the actor Debbie Reynolds, also passed away the next day.
Lourd has spoken out about losing both her mother and grandmother in the past, and she clearly wanted this post to reach out to fans struggling with similar losses on Mother's Day. The holiday can be a tough time for people who have lost their mother, and the post was meant to offer some solidarity.
According an interview Lourd did with Town & Country, Fisher initially tried to discourage her daughter from working in Hollywood, but Lourd was drawn to acting. Fisher eventually came around, and Lourd has become a star in her own right, appearing in both Scream Queens and American Horror Story: Cult. She also had the opportunity to appear alongside her mother in Star Wars: The Last Jedi, the most recent installment in the franchise. On May 4, she shared a silly picture with her mother from the set of the film with the caption "May the Fourth" written in emojis.
In 2017, she discussed co-starring with her mom in Star Wars during an interview on The Ellen DeGeneres Show. "It was incredible," she told the host, when asked about filming the movie. "I'm a big believer in things happening for a reason, and I think I ended up in that movie for a reason. It was really incredible for us to get to have that experience together." The actor also described losing her grandmother and mother so close together as "completely surreal," and said that she wasn't sure how to talk about the loss.
Since giving the interview, Lourd has paid many tributes to her mother on social media. In January, she posted about her mother's memoir The Princess Diarist, which was published just over a month before her death. "Princess Diarist was the last profesh(ish) thing my momby and I got to do together," she wrote. "I wish she was here to carry me down the red carpet in some bizarre floral ensemble but instead we'll celebrate in true Carrie style: in bed in front of the TV over cold Coca Colas and warm e cigs. I'm beyond proud."
In October of 2017, Lourd even got a tattoo that as an homage to her mother. The celestial ankle tattoo featured a moon, planets, and little stars, and referenced her mother's ink in the same place. In 2005, Fisher gave a hilarious interview where she told the Telegraph that the space-age tattoo was the result of a "wacky escapade", parts of which she doesn't fully remember. Lourd's similar tattoo was done by Dr. Woo, a tattoo artist in Los Angeles. On his own Instagram, he posted a picture of the space-scene, and wrote: "Tribute for her mom today, on her birthday."
After Fisher and Reynolds passed away, Lourd recieved an outpouring of love and support from fans online. The two iconic actors' work meant a lot to people, and many shared memories and messages about the late stars. Lourd shared several messages online about how much these posts meant to her. "Receiving all of your prayers and kind words over the past week has given me strength during a time I thought strength could not exist," she wrote on Instagram. "There are no words to express how much I will miss my Abadaba and my one and only Momby. Your love and support means the world to me."
In a post shared shortly after, she talked about Fisher's legacy of of humor. She shared a baby picture with her mother, as well as one of Fisher's famous quotes. "'If my life weren't funny then it would just be true and that is unacceptable' -Carrie Fisher," the post read. "Finding the funny might take a while but I learned from the best and her voice will forever be in my head and in my heart."
Mother's Day is a time to celebrate the woman who raised you, but for people who have suffered a loss, it can be a painful reminder. Lourd's post was clearly meant to pay a moving tribute to Fisher, but it was also a way to stand with her fans who might be experiencing similar feelings.