'BiP' Alums Hannah & Dylan Are Taking Their Relationship To The Next Level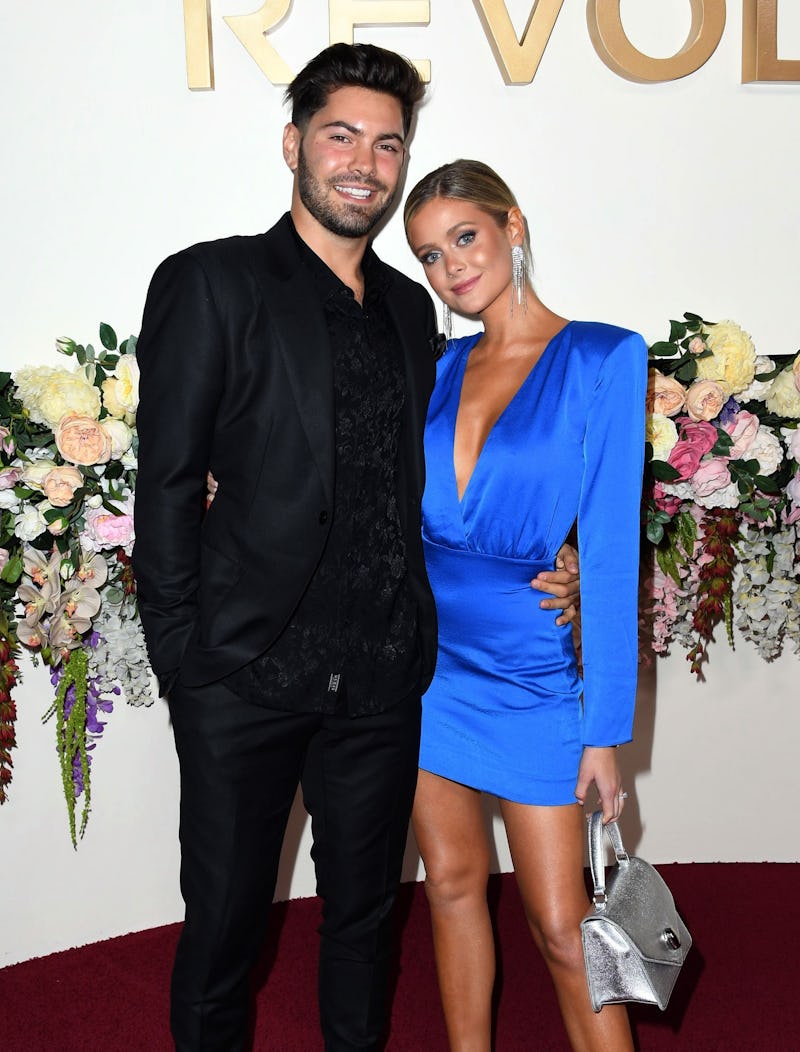 Jon Kopaloff/Getty Images Entertainment/Getty Images
There's no denying that the relationship between Hannah Godwin and Dylan Barbour started out a bit rocky on Bachelor in Paradise, but now, months later, the newly engaged couple appear to be happier than ever. In fact, they are currently preparing to take a big step in their relationship just in time for the holiday season. During a recent interview with Entertainment Tonight, Hannah and Dylan revealed their families are going to meet at long last, and they'll actually all be spending Thanksgiving together this year.
"My family's coming out and visiting his family, so we're combining all of it," Hannah shared with the outlet on Friday, Nov. 15, at Revolve's 3rd Annual #REVOLVEawards in Los Angeles. "Our moms met through FaceTime and they're like, texting besties, but [they haven't met] face-to-face yet."
And while typically in-laws aren't always known for getting along (please see almost every holiday movie ever created), this Paradise duo isn't worried one bit about bringing their loved ones together under one roof. "They're going to love each other," Dylan remarked to ET. Only time will tell whether or not that prediction turns out to be true, but it definitely marks a significant turning point in their engagement and relationship as a whole.
However, Bachelor Nation shouldn't expect their wedding to take place anytime in the near future. For now, the couple is simply enjoying each other's company and getting to know each other better outside of the reality TV bubble. "We talk loosely about [wedding plans]. It's fun to talk about but we haven't set anything," Dylan told Us Weekly in a separate interview at the same Revolve event, while Hannah added, "It's more just fun to talk about right now. We want to enjoy just being us."
At this time, Hannah and Dylan still don't live together just yet. Though, given their close proximity to one another (Hannah lives in Los Angeles, while Dylan resides in San Diego), they still manage to see quite a bit of each other every week, admitting to ET that they haven't gone more than eight days without seeing each other. "We're just literally driving or taking the train back and forth and seeing each other every week," Hannah explained. "We made it a pretty semi-solid pact where we're like, 'We're not going to go over a week without seeing each other. It doesn't work.'"
Dylan echoed Hannah's sentiment to Us Weekly, assuring fans that the routine they've established works really well for them — at least for now. "We're just focused on our careers right now and when we're ready we'll move in together," he said.
It seems Dylan and Hannah are content to take things slow now that they're back in the real world, so if you were rooting for a TV wedding, you might have to wait a little bit longer.