This Brand Sells Stylish $99 Bridesmaid Dresses So You'll Never Have To Go Broke Over An Ugly Gown Again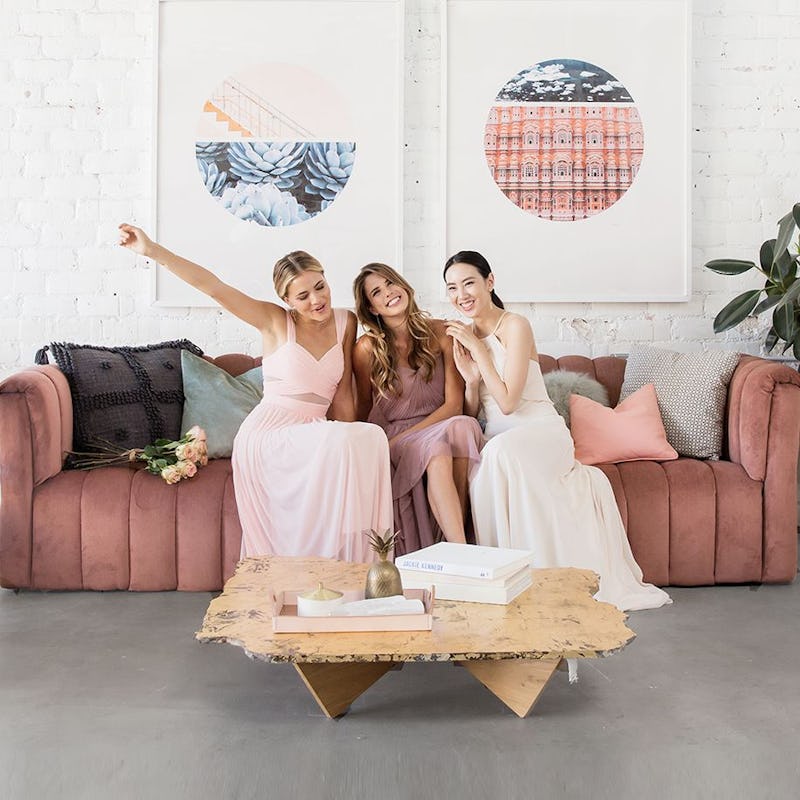 Birdy Grey
If you've ever been a bridesmaid, you know that the dress situation can be a little stressful. Unless you get to pick what you're wearing, brides can sometimes choose a dress for you that's rather costly or one that doesn't really agree with your style at all — or maybe both if you're unlucky. Birdy Grey wants to make sure that never happens to you again. The LA-based brand is a new direct-to-consumer bridesmaid dress company that sells stylish gowns for only $99. Yes, every single dress on the website, regardless of color or style, will cost you less than your monthly cable bill.
According to Birdy Grey's founder, Grace Lee, the average cost of a bridesmaid dress in 2016 was $165, which is fairly pricey, considering most women still have to pay for extra tailoring for their gowns, for additional accessories, and for shoes, on top of all the other costs that come along with being in the bridal party.
Following the model of many successful companies that have cut out the middle man, Birdy Grey works directly with manufacturers to eliminate the traditional retail markup. As a result, they're able to bring their bridesmaid dresses directly to the customer at an affordable price point. Genius? Pretty much, because let's be honest, guys — no one should go into credit card debt over an ugly dress they're never going to wear again. And if anyone can understand the financial strains and fashion struggles of being a bridesmaid, it's Birdy Grey founder, Grace Lee.
Lee shares that the reason she started Birdy Grey was because she has personally been a bridesmaid six times. "The first time, I was 23 and broke, working as an editorial assistant in New York City, and most recently, [I was a bridesmaid] earlier this year in my 30s, when [I] had more money to spend," she tells me over email. "However, one thing has been consistent throughout time: No matter your budget, no one wants to spend too much on a bridesmaid dress that you wear once."
Lee saw an opportunity in the marketplace for bridesmaid gowns and decided enough was enough when it came to overpriced, frou-frou dresses, particularly for women her age. "[I] decided it was time to disrupt the $55 billion wedding industry by offering millennials what they want: a seamless online shopping experience that we've now all come to expect (with free shipping & drama-free returns) and beautiful, aspirational bridesmaid gowns at affordable prices."
The gorgeously curated site offers over 40 different bridesmaid dresses in 12 different colors. Birdy Grey also offers convertible dresses, so bridesmaids can mix up their styles and wear their dresses the way they want to.
Every dress comes with a pre-packaged emergency kit to avoid any day-of-wedding disasters (which we all know happen more than not). You'll find a complimentary pack of safety pins, bobby pins, and double-sided fashion, all of which will definitely come in handy in the bridal suite.
Birdy Grey also offers bridesmaids gifts on their website, like cards, jewelry, and Korean beauty products. They plan to sell seamless undergarments to wear underneath bridesmaid dresses in the near future.
Arguably the coolest part about it all — besides the fact that all the dresses are under $100 (with free shipping and returns) — is that Birdy Grey has partnered with The Princess Project. Customers have the opportunity to send their gently-worn dresses back to Birdy Grey so they can be donated to teenagers in need from the Bay Area (in California) who are looking for dresses for prom.
If you're a bride-to-be looking for bridesmaid dresses for your bridal party or a bridesmaid who doesn't want to spend a chunk of her paycheck on a designer gown, head over to Birdy Grey to see all of their stylish and affordable offerings.