This Site Changes Your Sex Toys' Intensity According To The Price Of Bitcoin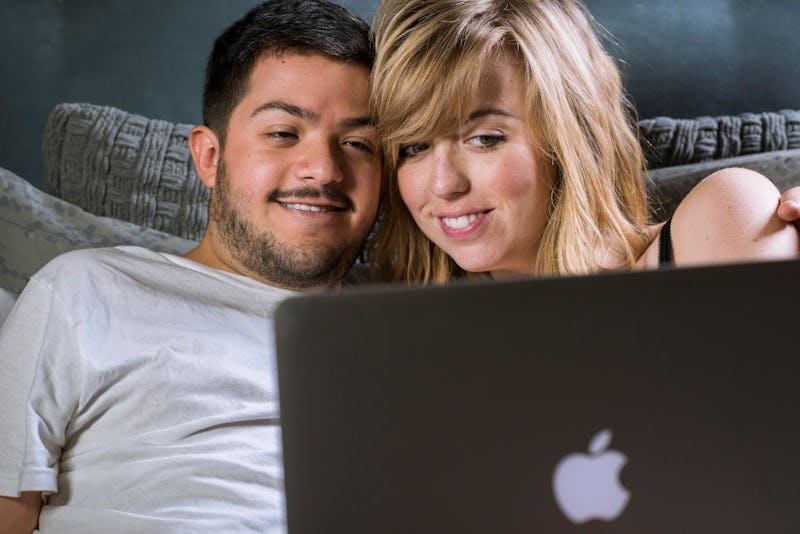 BDG Media, Inc.
You may not think of Bitcoin and sex toys as natural bedfellows — in fact, I can't imagine why you would — but CamSoda, the adult entertainment webcam platform, is hoping to change all that. They've launched Bitcast, a way to get sexual pleasure from, you guessed it, cryptocurrency. You may be asking "How?" or even "Why would anyone do that ever?". And those are totally fair questions. It all boils down to the fact that cryptocurrency is already an exciting, volatile market that has everyone watching with baited breath, so CamSoda wanted to capitalize on that.
By linking interactive Lovense sex toys to the prices of cryptocurrency, you'll be getting off if your stock climbs — and probably even if it falls TBH. "The excitement surrounding cryptocurrency could only be hotter if it brought investors to climax!" Daryn Parker, CamSoda Vice President, tells Bustle. "That is what CamSoda is all about, so we created Bitcast. Now, in addition to the euphoria investors receive from their investment starting to take off, they'll be able to simultaneously get off. Tracking your investment has never been more fun."
Naturally, people are already hopping on this "feeling the power of Bitcoin" opportunity, and they're doing it quickly. "In droves!" Parker says. "People have been flocking to the page since its launch this morning. Good thing cryptocurrencies have been fluctuating all morning!"
I mean, it's one way to get your rocks off. You can connect to Bitcoin, Ethereum, or Litecoin. You just go CamSoda's website, choose your currency, and then link your Lovense sex toy. There's a range of toy options, including those for penile, vaginal, and anal play. If the price goes up, your sex toy vibrates faster. If it goes down, it vibrates slower (though it still vibrates, don't you worry). If you or someone you know loves Bitcoin and high-tech sex toys, it sounds like you may have just found the perfect holiday gift.
Wait, What Is Bitcoin?
Bitcoin and other cryptocurrencies surged this year, having increased in value by over 3,000 percent, according to CamSoda. And it looks like these cryptocurrencies may be here to stay.
"Bitcoin started in 2015 and as the future is digital, it's anticipated that this new kind of money and word will only become more prominent in years to come," Gretchen McCulloch, an internet linguist, tells Bustle. As more and more people get involved, the more movement we've been seeing in the market. And with some big ups and some little downs, there's plenty to get pleasure out of.
Essentially, as the price goes up, so too do your orgasms.
"What has so many people captivated, aside from the fact that virtual currencies are largely unregulated and fraught with risk, is the daily volatility — the stratospheric price rises followed by meteoric price drops," Parker said in a press release. "With people constantly tracking their cryptocurrency investments, we saw an opportunity to offer them simultaneous sexual pleasure derived exclusively from price fluctuations. Now, with Bitcast, our fans can hook up their favorite interactive toy and literally get pleasure from their investments. So, essentially, as the price goes up, so too do your orgasms." Hot damn.
I definitely am not saying that your investment strategies and masturbation strategies should be linked. I'm also not saying that you should invest in cryptocurrency to level up your masturbation routine. But Bitcast is definitely something new, innovative, and on trend. If you're sitting around watching the markets all day, this certainly looks like one creative way to make it more exciting. I don't know if it's the most fiscally responsible choice, but I can't deny that it looks pretty damn fun.