Blac Chyna Was Asked About Kim K's Baby & Her Comments Probably Aren't What You Expected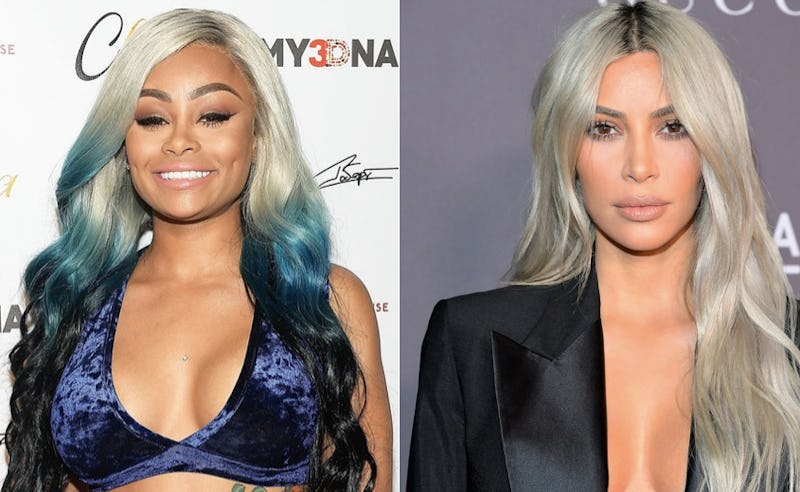 Matt Winkelmeyer/Getty Images Entertainment/Getty Images; Charley Gallay/Getty Images Entertainment/Getty Images
Now that Kim Kardashian has officially welcomed her third child into the world, she's probably receiving all kinds of well wishes, but this one is a little surprising. On Wednesday, Blac Chyna congratulated Kardashian on her new baby, despite the fact that she and the Kardashian family aren't exactly on the best of terms these days. So, is this a sign that a truce is on the way, or was she just being polite?
The Blast caught up with Chyna while she was out in Los Angeles and asked her about Kardashian and West's new addition to their family. Chyna replied, "It's always a blessing. They deserve blessings." That's all she said, so chances are she was trying to keep it short and sweet, but that doesn't make it any less of a nice sentiment.
Considering the fact that Chyna and the Kardashians (and Jenners) have almost always been at odds, even when she and Rob Kardashian were still together, it's a little surprising to hear her say something so positive about their new baby. She definitely handled answering the question well, and chances are, it's one she's going to be getting a lot over the next few weeks.
It's been a long time since Chyna and Rob decided to end things, but that doesn't mean the dust has settled between them quite yet. In October — three months after Rob's online tirade against Chyna — news broke that Chyna was suing the Kardashians — not just Rob, but also his entire family. Although court documents revealed that she was suing Rob for several different complaints, including alleged domestic violence and distribution of private materials, she also sued his family for alleged false light, interference with contractual relations, and interference prospective economic relations.
At the time, Kim and Kendall's reps had no comment for Bustle, and did not receive a response from any other reps for the Kardashian-Jenner family members. Chyna's lawyer, Lisa Bloom, released the following statement to Bustle at the time:
I am pleased to represent Blac Chyna as she stands up for her rights in the lawsuit we have filed today. Revenge porn is wrong and illegal. Domestic violence is wrong and illegal. We will aggressively prosecute this case until we get justice.
In recent episodes of Keeping Up With The Kardashians, the family has made a few mentions of the ongoing lawsuit (and how it's been stressing matriarch Kris Jenner out). Reportedly, Chyna dropped the lawsuit against Rob's sisters except for Kim, in November, claiming that Kim, Rob, and Kris were the ones who caused her to lose her E! reality show, Rob & Chyna. In December, TMZ reported that the Kardashians asked a judge to throw out Chyna's case. (Bustle has reached out to a lawyer for the family for comment, but did not receive an immediate response.)
Of course, Chyna's well wishes don't necessarily mean anything has changed when it comes to how she feels about the family. Calling a new baby a blessing is pretty standard, and her response could have just been her way of being polite and not stirring the pot (even though pot stirring has kind of been her specialty in the past).
And let's not forget that Kardashian's new baby girl is related to Chyna's daughter with Rob, Dream. They're going to be cousins, and considering how close knit the Kardashian family is, Dream and the new baby will probably be spending a lot of time together and might even end up being good friends since they're close in age. Maintaining a friendly relationship with the family of her baby's father isn't the worst thing in the world, after all.
Good for Chyna for offering up a sweet message for Kardashian and West. Maybe this is the start of a new chapter for their family as a whole. What better time to turn over a new leaf than when welcoming a new baby?