Blac Chyna's Restraining Order Doesn't Affect Dream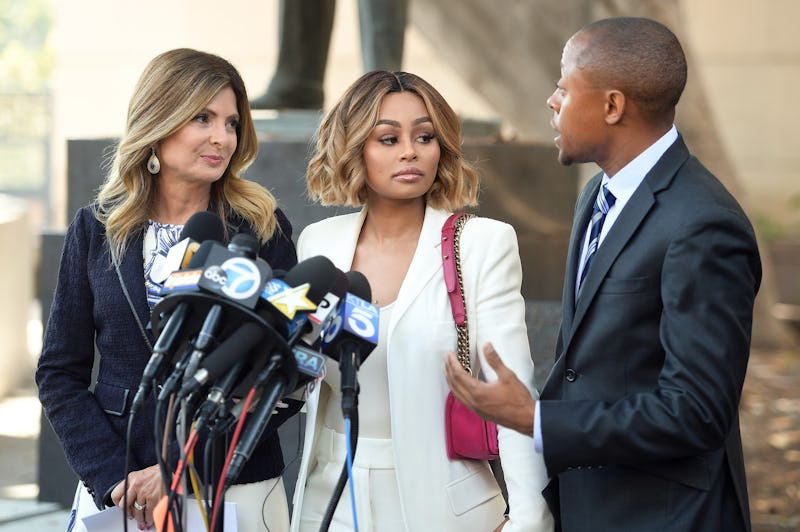 Matt Winkelmeyer/Getty Images Entertainment/Getty Images
On Monday, Blac Chyna was granted a temporary restraining order against Rob Kardashian after she and her lawyer Lisa Bloom filed a request at a Los Angeles courthouse in response to Kardashian posting nude images of his ex-fiancée on social media and making numerous allegations against her. The situation between the former couple is a complicated one, to say the least, but when it comes to their daughter, Dream Kardashian, things are clear: Chyna's restraining order doesn't affect Dream, Bloom confirms to Bustle.
Now that the restraining order is in place, Kardashian is required to stay 100 yards away from Chyna, her home, and her cars, while being prohibited from posting explicit or private photos of Chyna or sharing her personal information, including her medical history and address. Bloom tells Bustle via phone, "The next step is to work out a parenting plan between the two of them, because they do have a baby together."
Per Bloom, it is not Chyna's intention to take Dream away from Kardashian. "Chyna has made it clear she would not seek to prevent him from seeing his baby. He has a right to and he should see his baby, Bloom says. "So we are going to work out a plan as to that, and you know, work out who's going to pay for what in terms of the child's school and medical and all the rest of it, so hopefully in a few days we'll be able to work all those terms out, and then they can go forward as co-parents in a healthy and peaceful relationship."
Bloom also explains that the restraining order doesn't have any effect on Dream or the custody arrangement. "No, it has no effect. It has no effect on Dream," she said. "In fact, there's even a little box to check on the request for the order, like, do we want him to be restrained from seeing Dream and we said no. We don't feel that there is any risk to the baby right now, and so we did not ask for that."
Regarding the judge's decision, Chyna said outside of the courthouse on Monday, "I would like to first and foremost thank the judge for granting me this restraining order, for protecting me, and I am just going to get back to co-parenting."
As for Kardashian, he has retained Robert Shapiro and Sam Klein as his attorneys. Shapiro spoke with TMZ Monday and said that his client would not contest Chyna's request for a restraining order. Shaprio also told TMZ that Kardashian's actions were "a spontaneous reaction that he regrets" and that "Rob's only concern is for the well-being of baby Dream."
After the restraining oder was granted, People reported that Shapiro told reporters, "Now we move forward to do one thing and one thing only — whatever is in the best interest of the child."