This 'black-ish' Episode Pointed Out A Heartbreaking Responsibility That Falls To Black Parents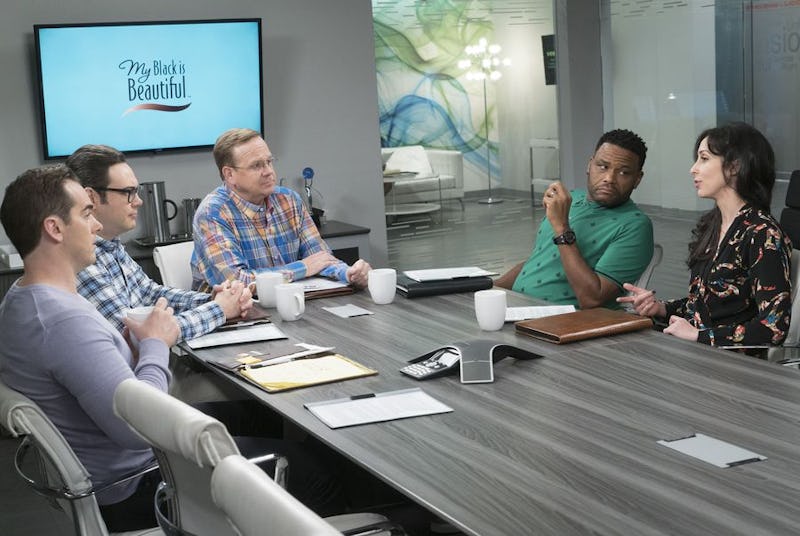 Ron Tom/ABC
This particular "talk" has nothing to do with the birds and the bees. In the Jan. 16 episode of black-ish (executive producer: Kenya Barris) Dre works on a campaign about how black parents must explain systemic discrimination and racism to their kids, warning them about the treatment they may experience and encouraging them to not let it impact their sense of self-worth. Per Variety, the series partnered with Procter & Gamble and their My Black Is Beautiful campaign for this storyline. To provide them with a personal reference point, Dre decides to try having "the talk" with his coworkers after Bow, who's high on the joy of parenting message boards, recommends that communication can lead to better understanding.
It's relatively easy for him to relate "the talk" to Lucy, who relays her own experience learning about the threats she faces because of her gender. Josh reveals his backstory as an overweight kid, which led to his father teaching him about fat-shaming and body stereotypes. These experiences aren't exactly the same as racial discrimination, but they function as a key that can help Dre's coworkers decode and lock into his own experience. Turns out, Bow is right on: communication does help forge connections. After showing the slightest bit of interest in Josh, Dre seems to have made a lifelong friend. And while Lucy may have been out of the office for a few (dozen) episodes of black-ish (co-executive producer: Gail Lerner), she really seems to register the similarities between the discrimination she feels as a woman in a male-dominated workplace and how Dre must feel as a black man in a predominantly white workplace.
While this method doesn't work for everyone in the office — after all, wealthy white men are usually the people you warn your kids about in "the talk," Dre surmises — it's a way to share the responsibility of understanding racism. Just because some people may not directly experience the same kind of discrimination doesn't mean they can't bridge the gap, use empathy, and listen in order to learn and understand what the other go through. "The talk" may be a responsibility that black parents are burned with, but racism will never be eradicated if the rest of the population — especially white folks — writes it off as something they'll never understand.
And while Dre is the one to start the conversation in his office, the onus shouldn't always be on black people to introduce topics like this one. His coworkers are quick to blow him off at first, but after a little time and effort, they're actually quite understanding. Yes, this revelation comes about as a part of an ad-supported storyline, but black-ish continues to find ways to reinvent the "very special" episode. As usual, the show's empathy and thoughtfulness are on display, even in the midst of slapstick and jokes about Big Momma's House.
Ironically, even after driving Dre to his profound conclusions, Bow doesn't find the same acceptance of different experiences and opinions on her parenting blogs after she makes a few comments about vaccines. And the episode ends with the surprising but not necessarily relevant revelation that rather than squabbling with anonymous moms online, she's planning on writing a parenting book. It's almost worth glossing over (along with the very funny accompanying storyline about the rest of the Johnson kids becoming obsessed with puzzles) expect that her publishing aspirations are revealed in the final moments of the episode. The Rainbow Johnson parenting book will actually be released by Disney and will surely play more directly into future episodes.
Surprisingly, the episode never shows Bow and Dre having "the talk" with their kids, or broadening the conversation among their kids' friends the way Dre successfully did at work. But those are minor issues, as black-ish continues to navigate the waters of being a social consciousness but still mainstream sitcom.