Yara Shahidi Reveals Where She Is Going To College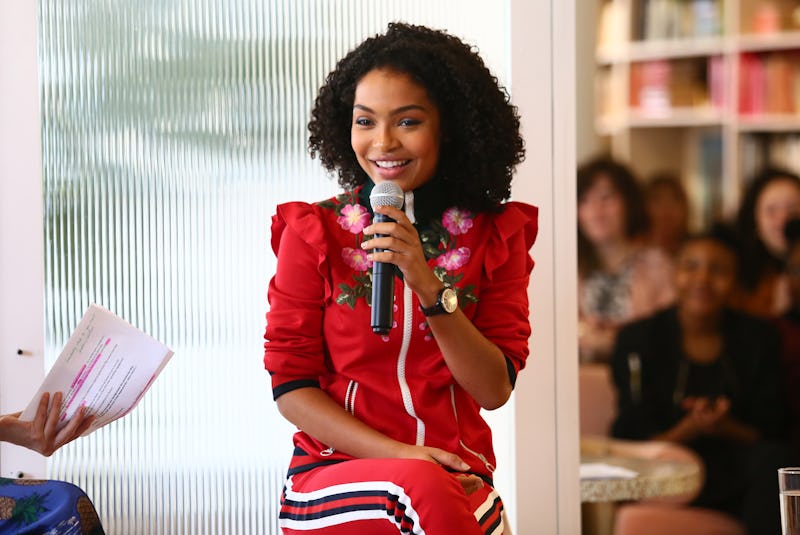 Astrid Stawiarz/Getty Images Entertainment/Getty Images
Picking a school must be a difficult decision when everywhere you applied offers an acceptance, but Yara Shahidi has decided to go to Harvard. The Black-ish star announced her decision in an Instagram post on Tuesday, donning a sweatshirt from her school of choice. This announcement came after a year of applications and anticipation from the 17-year-old actor, who has been open about her college ambitions throughout the process. It's hard to believe that the star found the time to get together apps amidst her successful career as an actor, model, and activist, but all the hard work paid off. The star will likely take a gap year, and then matriculate at the Ivy-league school next fall.
In April, Shahidi revealed to Seventeen that she didn't just get into college; she got into every college she applied to. "I did get all of my college acceptances and I'm keeping them close to the belt as of right now, but I got into every college I applied to," she told the magazine. "So that's really exciting. I found all of that out last week. My college plans are all up in the air, but I will choose within the next month."
The star also told the publication that she intends to challenge herself at school, double-majoring in African American studies and sociology. She has yet to choose a minor, but plans to study in a creative field or pursue a social justice related subject, as well.
The Insta-announcement was captioned with a quote from writer James Baldwin, reading, "'The paradox of education is precisely this - that as one begins to become conscious one begins to examine the society in which he is being educated.' ~ James Baldwin #CrimsonPride".
Baldwin's wisdom hints that Shahidi will continue to push for societal change during her college career. It takes perfect grades to get into an Ivy-league like Harvard, and Shahidi had a long list of socially minded extracurriculars to back up her academics. She's a successful actor, starring on the award-winning ABC series Black-ish as Zoey Johnson. In 2016, she branched out into modeling, and used the platform to promote diversity in the industry.
These are just some activities on Shahidi's resume, however, as she is also a committed social activist. As a representative for DoSomething.org's ScienceSleuth campaign, she used her interest in biochemistry to get more young women involved in STEM (science, technology, engineering, math) topics. The star also appeared on a panel with Michelle Obama for Glamour, where she discussed the importance of education for women around the world. Obama started the Let Girls Learn campaign, which aligns with Shahidi's advocacy for humanitarian issues that affect women.
Shahidi's college applications got a boost from Obama, who was so impressed with the young star that she wrote her college recommendation letter. "She is very amazing and such a supporter, which is something very surreal to say," Shahidi told W magazine. It would be hard to think of a better endorsement than that of the former First Lady, who is well-versed in changing in the world for the better. Turns out Shahidi will join another amazing lady on campus next year, as Obama's daughter, Malia, will start attending Harvard this fall.
Obama isn't the only person who recognizes Shahidi's contributions. In February, Essence honored the actor at its Black Women in Hollywood awards. Fans are also nominating the star on Twitter for the Choice Changemaker for the upcoming Teen Choice Awards.
Harvard is a perfect choice for Shahidi, and it will definitely help her further her goals, whether they are creative or professional. She is still super young, but she's already made a big impact on the television and fashion industry. Outside of media, she's also made strides to ensure education for women around the world, and for them to be included in historically exclusionary fields like science. It's clear the star intends to change the world for the better, no matter what the future holds.
Congrats are in order for Shahidi, and I can't wait to see what she does next.