'Black Lightning' Is Empowering Black Women With Natural Hair & It's About Time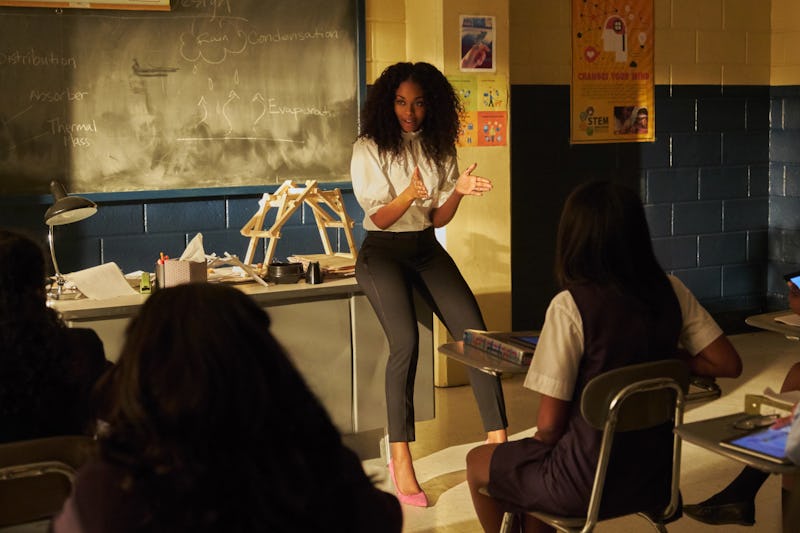 Bob Mahoney/The CW
Amid a sea of comic-book inspired shows airing on television today, The CW's newest series Black Lightning (executive producer: Sarah Schechter) is already making waves. The show follows Jefferson Pierce, a high-school principal and retired superhero, who's lured out of retirement when crime plagues his community. And fighting crime by his side are his two daughters Anissa and Jennifer, who tap into superhero powers of their own.
Brought to life by creators and executive producers Mara Brock Akil and Salim Akil, Black Lightning is not just notable because of its predominantly black cast and its commitment to shining a light on social issues like racial profiling and police brutality. There's actually something even more blatantly depicted in the show that's worth celebrating: Its emphasis on characters with natural black hair.
Twitter was delighted when first-look photos of Anissa, A.K.A. "Thunder," played by actress Nafessa Williams, debuted earlier this month. It was particularly thrilling, many said, to see Anissa transform from an outspoken teacher and social activist into a badass, cornrow-sporting superhero. And Williams couldn't be prouder of that imagery.
"I love that we're wearing our natural hair on the show because there are messages in that," Williams tells Bustle. "It's important [for black women] to be who we are and look like we are and know that we're beautiful. I hope to empower young black girls watching the show to walk in their own power and be proud of how they look."
To some, hair texture might seem like a trivial issue to focus on when searching for representation on TV, but a 2016 study found that "a majority of people — regardless of race and gender — hold some bias towards women of color based on their hair." The study, conducted by the Perception Institute in conjunction with Shea Moisture, also found that black women experience more anxiety surrounding hair issues than their white female counterparts, and often feel more pressure to straighten their hair due to society's fixation with European standards of beauty. It's especially gratifying, then, that Anissa and Black Lightning's other female characters alternate between short cuts, natural curls, cornrows, and blowouts, highlighting the beauty and versatility of black hair.
But the representation for Black Lightning doesn't stop there. Williams — who had been wanting to play a superhero for years — also takes pride in how her character, in keeping with her depiction in the comics, is a lesbian in the series. "How often do we see black women opposite of other women?" Williams says, recalling all the times in her career that her love interests have been men. "I'm happy that black women like her finally get the representation that they deserve on TV and can be empowered by how boldly she walks in her sexuality."
If its emphasis on black hair, representation, and social issues weren't enough of an indication that Black Lightning is more than your average superhero show, Williams is even more convincing. But ultimately, she says, it's a show about "perfectly flawed characters," who, despite the issues they may have, are bonded together by how much they care about seeking justice in their community.
And being a part of the first black superhero family — Black Lightning was created by DC comics in 1977 — isn't something that Williams takes lightly. "I'm always selective about which roles I take and making sure that the story is good and it's not just about having a job," Williams says. "With Salim and Mara at the helm [of Black Lightning] I just feel so secure."
Even if you're not a huge fan of comic-book inspired shows, Williams says there's still plenty to dig into on Black Lightning, and admits that sometimes even she forgets she's starring in a superhero series because the characters are so grounded in reality. "[The Pierces] are family that have issues just like every other family," she says. "Beyond the crime-fighting and costumes, the series shows a really strong bond between two sisters and a black single father. And no matter what they go through, love brings them back together." Here's hoping that loving Black Lightning will bring people together, too.