Lupita Nyong'o & Danai Gurira Are Bringing 'Americanah' To TV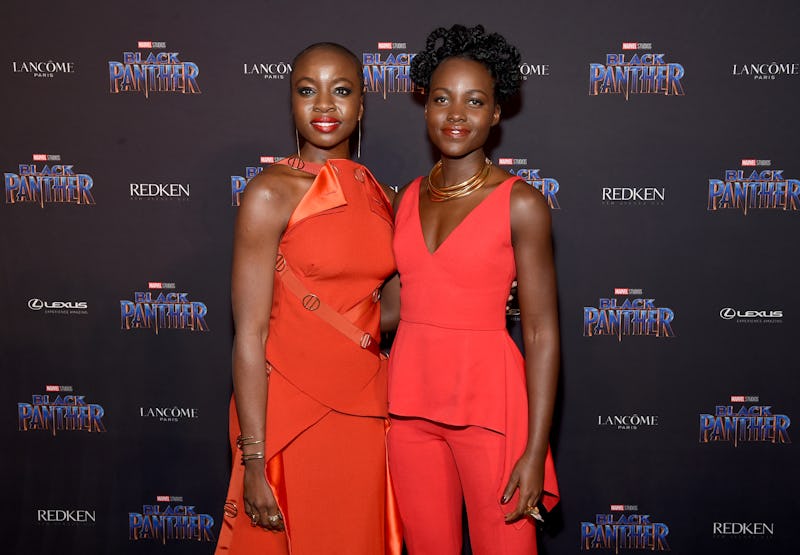 Jamie McCarthy/Getty Images Entertainment/Getty Images
Actress Lupita Nyong'o has already hit the literary world with the fantastic news of her upcoming children's book, Sulwe, to be released with Simon & Schuster in Jan. 2019. But leave it to Nyong'o to go the extra mile: she is teaming up with her Black Panther co-star Danai Gurira to adapt Chimamanda Ngozi Adichie's beloved novel, Americanah for television. I know, it might take a minute or two to absorb all of the incredible facets of that awesome information. Let's break it down a bit.
According to an article on AV Club, Nyong'o owns the rights to Americanah, and has been planning to adapt it for a quite a while — in fact, she originally intended to turn it into a film starring Selma's Daniel Oyelowo. And while most people might not realize it, Nyong'o and Gurira have been collaborating on super successful projects long before they fought for Wakanda together. Gurira, who's also a celebrated playwright on top of all of her other talents, actually wrote Eclipsed, the play for which Nyong'o was nominated for her first Tony nomination. Even better news? Nyong'o will be bringing her Oscar-winning acting talents to the project, playing Ifemelu in the miniseries — no word on whether Oyelowo will still be filling the shoes of Obinze — while Gurira has signed on to write.
Americanah by Chimamanda Ngozi Adichie, $12.79, Amazon
Americanah follows Ifemelu and Obinze, two teenagers who fall in love while Nigeria is under military dictatorship. Soon, Ifemelu departs for America, where she suffers defeats and triumphs, finds and loses relationships, all the while feeling the weight of something she never thought of back home: race. Obinze had hoped to join her, but post-9/11 America will not let him in, and he plunges into a dangerous, undocumented life in London. Thirteen years later, Obinze is a wealthy man in a newly democratic Nigeria, while Ifemelu has achieved success as a blogger. But after so long apart and so many changes, will they find the courage to meet again, face to face?
I honestly can't think of a better creative duo to adapt Americanah than Nyong'o and Gurira, who will no doubt do Chimamanda Ngozi Adichie's novel justice, but infuse it with the spirit of feminism and the power of Black Girl Magic. Let's just say this is one adaptation I am completely and totally on board with, and I can't wait to see it on screen.