Lupita Nyong'o Is Writing Her First Kids' Book & It's All About Self-Love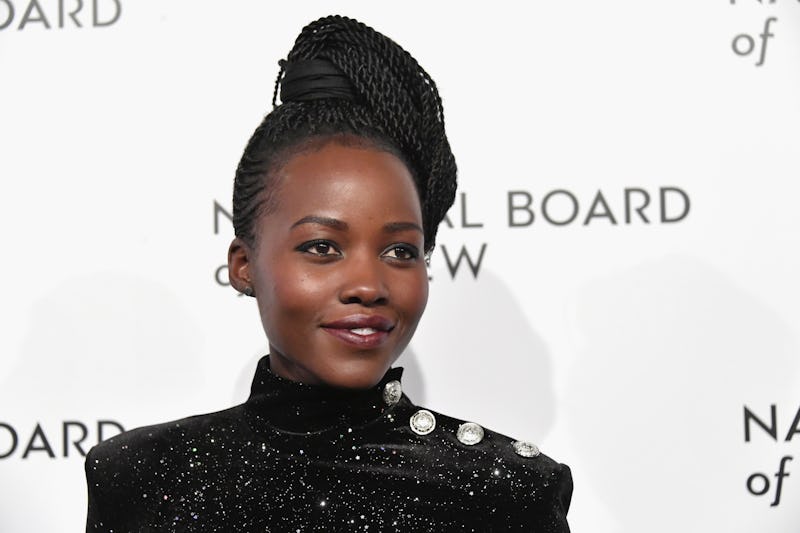 Mike Coppola/Getty Images Entertainment/Getty Images
Since her big screen debut in 2013's 12 Years A Slave, Lupita Nyong'o has become a beloved luminary for her acting, her fashion sense, and her commitment to speaking out against social injustice. Now you can add "writing" to the list of things she does well: her first children's book, Sulwe, is being released by Simon and Schuster in Jan. 2019.
The book will follow a five-year-old girl named Sulwe (which translates to "star" in Luo, Nyong'o's native language) who is growing up in Kenya. Sulwe has the darkest skin color in her family, which makes her so uncomfortable that she is determined to find a way to lighten her skin. Soon, Sulwe embarks on a whimsical adventure in the night sky that, in which, with advice from her mother, Sulwe learns to see beauty in a whole new way.
According to the New York Times, Nyong'o was motivated by her own childhood struggles with her complexion and self-image. The actress has long used her platform to speak out about the unfair beauty standards black women face in America and abroad, and in 2014, she gave a powerful speech at the 7th Annual Black Women in Hollywood awards in which she shared a letter a fan had written to her about choosing not to lighten her skin after seeing Nyong'o become successful in Hollywood. Nyong'o went on to say, in part, "I remember a time when I too felt un-beautiful. I put on the TV and only saw pale skin. I got teased and taunted about my night-shaded skin and my one prayer to God...was that I would wake up lighter skinned." She spoke about how her mother's support and constant insistence that Nyong'o was beautiful exactly as she was helped her on her journey to self-acceptance.
It's almost unfathomable that Nyong'o, considered by many to be one of the most beautiful women in the world, would struggle so much with her appearance. But at the heart of her story, and the one she has chosen to tell in Sulwe, is a long-held societal preference for light skin, and how this damaging lack of visibility for black women in television, film, magazine editorials, and advertisements has insidiously inserted itself into the psyche of many.
Sulwe sounds like a powerful response to this ongoing problem, made all the more crucial because it is a story for children ages five to seven years old. That is the age range when, Nyong'o is quoted in the Times article as saying, "you learn all the things that you spend the rest of your life trying to unlearn." Here's hoping Sulwe will be one major influence for the next generation when it comes to ideas of beauty and self-confidence.