Here's Why Black Women's Equal Pay Day Is Aug. 7 — And Why It Matters That We Observe It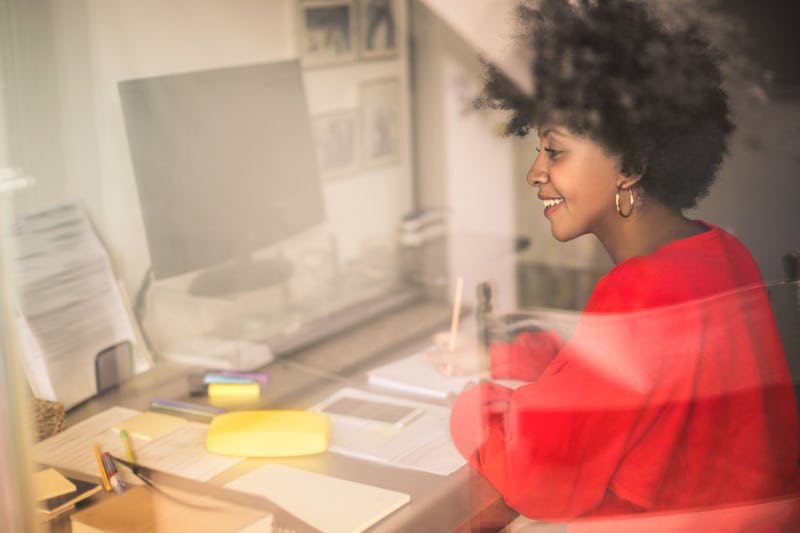 merla/Fotolia
It's no secret that the gender pay gap is far too wide. For Black women in the U.S., it's more like a gulf. While white women make about 21 percent less than white men on average, according to the Black Career Women's Network, Black women make 38 percent less than white men, and about 21 percent less than white women overall. That's why on Aug. 7, we observe Black Women's Equal Pay Day 2018 — marking how far into the new year Black women had to work to earn the same amount of money white men earned in 2017 alone.
Jasmine Imani Davis, co-founder of Black Affinity Fam, an employee resource group at the fitness app Aaptiv, tells Bustle via email that the wage gap for Black women has a huge impact on Black communities overall, leaving Black women strapped for time, and overburdened with juggling both family and work-related responsibilities.
"My brother and I grew up with my mom who was a single parent," Davis says. "She was a teacher, but she had to work four different jobs to support us. When I was an adult, I found out that my mom should have been paid more as a teacher, which would have eased the burden on her overall. [...] I want to help fix this issue for the next generation of mothers and kids."
A recently released survey, conducted by Lean In, a network of women-led peer groups created by Facebook COO Sheryl Sandberg, in partnership with the National Urban League and SurveyMonkey, showed how Americans view income inequality in the U.S. The nationally representative survey found that one in three Americans are not aware of the income gap between Black women and white men, and half of Americans are not aware of the pay gap between white and Black women. In an effort to shed light on the pay inequality that Black women face, and the negative impact on Black families and communities as a result, Lean In is launching #38PercentCounts in response to this widespread lack of awareness about the income inequality that Black women face every day: making 38 percent less income than white men can mean a loss of about $800,000 over the course of a career.
According to a press release about the survey, even when people do know about income inequality in the United States, the gaps are significantly wider than they realize. Equal Pay Today reports that Black women's incomes continue to fall short of what both Black men, and white, non-Hispanic women make each year for doing the same jobs — "underscoring the intersectional impact of gender and race on the wage gap."
Davis further notes that because talking about salaries can be touchy or off-limits, "many people don't even know how difficult this issue is for Black women." But Davis further stresses just how important these conversations are, and that by talking about Black women's wage gap, we can help pave the way for change: "We all deserve equal opportunity, equal pay, and to be treated equally — we are as valuable as everyone else. We deserve better that what we're being offered right now."
According to Davis, "People can learn how to have these conversations, and to take ideas to their managers about how [they] can stop the wage gap at their place of work. The first step, though, is a desire to address this issue, and inform people that this inequality is still happening all around us."
"Black women sit and talk about these issues all the time among ourselves, but we need to put ideas for improvement into action and that takes allies to help with making changes," Davis says. For this reason, Davis is moderating a panel discussion at Aaptiv's NYC HQ on Black Women's Equal Pay Day to help broaden the conversation.
By helping raise awareness of Black women's pay gap, observing Black Women's Equal Pay Day, and encouraging transparent conversations about wages, it's possible to build a future where everyone is able to access equitable pay.