Why 'BlacKkKlansman' Star Laura Harrier Doesn't Want To Represent All Black Women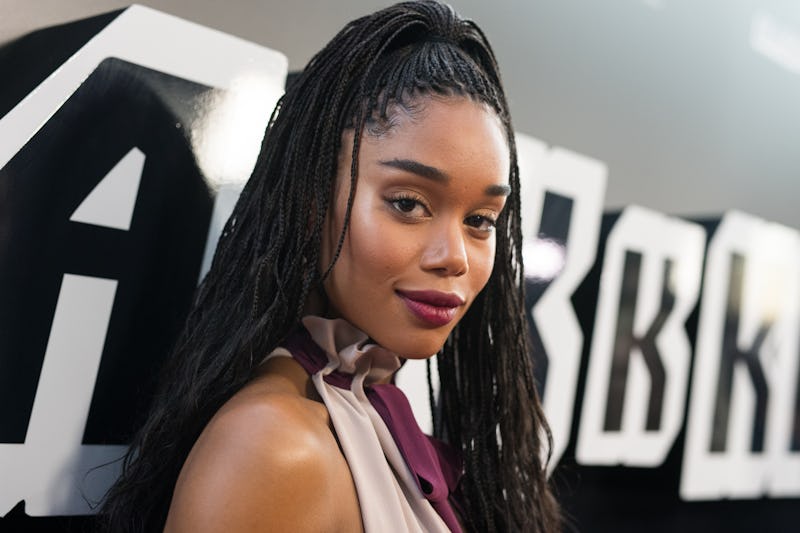 Emma McIntyre/Getty Images Entertainment/Getty Images
How does a 28-year-old actor prepare to play the president of the Black Student Union in the year 2018? Movies. To get in the mindset of Patrice, the BSU President and Black Power activist who catches the eye of Ron Stallworth in BlacKkKlansman, actor Laura Harrier watched a lot of Blaxploitation films — in addition to speaking with activist Kathleen Cleaver and listening to popular '70s music. And, just as her character is critical of Blaxploitation's singular portrait of black women, Harrier notes that even her own groundbreaking career as a young black actor should not be the defining image of black women on screen.
"My experience of blackness is not what every woman experiences at all," she tells Bustle, sitting calmly in a New York hotel where the cast of BlacKkKlansman, out now, has set up camp. "We need a lot more representation in Hollywood, for sure."
Harrier — a biracial actor who got her big break playing Liz in Marvel's Spider-Man: Homecoming — is under no illusions that she could possibly represent all of the black, female experience, nor should she be expected to. That said, she also knows that her career has the potential to help chip away at the monolithic Hollywood stereotype of what a black woman should be. "I definitely don't feel like, growing up, I had images of black women on screen that I really identified with," she says. "I never really identified strongly with characters on screen." As such, she takes pride in knowing that she can offer representation to other women like her. Says Harrier, "That's partly why I really love doing what I do, because I hopefully can be that for some people."
When addressing the dearth of black female characters in Hollywood, Harrier is quick to note that the industry tends to favor light-skinned black women for key roles. "I've been afforded a lot of privileges being lighter skinned and given my background," she says, adding that "there's definitely a lot of colorism." Pointing to other young black female actors currently gaining success in Hollywood, she continues, "When you look at the girls in my generation who are working now, a lot of us are biracial, and we need to be seeing a lot more representation throughout the experience of being a black woman."
Though Harrier does not name specific actors, it is true that a new generation of black actors coming up in Hollywood today are either biracial or light-skinned, such as Amandla Stenberg, Yara Shahidi, and Harrier's Spider-Man: Homecoming co-star Zendaya. It is also notable that, for BlacKkKlansman, director Spike Lee determined that Harrier's character Patrice was not biracial. This is not a rarity in Hollywood — biracial actors often play non biracial characters, from Harrier in BlacKkKlansman to Henry Golding in Crazy Rich Asians — but it does make for a different experience than something like Spider-Man: Homecoming, in which Harrier's on-screen family was interracial. "I was just happy to be playing a character in a family that looked like mine, you know?" she says now.
Though the actor is reasonably critical of how current Hollywood properties portray black women, she is optimistic that things are, at least, moving in the right direction. "I think it's something that's starting to change and evolve," Harrier says. "I feel like for so long it was just the best friend or the angry black woman or the sex object, and I'm just hopeful that we can start to see... fully-rounded, real characters."
As for what that means for Harrier's career post-BlacKkKlansman, fans should expect the unexpected. In her fist two major films, she's gone from a Marvel superhero franchise to a Spike Lee Joint, so clearly, nothing is off the table.