Blake E.'s First Limo Exit On 'The Bachelorette' Was Awk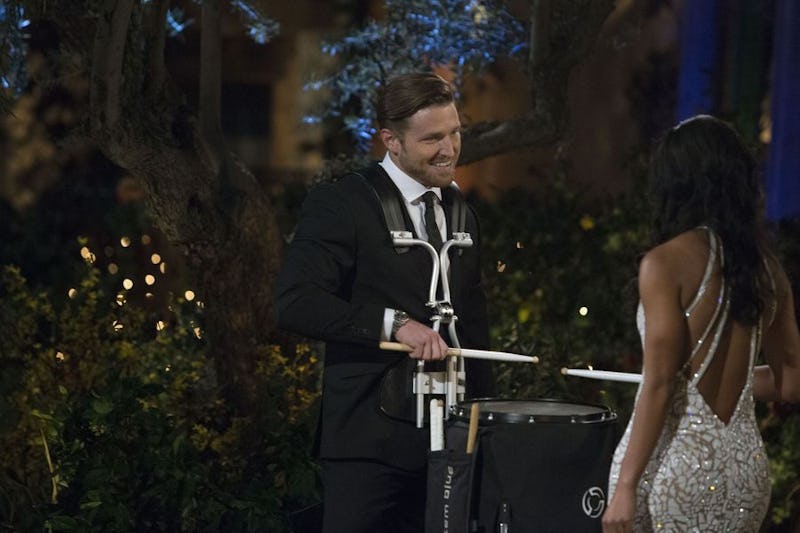 Paul Hebert/ABC
Excitement for Rachel Lindsay's season of The Bachelorette was so high, that months before it premiered, ABC gave fans a little hint at what the upcoming season would be. And when some of Rachel's suitors made a surprise early appearance during Nick Viall's "After the Final Rose" special, there were some early contenders — and a few awkward moments. Like, what happened with Blake E.'s Bachelorette limo exit? When he walked out of a limo for the second time in order to greet Rachel, he brought in a whole marching band, in order to "drum up something new for you." Since Rachel seemed charmed by pretty much every pun presented to her, seems like that was an effective way to erase her memory of the first meeting.
Because during "After the Final Rose," while some of the guys were able to immediately capture Rachel's attention, Blake E. (yes, there are two Blakes) was awkward, stumbling, and kind of screwed up his chance at a great first impression. The best he could manage was a sidehug and commenting that Rachel looked nice and "smelled good." Not the most charming first words to say when you meet someone you're supposed to be open to marrying. I mean, lots of these guys go for goofy or silly jokes and gimmicks, and that's because it's so easy for a cold introduction to get awkward so easily.
And yet, in his pre-taped introduction on the first episode of The Bachelorette, his introduction was so... not that. "I don't want to be the guy who talks about his penis," he says, before talking at length about his penis, and how he has sex for 30 minutes a day. How does that the same guy who botched his first moment with the woman he says he wants a relationship with turn around and a little while later act like all he cares about is the chance to hook up with Rachel? His intro didn't really match with the more genuine interest Blake E. showed when he walked out of the limo again. It may have been a little gimmicky, but Blake E.'s marching band stunt was a great way to make an awkward first impression turn into a much more romantic gesture. And let's hope he leaves the penis talk behind.