Blake Lively's Met Gala Gown Was So Gigantic She Had To Arrive In A Party Bus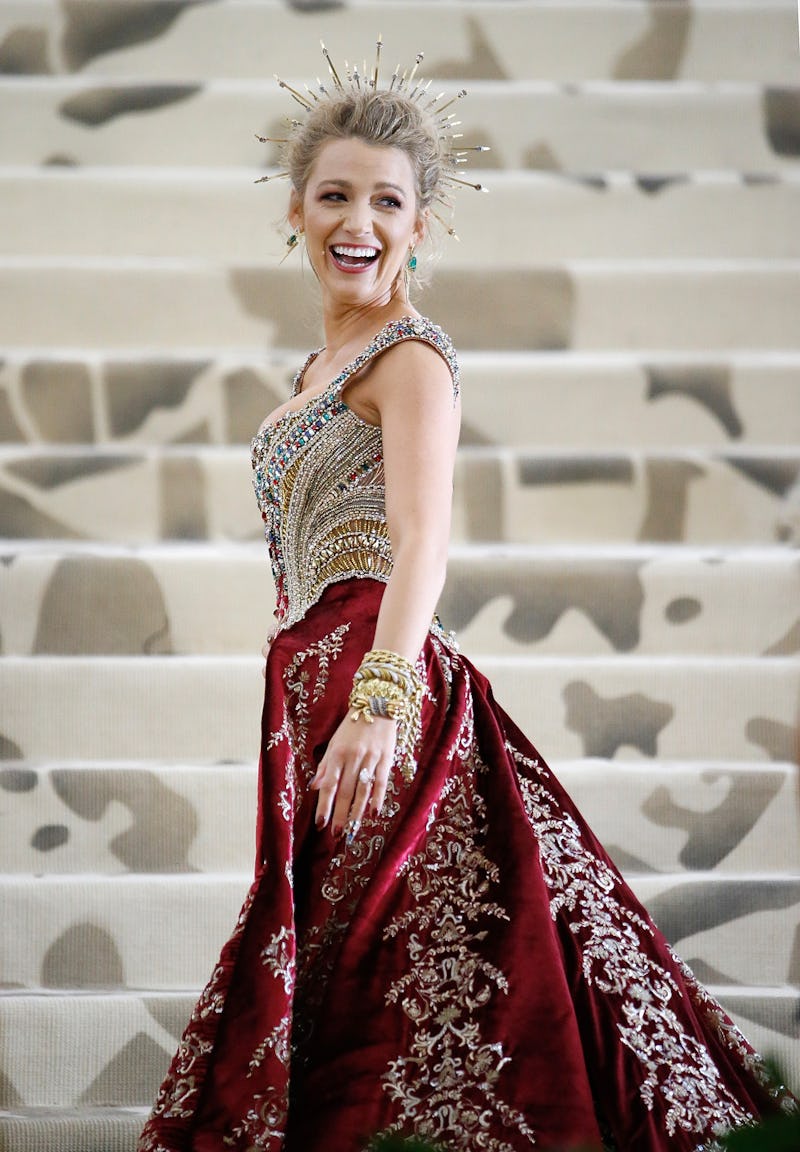 John Lamparski/Getty Images Entertainment/Getty Images
This year's Met Gala was one of the most creative red carpets yet, where celebs really dug in and had fun with the theme. But one of the most awe-inspiring looks was Blake Lively at the 2018 Met Gala. Entitled "Heavenly Bodies: Fashion and the Catholic Imagination," this year's exhibit explores how Christianity and fashion intertwine, and how the two influence each other. Showcasing everything from the Pope's robes from the Vatican to Alexander McQueen's and Jean Paul Gaultier's couture takes on saints and angels, it walks a visitor through the complicated relationship between art and religion.
And seeing how it was such a layered and complex theme, Gala attendees showed up with their A-game. Known as fashion's biggest night for 70 years now, each spring Anna Wintour handpicks the most influential people in the fashion world to attend the fundraiser that kicks off the exhibit launch. Because of that honor, the guests are expected to come with an outfit that interprets the theme, and this year people went all out. There are many different aspects of Christian art that one could have channeled, and the red carpet explored all of them. We had Nicki Minaj channel the devil in a fiery red dress with a sweeping train, Lily Collins was a Gothic nun in a structured, sheer gown, Kate Bosworth was an ascending Mary with her white glittering dress and veil, and Chadwick Boseman had definite Pope vibes with his white caped tuxedo with cross embellishments. While all of these were beautiful and impressive, one of the biggest red carpet standouts was Lively.
Lively's interpretation seemed to pull from Medieval Christian art, where she looked like a 14th-century Catholic queen from an old portrait, donning A Versace gown that took over 600 hours to make.
Using a red and gold motif with sheer paneling and a long heavy train, the ornate crystal beading was hand sewn, hence the long hours.
The bodice of the dress was even more impressive, where it was completely beaded with a dizzying design of stripes and curves, making it look like a jewel-encrusted corset. The bodice was actually the piece that took 600 hours to embroider, so you can only imagine how much more work went into the skirt detailing. The look perfectly mirrored the types of dresses one would see royalty wear during the Middle Ages or Renaissance period, making her look like a literal work of art.
But the details didn't stop there. The actress also wore stacked gold bangles to further highlight the church's penchant for opulence, as well as a gem-encrusted nail topper made with crystals from Swarovski on her left ring finger.
She also carried a custom made clutch from Judith Leiber, which was designed specifically for Lively to pay tribute to her family. Intricately beaded, her family's name is splashed on the back, along with initials for herself (B), husband Ryan (R) and daughters James (J) and Ines (I) on each corner of a cross.
She then tied the "heavenly" theme together with her hair, which was pulled back into a low bun and topped off with a halo-like hair piece.
The halo radiated straight from her bun, making her look like she was royalty hand picked by God — which was what kings thought they were, back in the day.
The dress was so opulent and over-the-top that Vogue reported the actress couldn't take a limo or SUV like the rest of the attendees. Instead, she had to show up in a party bus so she could have plenty of room to sit!
If you love Lively's commitment to nailing the theme, she does it every year at the Met Gala. In 2017, she also came in a Versace dress that melted from chain-link embroidery down to feathers — paying homage to the theme "Rei Kawakubo/Comme des Garçons," which celebrated a designer that liked to push the boundaries of clothes and experiment with avant garde textures, silhouettes, and designs.
Then in 2016 she came in a pink Burberry dress to pay tribute to "Manus x Machina: Fashion in an Age of Technology," which explored how handmade haute couture and machine made ready-to-wear pieces have evolved and influenced each other throughout the decades.
While many people showed up with Space Age or robot inspired outfits, Lively dug a little deeper and explored the handmade-vs-machine-made dichotomy, asking the label to blend intricate handcrafted techniques with technical fabrics, like perspex. Each year Lively nails the theme, and 2018 was no exception.
She is definitely a trailblazer when it comes to the red carpet.