Blake Finally Addressed Those Kristina Dating Rumors & 'Bachelor' Fans Will Be Intrigued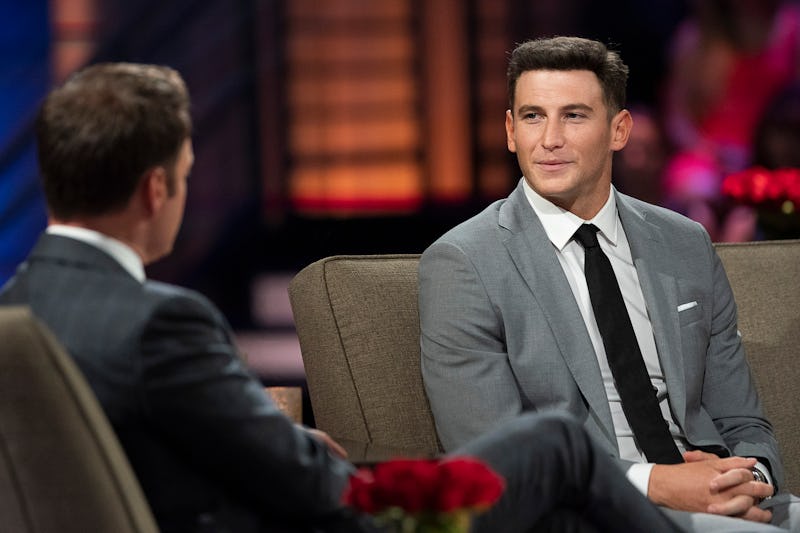 ABC/Paul Hebert
Are they? Aren't they? Because there was that ... and then those ... but now ... ugh, who knows. After a series of interviews, Instagram hints, and reported sightings, Blake Horstmann responded to dating rumors about Kristina Schulman on Ben Higgins and Ashley Iaconetti's Almost Famous podcast, as per Us Weekly. His response probably won't be enough to satisfy Bachelor fans' wildest hopes and dreams about the potential romance, but at least he addressed the speculation in some capacity.
During the Oct. 29 episode of Ben and Ashley I.'s podcast, the hosts asked Blake about his current relationship status. Blake's personal life has been a particularly hot topic as of late, after Life & Style suggested at the beginning of September that Blake and Kristina— a fellow Bachelor Nation alum — were maybe, possibly, secretly dating.
This rumor was further fueled when the pair was spotted together at a baseball game in Denver, Colorado (aka where Blake lives), and has continued to gain traction ever since. Neither he nor Kristina confirmed that they're together, but they hadn't exactly denied it either. (Bustle previously reached out about the rumors, but did not hear back.)
When the Almost Famous hosts confronted Blake about whether or not he and Kristina were an item, the former Bachelorette contestant replied,
"I can confirm I am single right now. I am single, we'll just say that. I mean, [Kristina and I] talked, we chatted, we did hang out a couple of times. She's amazing, she's great, and you know, we get along really well. But right now, you know, we are hanging out, but it's nothing serious right now."
Tom Cooper/Getty Images Entertainment/Getty Images
Jerritt Clark/Getty Images Entertainment/Getty Images
Hmm. OK, so ... you're saying there's a chance? That response sounded like a definite "yes-ish," right? Like, maybe they're casually dating, but they haven't gotten to the point where they've defined their relationship? Like, they're both keeping their options open at the moment, but there's potentially something there?
Well, Blake went on to explain that he's found dating post-Bachelorette pretty weird and tough (understandably so), and that it's something he's still struggling with. Then — almost as if in advanced anticipation of fans' need for a more direct response in regard to what's up with him and Kristina — he clarified,
"But right now, no, [Kristina and I] are not boyfriend-girlfriend. There's an answer to the rumors, because I hear it a lot too."
So, there you have it. He didn't say that they'd never be boyfriend-girlfriend, though. Just that they aren't boyfriend-girlfriend at the moment. Who knows what the future holds?
If they do decide to make things official one day, at least they can rest assured knowing that Bachelor fans are totally behind them. Earlier this month, Kristina opened up her Instagram Stories for questions from her followers, and there were a lot of comments about her and Blake.
"Please talk about you and Blake," one fan wrote, followed by the heart-eyes emoji. "We all ship it!!" Another fan said, "Joining the party of wanting to see you and Blake," and yet another commented, "You and Blake are???" Kristina even posted a poll, asking what fans thought of the pairing.
Kristina didn't directly respond to her fans' questions about Blake at that particular time, but Blake's recent comments on Almost Famous have made their status pretty clear — at least for now.