'90s Kids Are Going To LOVE Blink-182's New Las Vegas Residency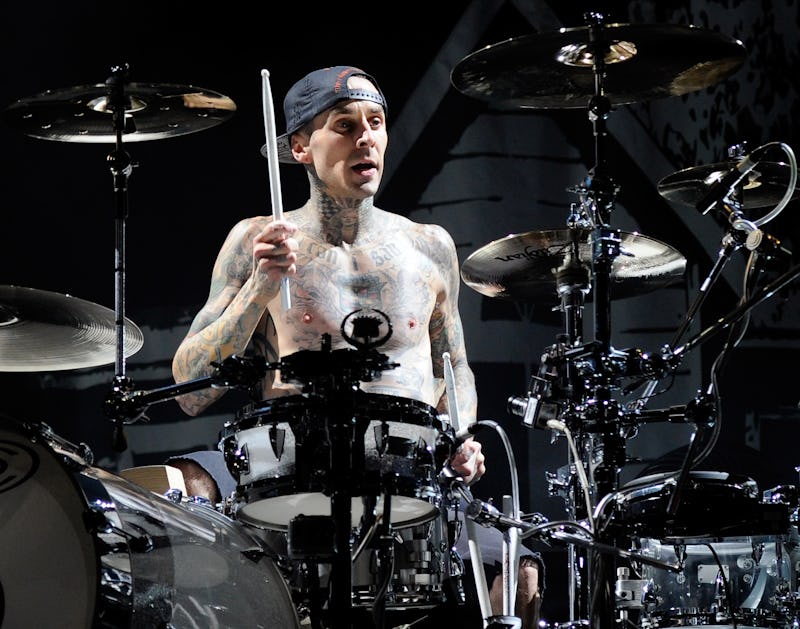 Ethan Miller/Getty Images Entertainment/Getty Images
Just when you thought every element of your childhood has made a comeback, Blink-182 announced its Las Vegas residency. On Monday, March 19, the pop-punk trio announced that they'll be kicking off a series of concerts at the Palms Casino Resort beginning on Memorial Day. But if this is the sort of news that makes you want to blast "What's My Age Again?" then don't sleep on it. Because unlike the Vegas residencies you might have in mind, the Kings of the Weekend residency will be a limited edition.
Fellow '90s mainstays like Britney Spears and Celine Dion have set up shop on the Las Vegas strip and have performed for years. Spears' Piece of Me residency extended over four years and 250 performances with a second residency reportedly in the works, and Dion's Celine began in 2011 and is still ongoing due to popular demand, performing an incredible 70 shows a year. In contrast, Blink-182's run will be decidedly shorter, with just 16 performances currently scheduled throughout the Summer and Fall 2018.
According to E! News, the Kings of The Weekend residency premiere on May 26 and perform every weekend in June, then take a break until the last weekend of October, when they'll have their final shows in early November before wrapping on Nov. 17.
So if you're a fan of Mark Hoppus' bass and vocals, Travis Barker's tattoos and drum-playing, and Matt Skiba's skills on the guitar, you should waste no time in securing your tickets. They'll go on sale Friday for the show and the press release described the show as the following:
"Blurring the line between rock, punk and pop, Blink-182 with Mark Hoppus (vocals/bass), Travis Barker (drums) and Matt Skiba (guitar), will bring its nearly 25-year history of hit songs, inappropriate tales, and nonsensical antics to life in Kings of the Weekend."
It's a relief to see that rosters aside, not much has changed in the band's 25-year history. They'll still be their reliably punk selves, just classed up a little bit. It is Vegas, after all, and the Californian band is stepping into some pretty big shoes with this residency. But Hoppus is confident that they're more than up to the task of filling them, as he reassured fans in the wake of the Mar. 19 announcement.
"When the Palms asked us to do a residency here in Vegas, we said 'Absolutely!' Now, we just have to cast our show girls, create our set list — a true throwback of Vegas classics with Sinatra, Liberace. Maybe we can even marry someone on stage...The possibilities in Vegas are endless."
The only possibility that doesn't seem to be on the table in Vegas is for a reunion with former co-lead vocalist and guitarist Tom DeLonge. If you were searching for his name in the mix, then you're sadly out of luck, not to mention behind the times.
DeLonge parted ways with the band in 2015. A statement from Hoppus and Barker that was released to Radio.com in January 2015 stated the following:
"We were all set to play [Musink Music and Tattoo Festival in March 2015] and record a new album and Tom [DeLonge] kept putting it off without reason. A week before we were scheduled to go in to the studio we got an email from his manager explaining that he didn't want to participate in any Blink-182 projects indefinitely, but would rather work on his other non-musical endeavors. No hard feelings but the show must go on for our fans."
And go on it has — the band replaced DeLonge with Alkaline Trio's Skiba, and the change-up hasn't seemed to cramp their style. Exactly the opposite, in fact, if this residency is any indication. So while you can't expect the ex-Blink-182 guitarist to take the stage with his former band, it sounds like everything else will be exactly how you remembered. Right down to all the small things — we did it again! — like your parents totally not understanding what you see in these guys, but you'll always love them anyway.