Britney Spears' Las Vegas Residency May Have Just Been Extended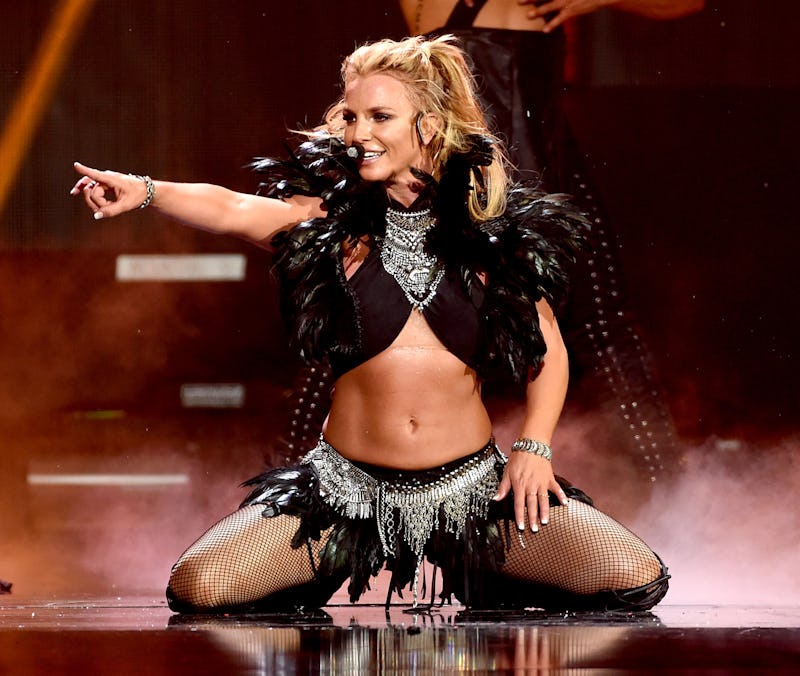 Kevin Winter/Getty Images Entertainment/Getty Images
If you missed out Britney Spears' run of shows in Las Vegas, you might not be out of luck after all. Spears' new Las Vegas residency deal is reportedly in the works, and, if true, it only further proves she's an icon here to stay. The pop legend concluded her "Piece of Me" residency at Planet Hollywood on Dec. 31, 2017, and Us Weekly broke the news that Spears reportedly signed a new deal that will keep her in Las Vegas. Per the magazine, Spears will bring a show to the Park Theater beginning in 2019. No other details of the show have been released, and the news has yet to be confirmed. (Bustle has reached out to Spears' rep for comment, but did not receive an immediate response.)
The singer performed 250 "Piece of Me" shows at Planet Hollywood between December 2013 and December 2017. The source that spoke to Us Weekly claimed that Spears "loved" doing the Planet Hollywood shows. Her sons are ages 12 and 11 now, and the unnamed source reports that, "The [residency] schedule was perfect for her and her kids, so why not continue?"
It's worth noting that the 36-year-old was performing at least 50 nights a year for four years, often for sold-out audiences, and frequently making headlines for fun things like ignoring her errant hair extensions or snatching her own weave during a show.
By the time the reported 2019 residency begins, it will be the historic 20th anniversary of "...Baby One More Time". 1999 was a breakout year for Spears, as her first album, music video, and Rolling Stone cover were all released. The fact that, two decades later, the pop star could begin a brand-new residency in Las Vegas proves her effect on pop culture consciousness was by no means a fluke. Spears' longevity is real, and the Park Theater would be so right to invest in her.
Her last show at Planet Hollywood was reportedly "emotional," marked by the significance of New Year's Eve and the (at the time) unclear future of Spears' residency plans. As the insider said to Us Weekly, "[The performer] tearfully made a toast to one of her biggest fans... who has supported her for nearly two decades. There wasn't a dry eye in the house."
Though it goes without saying, the renewal of her residency would be a positive development for Spears and for fans of Spears. After all, though she experienced some challenging years in the mid-late '00s, seeing her settled down and happy at home is heartwarming for everyone. She posts sweet Snapchats with her hunky boyfriend on social media, or amazing videos where she's painting on her porch and listening to classical music. She's also taken up some political causes, like protecting the DREAM act. It's encouraging to see her so relaxed and open, inviting fans into as much of her life as she's willing to share. Besides, an extension to her residency would be soothing to fans who might be longing to see her, since it's been a while since she last went out on tour.
Residencies are lucrative opportunities for stars and Las Vegas venues alike, so a second one would be a match made in casino heaven. While the Park Theater might not be as recognizable as the Planet Hollywood brand, it's undeniably on its way up; in addition to reportedly booking Spears for 2019, the venue will host performances from Lady GaGa, Cher, and Bruno Mars.
While fans wait to see when and if the Park Theater will confirm Spears' new residency deal is real and happening, one thing is for sure. Fans will be ready to purchase tickets the moment that news comes out.