Blue Bell Just Launched Peppermint Bark Ice Cream With "Chunks" Of Dark Chocolate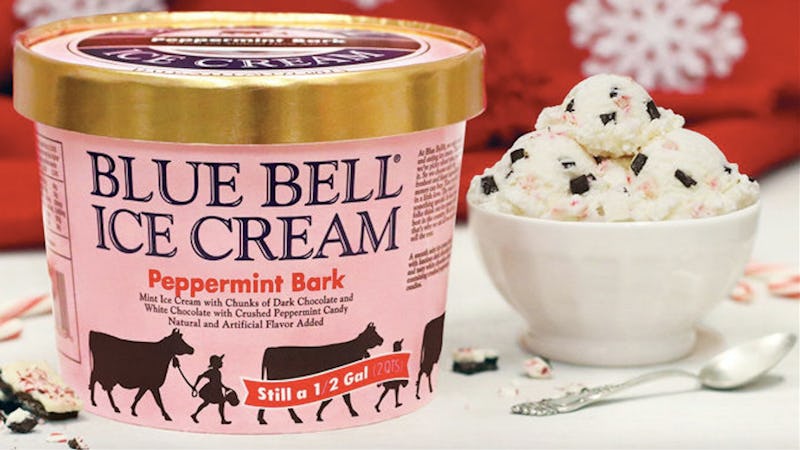 Blue Bell
The holiday season is among us! Sort of! Almost! Either way, makers of holiday season things are ready for all of our shopping needs and cravings even though it's not even Halloween yet. This includes ice cream brand Blue Bell, which has a new peppermint bark ice cream, according to Chew Boom. Yep, that's right. Pumpkin spice season is drawing to an end, and peppermint season is nearly here. Depending on your preferences, may I offer either my congratulations or condolences.
If you do love peppermint-flavored things during the holidays, then Blue Bell's new ice cream could be for you. The company describes it as "a smooth mint ice cream loaded with luscious dark chocolate chunks and tasty white chocolate chunks containing crushed peppermint candies." The ice cream has natural and artificial flavors. According to Chew Boom, the new flavor will be available throughout the 2018 holiday season. You can find a retailer near you here, but unfortunately, for anyone in the northern or western United States, Blue Bell is primarily available in the south, with a few exceptions.
In addition to the peppermint bark flavor, Blue Bell will once again offer their peppermint ice cream during the holidays. This one doesn't include chocolate, and is "cool, refreshing peppermint ice cream sprinkled with peppermint candy pieces." Also, it's pink. Blue Bell still has their year-round mint chocolate chip ice cream, as well, "a refreshing, creamy mint ice cream sprinkled with delicious semi-sweet chocolate chips."
The third seasonal flavor Blue Bell currently carries is Spiced Pumpkin Pecan, which is more fall than winter. The company describes this flavor as "a delightful spiced pumpkin ice cream combined with tasty sugar-coated pecans and a rich cinnamon-honey-praline sauce."
The ice cream only covers one category, so if you need more peppermint in your life, there are plenty of other options this holiday season.
Peppermint Bark Oreos
There are a gazillion different flavors of Oreos at this point, from Swedish Fish to hot wing (?!?!!), so of course, now it's time for Peppermint Bark Oreos. (Probably should've come before hot wing, but I don't call the shots.)
Starbucks Iced Peppermint Mocha
If you like a side of caffeine jitters with your peppermint, bottles of limited edition Starbucks Iced Peppermint Mocha have started hitting shelves. It's "rich" and "minty".
Starbucks Peppermint Mocha Ground Coffee
Prefer to make your Peppermint Mocha yourself? Starbucks also offers peppermint and mocha flavored ground coffee. The smell of peppermint... and chocolate... and coffee will fill your home.
Boom Chicka Pop White Chocolate & Peppermint
It's hard to imagine what white chocolate peppermint popcorn would taste like, but Boom Chicka Pop is providing a way to find out, whether anyone asked for it or not.
It's only October, so there are sure to be more peppermint products on the way. While more mint-flavored sweet treats and beverages are certain (doughnuts, lattes, cakes, etc.), with these food mashups, anything can happen. Will we get peppermint bark Doritos? Peppermint Coca-cola? Minty french fries? Hot wing Oreos exist, so don't rule anything out.