Starbucks' Iced Peppermint Mocha Is Back On Shelves — Here's Where To Get It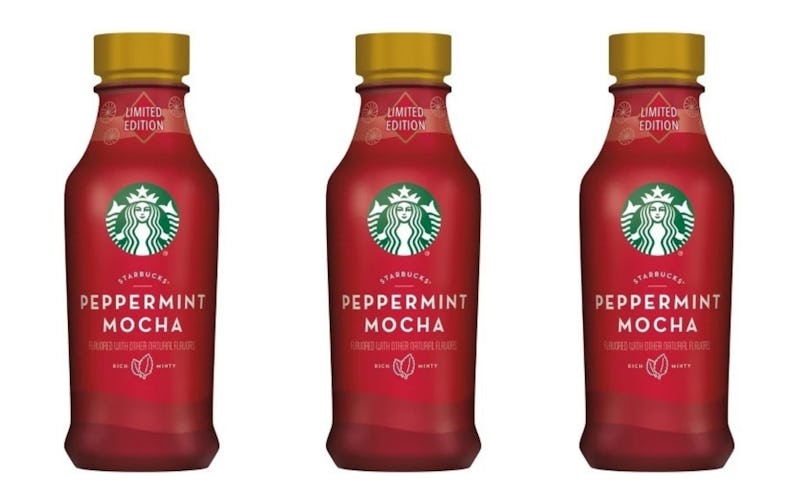 Target
Nothing screams "THE HOLIDAYS ARE BASICALLY HERE AND 2018 IS ALMOST OVER" like spotting Starbucks' seasonally-flavored beverages lining store shelves and Starbucks menus everywhere. And yes, folks, I know it's only September. And we've barely left summer behind. And it's not even Halloween yet. But, ready or not, the time is nigh: Starbucks' Iced Peppermint Mocha is back in ready-to-drink bottles, and it's reportedly been spotted for sale at Target. Starbucks holiday drink fiends, it's time to get hyper on sugar, espresso, and holiday dreams. And I know it's like officially PSL season and all, but TBH, I've always preferred a peppermint mocha. I know, it's a little blasphemous to admit — especially as we quickly approach the month of all-things-pumpkin — but it's true. Don't judge me.
While Starbucks' much-beloved autumn-themed drinks have already hit stores, this seems to be the first we've seen of the classic Peppermint Mocha so far this season. Instagram account @candyhunting appears to be the first to have shared the inside scoop on the mocha's sighting, finding bottles of it for sale near the register at a Target store, according to their post from Sep. 20. We're all very grateful for their holiday-treat-spotting eagle eyes. The Instagram account (which claims to post "the newest junk foods before you hear about it anywhere else" — woo!) is based out of Wisconsin, according to their bio, so that may be where this peppermint staple was spotted. Midwesterners, do us peppermint lovers a solid and keep an eye out, will ya? The bottled drink is listed for sale on Target's website, though (albeit !!sold out!! for online shipping at the time of this post), so we can likely assume that it's going to be available in stores nationwide. Keep your caffeine-and-sugar-fueled eyes peeled for 'em next time you're doing some early Target holiday shopping, or use the "Buy In Store" option on Target's site to check if they're in stock at the location nearest to you.
The bottled version of this holiday fave is described on Target's site as being best served chilled or over ice — but it's shelf-stable, so you can store it at room temperature until you open it. The iced Peppermint Mocha is also described as being "rich and minty" in flavor (as one may have oh-so-observantly guessed), so if peppermint chocolate is your holiday flavor profile of choice, congratulations: Your season has officially arrived.
If peppermint isn't your jam, though (which is a confusing thought to a peppermint freak like myself, but to each their own), you apparently have other bottled options to choose from that will surely satisfy your caffeine-addicted holiday sweet tooth. The aforementioned Instagram post also notes that the bottled version of Starbucks' Iced Peppermint Mocha is being sold in addition to some of the chain's other ready-to-drink seasonal flavors, like Pumpkin Spice and Smoked Butterscotch, so y'all have choices. And I get it, some people just can't stop won't stop with pumpkin spice, so feel free grab a bottle of that instead, if needed.
If you prefer the hot n' freshly-brewed version of this espresso-filled treat, keep an eye out for the drink's official launch on Starbucks' store menus nationwide and then order yourself one in person, where you can customize it to your heart's desire and create the peppermint mocha of your dreams (almond milk, no whip, and an extra pump of peppermint syrup for me, thank you). But if you just can't wait, or you're on-the-go and want a Peppermint Mocha that you can literally throw in your purse on the way out the door, well, the season for that has officially arrived.