Listen To Blue Ivy's Rap Debut In '4:44'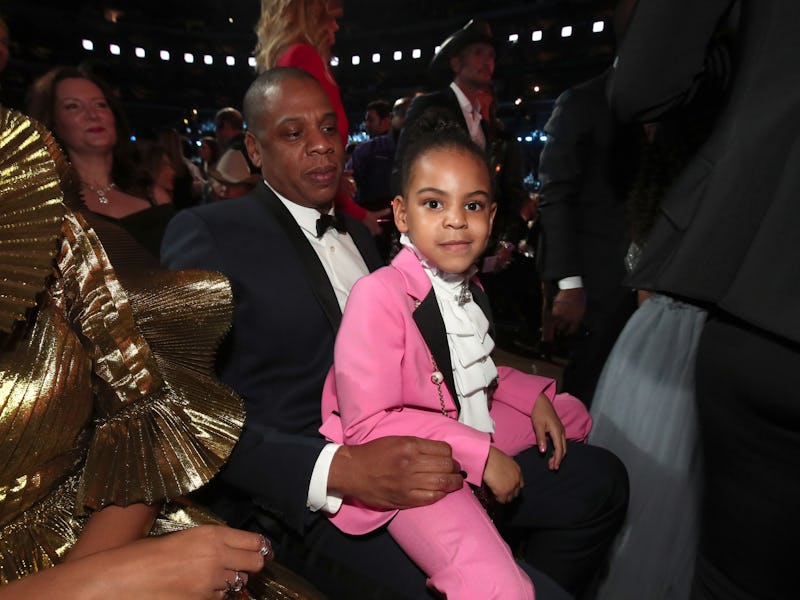 Christopher Polk/Getty Images Entertainment/Getty Images
Since JAY-Z released his latest album on Tidal last week, it seems like all ears have been on his words — but there's actually far more to 4:44 than what JAY-Z has to say on the album. When the content of the album's bonus tracks went public on Thursday, fans and listeners discovered that Blue Ivy Carter made her rap debut on 4:44. Regardless of what Jay said or didn't say in the rest of the album, Blue Ivy's freestyle on the bonus track that carries her name is worth a listen.
According to XXL, Blue Ivy's bonus track is called "Blue's Freestyle/We Family." It's one of three bonus tracks that appear on 4:44, including one track that features James Blake. Information about the bonus materials on the record was released Thursday, but the actual album was not expected to lose its Tidal-exclusivity until Friday.
Still, audio from Blue Ivy's track quickly circulated online. In the song, the superstars' daughter raps, "Everything, everything is my only single thing. Everything I hear is my answer." There's also the metaphorically inspirational line, "I never hear that, I be in the posse. Never seen a ceiling in my whole life." This girl's got a budding career ahead of her.
Although it wasn't exactly expected, Blue Ivy's appearance on her dad's album should really be no surprise. In 2012, JAY-Z featured Blue Ivy as a newborn on "Glory." At the time, she wasn't rapping, but just babbling, as infants do. With 4:44, she was able to step it up in a big way.
At age 5, Blue Ivy is setting the bar high for her newborn siblings. Not to mention, she's also setting quite the standard for the music industry's next generation. When DJ Khaled released his new album, Grateful, last month, he credited his infant son, Asahd, as executive producer of the album. Like Blue Ivy, Asahd's babbling also made it onto a track of his dad's first album since the child was born. The final track on Grateful, aptly called "Asahd Talk," features audio of Khaled's son. The album cover bears his photo.
Before 4:44, the world already knew that Blue Ivy could steal the spotlight from her parents. She appeared in Beyoncé's visual album, Lemonade, last year and she looks more at home on a red carpet than any other 5-year-old reasonably could. After 4:44, though, Blue Ivy's place in the music industry is secured, should she choose to continue with her rap career.