JAY-Z's '4:44' Might Be A Response To 'Lemonade'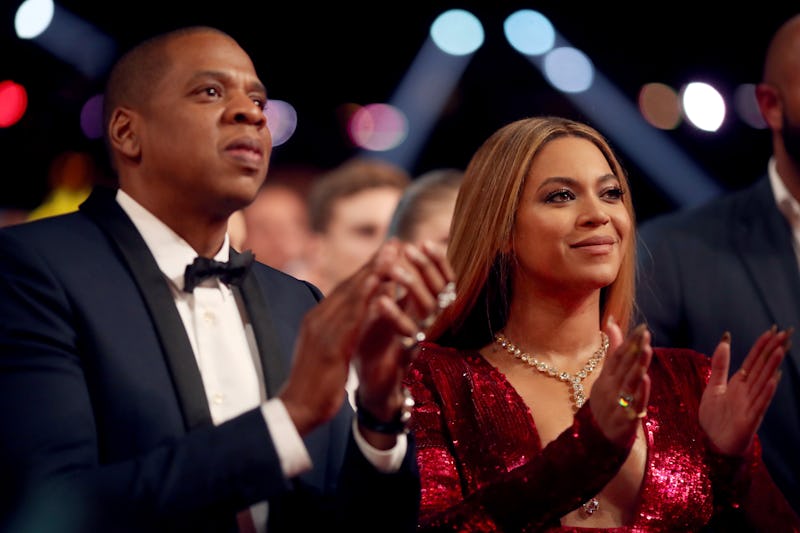 Christopher Polk/Getty Images Entertainment/Getty Images
After almost four long years, the Shawn Carter musical drought is over. It's even more welcome because we've all been hoping for a response to the marital drama that seemed to be implied by Beyoncé's last album. And is JAY-Z's 4:44 a response to Lemonade (though only in part)? Yes, definitely, according to fans. It's not often a writer gets to give such an unqualified statement on a tricky question like that, but, in this case, the 47-year-old has made it crystal clear that certain songs and lines on his album are absolutely answering some of what was speculated about the Carters' marriage from Beyoncé's 2016 album. (Bustle has reached out to JAY-Z for comment, but did not receive an immediate response.)
Even the least attentive of writers could hardly fail to miss couplets like "Yeah, I'll f*ck up a good thing if you let me / Let me alone Becky!" which addressed one of the most popularly memed parts of the album, the immortal description of "Becky with the good hair." Of course, none of this is surprising. As Vogue has already noted, the title of the album could have been our first clue, since Beyoncé explained about naming her 2001 album 4 : "My birthday is on the fourth. My mother's birthday is on the fourth. My husband's birthday is on the fourth. I got married on the fourth." But let's explore the other clues that fans have picked up on.
"Kill Jay Z"
"You egged Solange on
Knowin' all along, all you had to say you was wrong"
Ignore the second person — the rapper appears to be addressing himself, so when he says "you" egged Solange on, he's actually saying "I egged Solange on." Presumably this is in reference to the Solange elevator incident when, on May 5, 2014, Beyoncé's sister attacked him in an elevator and this was caught on security footage. Shortly after the incident, the couple and Solange released the following joint statement in response to the rumors:
"As a result of the public release of the elevator security footage from Monday, May 5th, there has been a great deal of speculation about what triggered the unfortunate incident. But the most important thing is that our family has worked through it. Jay and Solange each assume their share of responsibility for what has occurred. They both acknowledge their role in this private matter that has played out in the public. They both have apologized to each other and we have moved forward as a united family."
Still, there were rumors at the time that JAY-Z was attacked by Solange for infidelity. While these verses don't directly address any specific line from Lemonade, it does mean that 4:44 opens on a song in which he appears to admit his wrongdoing and touches on what the public assumes to be his infidelity. These were both themes that Lemonade made even more public with lines like, "You can taste the dishonesty / It's all over your breath as you pass it off so cavalier."
Later in the song, he raps:
"You almost went Eric Benét
Let the baddest girl in the world get away"
According to The Guardian, JAY-Z's "Eric Benét reference pertains to the R&B singer and actor who was unfaithful to Halle Berry." But this doesn't just act as a generalized response to Lemonade; it actually uses the lyrics from "Hold Up" from the 2016 album, in which Beyoncé imagined a reality where her husband "never had the baddest woman in the game up in your sheets."
"4:44"
JAY-Z's first line in this powerful track "Look, I apologize, often womanize," which also condenses the album's themes into one line. it's not just answering Lemonade; it's apologizing to Beyoncé for the womanizing she seemed to accuse him of in her visual album. It continues:
"We talked for hours when you were on tour
Please pick up the phone, pick up the phone"
This feels like a direct response to Lemonade's "Sorry," in which your favorite singer describes her husband as wanting to apologize and wanting "to call me crying." We see this same desperation in these lyrics.
He continues:
"I still mourn this death, I apologize for all the stillborns
'Cause I wasn't present, your body wouldn't accept it"
Again, this feels like a direct response to something made public by the 2016 album: Beyoncé had suffered miscarriages, with the singer stating "Here lies the mother of my children both living and dead. Rest in peace my true love, who I took for granted." Just like his wife, JAY-Z appears to link this to his actions, arguing his emotional absence meant her body couldn't accept the pregnancy. The rap continues:
"And you stare blankly into space
Thinkin' of all the time you wasted in on all this basic sh*t"
This seems to reiterate the former Destiny's Child singer's defiant refrain in "Sorry": "Suck on my b*lls, pause, I had enough." In short? Beyoncé got to the point where she'd had enough.
He continues:
"I promised, I cried, I couldn't hold
I suck at love, I think I need a do-over
I will be emotionally available if I invited you over"
Again, this feels like it echoes Beyoncé's take on her marital issues in "Sorry," specifically the line, "He always got them f*cking excuses." But just as "Sorry" eventually makes it past the storm to reach the happy ending, so too with "4:44" when he finally reaches:
"What good is a ménage à trois when you have a soulmate?
'You risked that for Blue'?"
This feels in line with Beyoncé's conclusion that:
"Me and my baby, we gon' be alright
We gon' live a good life"
"Family Feud"
We get this happy ending reiterated one more time in "Family Feud" where he raps:
"Yeah, I'll f*ck up a good thing if you let me
Let me alone, Becky
A man that don't take care his family can't be rich"
If there had been any doubt that this album was directly responding to Lemonade, that's all gone, right? Because "Becky with the good hair" is probably the most memorable line from the entire project.
In short, it looks like JAY-Z has no problem at all these days with opening up or with entering into a musical conversation, responding almost line for line to Lemonade.