Blue Ivy's Latest Dress Costs Way More Than Your Rent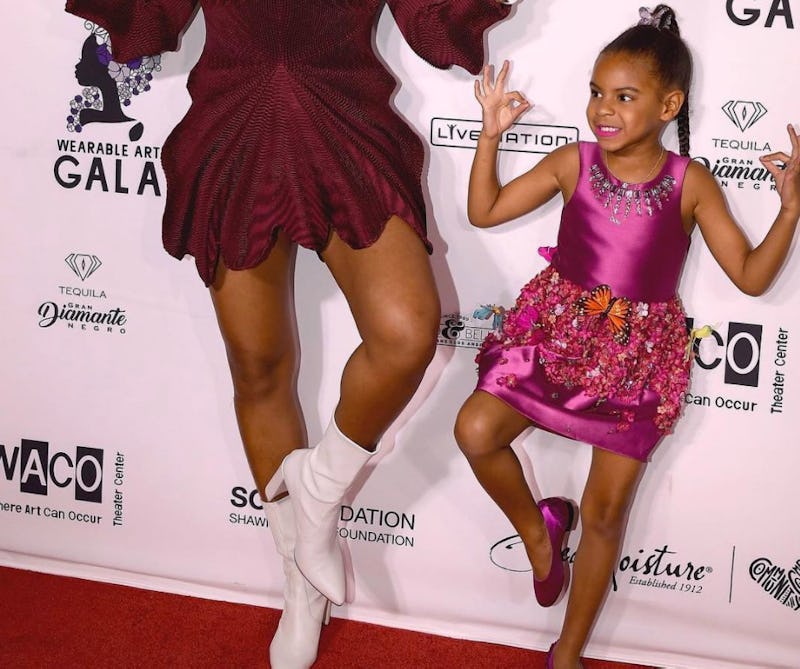 Like mother, like daughter — Blue Ivy Carter absolutely brought it at the Wearable Art Gala in Los Angeles on Saturday, April 29. But in true family tradition, she proved that slaying doesn't always come cheap. According to InStyle, her limited edition Mischka Aoki dress costs more than $9,000 — so, to put that in perspective, probably between six months to a year of your rent.
The satin dress the 5-year-old wore (yes, 5-year-old) is aptly named Her Royal Highness. It features a bejeweled neckline, a tulip skirt covered in flowers, and literally thousands of Swarovski Crystals — not to mention the hundreds of hours it takes to make. No wonder it costs between $8,405.53 and $10,637.50, depending on any custom details you add (like Blue's butterflies). I can't even begin to imagine how much this would be in an adult size, although most of the creations from the luxury children's brand would be just as stunning all grown up.
Of course, Blue's whole adorable ensemble was probably worth the eye-popping price tag. Complete with matching fuchsia lipstick and flats, it's clear that Blue has learned a thing or two from her stylish mama. Beyoncé's mom Tina Lawson, who hosted the Wearable Art Gala, posted a photo of Blue and her aunt Solange to show us all how a $9,000 children's dress is done.
Of course, this isn't the most extravagant gown Blue's ever worn. Remember her precious tulle VMA gown? Also made by Mischka Aoki, this one cost almost $11,000. (11. Grand.)
Again, totally worth it.