Blue Ivy Knows How To Do A Better Cat Eye Flick Than You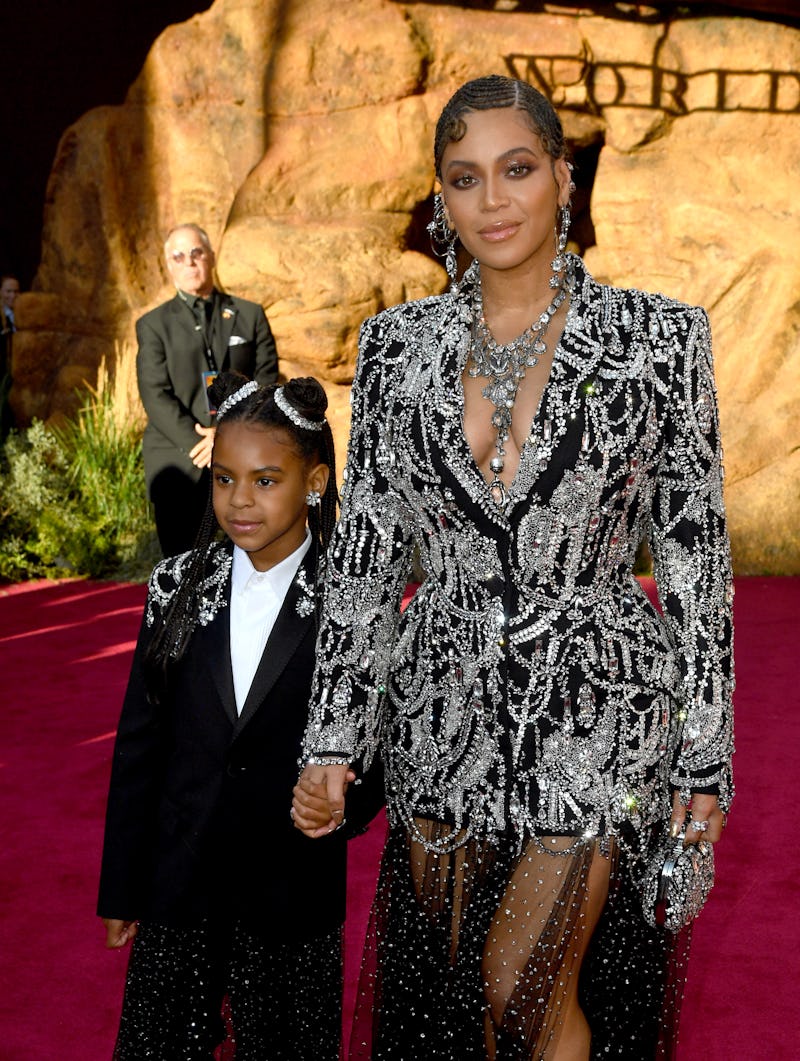 Kevin Winter/Getty Images Entertainment/Getty Images
Mastering the cat eye is hard, but apparently Beyoncé's seven-year-old daughter has it down pat. During Los Angeles' Beautycon event, Tina Knowles Lawson shared that Blue Ivy has mastered the cat eye. As anyone who has filled the garbage can with black-smeared Q-tips can attest, that's a hard skill to learn and perfect. But Blue Ivy has a natural talent with those eyeliner flicks.
"She's quite a makeup artist. She's amazing," Knowles Lawson told Entertainment Tonight at Beautycon. "She puts stones [on her eyes] and does all this fancy stuff. She can do a perfect cat eye. She's a little artist."
Blue Ivy learned the skill thanks to her grandma's beauty kit gifts. Knowles Lawson shared that she loves to buy her granddaughter makeup sets to play with, giving Blue Ivy plenty of chances to practice.
"I've bought Blue so many makeup kits, much to her dad's dismay! Dads don't like that," Knowles Lawson said. "But it's just for playtime. We have fun."
As for her own children, Knowles Lawson said that she waited until Beyoncé and Solange were teenagers before allowing them to leave the house with makeup on. But even then, it was just a small introduction to the cosmetics world.
"A little lip gloss — maybe a little blush — and I always believed in mascara, that's so fun. But not any base and all that stuff, that's a little much," Knowles Lawson said.
Blue Ivy's deft hand with makeup isn't all that surprising, especially considering that Beyoncé shared photos of her daughter playing with her makeup collection before.
On March 2016, when Blue Ivy was 4 years old, Beyoncé shared a photo of her daughter playing with her makeup bag and putting on lip gloss. Blue Ivy had a row of stick-on rhinestones decorating the tops of her eyebrows, and was carefully applying magenta liquid lipstick. The creases of her eyelids also had a cat eye of sorts, extending out into a classic flick at the corners of Blue Ivy's eyes.
A few months prior to that, in January 2016, Knowles Lawson also shared a photo of Blue Ivy wearing another bold lip color. In Knowles Lawson's selfie with her granddaughter, the two were wearing the same orange liquid lipstick color. According to Knowles Lawson's caption, the pair were playing dress up, and Blue Ivy put on her grandma's lipstick all by herself.
Then in March 2019, Beyoncé's makeup artist Sir John told Hello! that he had a client with a very talented kid. While he wasn't specific about who he was talking about, Sir John said, "Well, I have a client who has a seven-year-old daughter and she does an immaculate flowing eyeliner. She's coming for my job."
So not only does Blue Ivy know how to make a cat eye, but it goes on immaculately smooth. No bleeding edges for Beyoncé's firstborn. Blue Ivy clearly has had a head start with her makeup education, so it will be exciting to see what she will master next.