The Sneaky Detail About Blue Ivy's Dress In The "Family Feud" Music Vid You Probably Missed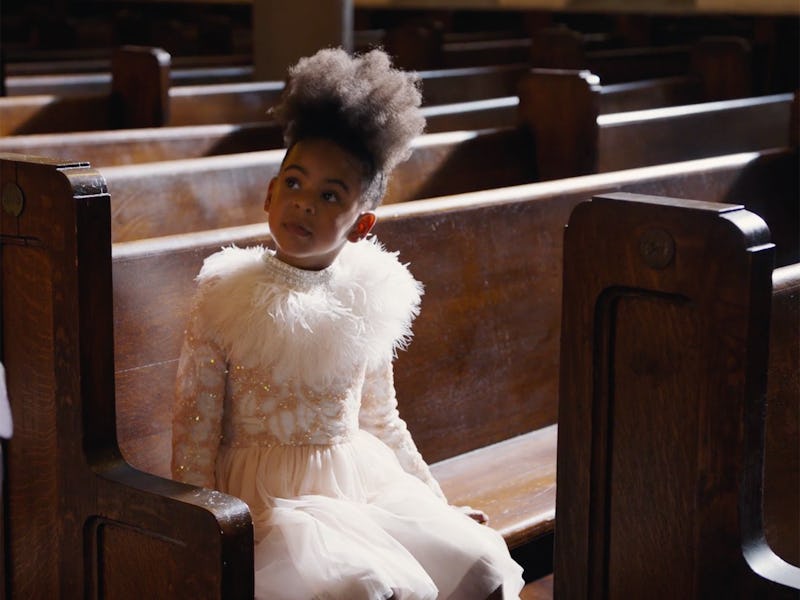 Just as the holiday season was about to come to a close, JAY-Z gifted us with one last present to wrap up this whirlwind of a year. On Friday, the music video for "Family Feud" was released on Tidal, and it's a venerable goldmine of well-dressed celebrity cameos. Blue Ivy's outfit in particular is (deservedly) getting a lot of love from fans, what with all those fabulous feathers and sparkly details. But one detail you might have missed on the first viewing? The look is very similar to the gown Beyonce wore at the 2016 VMAs — which also happened to be the very first time she brought Blue Ivy to walk down the red carpet.
The first time we see a version of the dress in the video is actually on Susan Kelechi Watson — who, we find out, is playing a grown up version of Blue Ivy, who happens to be one of the "Founding Mothers" of the United States. After about a minute of watching Watson and several other famous women discuss rewriting the constitution, we flash back to Blue in 2018, wearing the dress in question. Is it a coincidence that she's wearing a look that follows in the footsteps of the day her IRL mother introduced her to the glamour that comes with a red carpet spotlight? Perhaps. But judging by the amount of other intentionally hidden meanings in the video and the amount of focus the whole eight minute work puts on the importance of family (as Allanah Dykes put it for Elite Daily, the Carters seem to be a sort of modern day Corleone Family for this work), it's hard not to believe that this costume choice was quite deliberate.
Larry Busacca/Getty Images Entertainment/Getty Images
OK, OK, so they're not identical. Blue Ivy's number in "Family Feud" is white and gold, while Beyonce's Francesco Scognamiglio dress was a light, beaded blue. But! Take a peek back to pictures of Blue Ivy on that same VMA carpet:
Judging by this photo, it could just be that she's more of a gold (or rose gold) gal than blue. It'd be hard to deny that there isn't some sort of sneaky homage to her stylish mother going on in the video — especially since this would be far from the first time that Blue has taken after Bey in the clothing department. Plus, as Mashable pointed out, this is Blue's acting debut. Wouldn't it be appropriate to have some sort of nod to her red carpet debut in 2016?
Bustle has reached out to the costume designer for "Family Feud", Ayanna James, for comment on the intention behind this dress in particular, but has not received a response at the time of publication. In fact, the only comment she's made so far is a simple tweet saying "So this happened. #2017Highlights" with a photo of her name in the video's credits.
There might not be much info yet about the inspiration behind every last incredible look, but that hasn't stopped everyone on Twitter from freaking out over all of them.
Yes, please!
Will Blue Ivy show up to the next function with oversized sleeves? Fingers crossed.
A princess, or one of The Founding Mothers who happens to have a hand in re-writing The Constitution.
No surprises there, eh?
Same.
It's just so good.
Whether the look was a coincidentally a match for her momma or a deliberate Easter egg hidden for fans, one thing's for sure: Blue Ivy is rocking the heck out of that feather collar. Can't wait to vote for you in 2050, girl.