Here's The Real Meaning Behind JAY-Z's "Family Feud" Music Video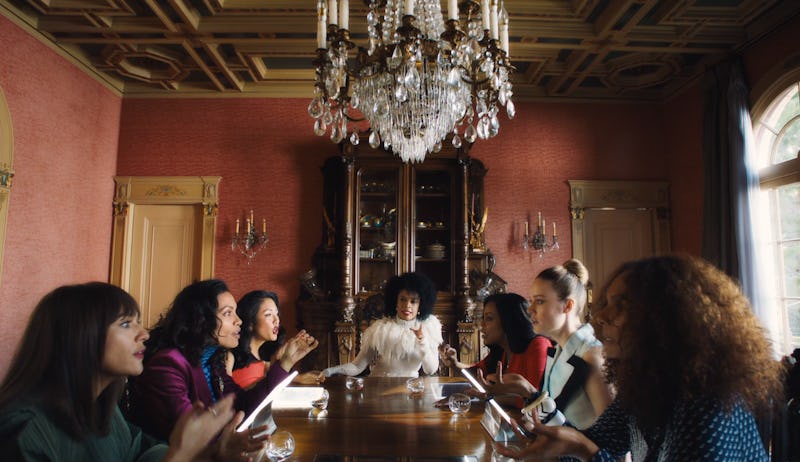 TIDAL
On Friday, Dec. 29, after a teaser that had everyone talking, JAY-Z's "Family Feud" music video hit TIDAL and it was — a lot. Like many of his other videos, "Family Feud" had celebrity cameos, this time from everyone from Michael B. Jordan to Jessica Chastain to Mindy Kaling; the majority of the video was a film directed by Ava DuVernay, with the images from the teaser making up only the last few minutes. But JAY-Z's "Family Feud" video meaning goes a lot deeper than just infidelity, as fans thought the original video would address. It's time to take a deep dive into everything that youwatched.
Let's start at the beginning. The video opens with a James Baldwin quote that reads,
"The wretched of the earth do not decide to become extinct, they resolve, on the contrary, to multiply; life is their weapon against life, life is all that they have."
The quote comes from The Devil Finds Work, Baldwin's book-long essay on race and American cinema — and that pretty much tells you everything you need to know about the theme already. In the rest of the paragraph, which Baldwin writes in response to a scene of a peasant boy's murder in Charles Dickens' A Tale of Two Cities, he continues, "the civilized have created the wretched, quite coldly and deliberately, and do not intend to change the status quo." If that seems eerily relevant to our modern political climate and race relations in America today, well. Now you're catching on.
The video then moves to a scene in which Michael B. Jordan awakens his sister, Joan, who has been named head of the family instead of him — something he resents. When he berates her for being half-dressed and in bed, Joan's previously-hidden lover attacks and kills him. But when her lover comes to her for a celebratory kiss, Joan stabs him in the back in the middle of it, telling him, "It's not his. It's not yours. It's my throne." (Boy, bye. She ain't sorry.) Then she puts on a lavish robe and leaves the room.
This murder goes on to have ramifications for the rest of the family, including two presidents — one played by Omari Hardwick — who must sit and defend to Jessica Chastain the fact that "we are all related" and how her focus on the law is preventing her from understanding the legacy this family has built. "The worst of us does not define us," says Hardwick as he runs through several moments in his family's history that have changed the world. (Their history, by the way, is our future.) There's even an incredible all-female council led by Susan Kelechi in 2050, including Mindy Kaling, Rosario Dawson, Constance Wu, and Brie Larson, who are creating the "confessional papers" and new constitution.
It's also at this point that the video even gives us one hell of a Donald Trump reference as Hardwick says the creation of this constitution happened "at a time when some thought that making America great meant making us afraid of each other." Are Trump's ears burning?
But the most obvious and undeniable reinforcement of the message comes at the end of this all-women council meeting, when Kelechi says, "America is a family and the whole family should be free... It's like I remember my father saying when I was a little girl..." and here the camera cuts to JAY-Z leading Blue Ivy down the aisle of a church, implying that Blue Ivy grows up to be this powerful council leader presiding over this world-changing constitution, "Nobody wins when the family feuds."
Hardwick then concludes,
"Just because we failed to live up to the foremother's promise doesn't mean that she failed. I have hope that we can shine again. We just have to remember from which we came. Family first, and always."
So, what's the real meaning of this music video? Basically, America is a hot mess because we've forgotten that which makes us great: that we are a family, and that the worst of us does not define all of us. And if we can only remember our past and use it to inform our present and our future, then we can rise, we can shine, and we can build a better future — no matter how young and powerless we may feel right now. If you came into this hoping for a mediation on infidelity, you should have known better. JAY-Z's 4:44 has had several mic drop moments, but it might just be this one that's the loudest of all.