JAY-Z's New Video Is Filled With Hollywood's Most Badass Women For The Best Reason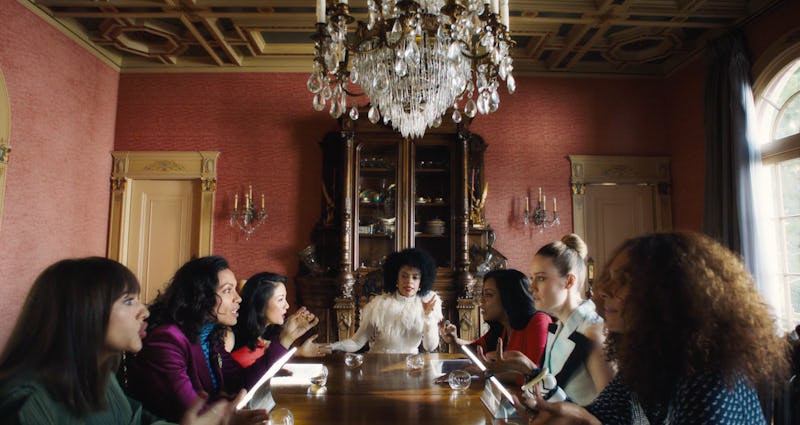 TIDAL
Just as was promised, the "Family Feud" music video by JAY-Z featuring Beyoncé premiered on TIDAL on Friday, Dec. 29. And the wait was beyond worth it. There's a lot of great stuff happening in the Ava DuVernay-directed clip, including a bevy of powerful performances by major stars. The celebrity cameos in JAY-Z's "Family Feud" seem to never end, proving once again that no one does a music video quite like the Knowles-Carter family. (Raise your hand if you're still not over Queen Bey's self-titled surprise drop. Oh, if you're not raising your hand, you're wrong.) If this visual was titled "Eight Minutes Of A-Listers Delivering Incredible Performances," no one could say the title was incorrect.
When the credits roll at the end of the video for the 4:44 track, you may find yourself being like, "Yes, I did notice that there were a lot of celebrities in 'Family Feud,' but I didn't realize just how many graced the screen until I saw all of their names in a row." This roster pulled out all of the stops. Then, it stuck the stops on a space-bound rocket ship. And now, the stops are no where in sight.
One scene, for example, features Rashida Jones, Brie Larson, Niecy Nash, Susan Kelechi Watson, Rosario Dawson, Mindy Kaling, Constance Wu, and Janet Mock. And that's just one scene. And oh, is it a good scene. Set in the year 2050, the aforementioned actors sit around a table to discuss the Second Amendment. The viewer soon learns that they are the founding mothers, and Watson is the president.
It isn't a coincidence that the This Is Us star happens to be wearing an outfit that looks a lot like the feathery ensemble Blue Ivy Carter wears in a present-day scene: In this video, JAY and Bey's daughter grows up to be president.
In addition to the stars that appear in the aforementioned council scene, "Family Feud" features fantastic turns by Omari Hardwick, Jessica Chastain, Michael B. Jordan, Thandie Newton, Trevante Rhodes, Emayatzy Corinealdi, David Oyelowo, America Ferrera, Storm Reid, Henry Sanders, and Irene Bedard.
Yes, just when you're like, "Whoa, it couldn't possibly get more star-studded than this," it does. It really, truly, honestly does. Over and over again.
Set in both the present and the future (and the future's future), "Family Feud" explores several different storylines. When the music video isn't spending time in the years 2050 or 2018, it's depicting something that's happening in the year 2444. Or 2148. And every now and again, it zips on over to the year 2096. Every last one of those time periods includes big deal performances by big deal actors.
And yes, every piece is iconic.
Think the cast list is done? Think again. JAY, Queen Bey, and Future President Blue Ivy are in the video, too. No one is worthy.
All of it seems truly like something out of a dream. A beautiful, too-good-to-be-true dream. To recap: It's a celeb fest of a music video helmed by DuVernay. And it's set to a JAY-Z song featuring Beyoncé. Oh, and there's also a stirring score by Flying Lotus that deserves your ears' full attention. And, once again, Blue Ivy grows up to be president in this music video. What's not to love?
Each segment of "Family Feud" could be its own star-studded music video, but when you put all of the pieces together? The end result is a moving, stunning, important, and incredibly timely music video that will certainly stick with you for a while. Nobody wins when the family feuds, but everyone who watches "Family Feud" wins.