This Sock Company Will Replace The Socks You Lose In The Laundry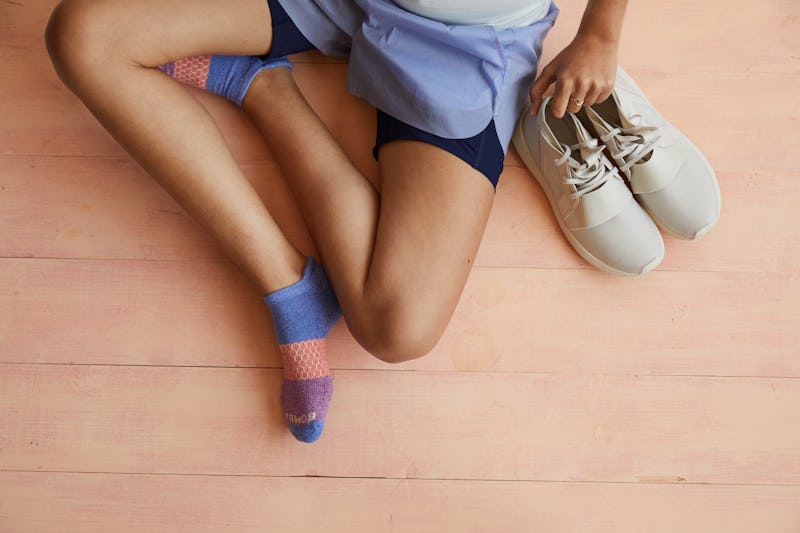 Courtesy Bombas
You know the drill. You're doing laundry and all of those single socks start piling up. You swear that they'll find matches by the time all of the laundry is done, but they never do. Well, this sock company wants to change that once and for all. Bombas offers a Laundry Back Guarantee that sends you a new pair when you lose one in the dryer. So you can say goodbye to mix-and-match socks once and for all.
The Laundry Back Guarantee is simple. Any socks bought from Bombas between Aug. 15 and Nov. 15 will come with essentially come with a one-year warranty. If you lose one of the socks in the laundry between a year of purchasing, the brand will send you another pair free of charge. The deal is good for every single pair of socks — men's, women's, or children's — on the brand's website.
"It's a painful and unavoidable part of living life as a wearer of socks," the Bombas website reads. "But at Bombas, we're fighting back against spontaneous laundry disappearances by introducing: the Laundry Back Guarantee. If one of your Bombas socks disappears into the sock Bermuda triangle, we'll send you a replacement pair, no questions asked."
All you have to do to get a new pair of socks is contact the Bombas' Happiness Team and show a proof of purchase. After that, the brand will send you one in the mail, and you don't even have to pay for shipping. The only catch is that you can only get one pair under the Laundry Back Guarantee. So you're on your own if the dryer gobbles up the second pair.
This isn't all the good that the brand does, either. For every pair that you purchase, one will go to a homeless person in the United States. That's true no matter when you buy. According to the brand, "socks are the number one most requested clothing item at homeless shelters," and it has donated 9 million pairs so far.
The website offers socks for women, men, and children. There's everything from no-show socks to ankle socks and more. The socks come in all different colors and prints too. Socks range from $10 per pair to $86 for an eight pack for women. The children's socks are slightly more affordable.
Speaking of children, Bombas also has a Kid-Proof Guarantee. If your child tears or grows out of his or her socks within a year, you can get a pair sent to you for free as well. The same rules go for this guarantee. You just need to show proof of purchase and let them know within a year of purchase.
Bombas prides itself on their customer service. The website says that the brand will do whatever it takes to make sure customers are happy with their purchase. Whether that means refunds or sending different socks, Bombas has got you.
No other sock company goes above and beyond to make sure that its customers are protected at all times like Bomba. This is a purchase that you can be proud of and know that you're safe from all those lost socks.