Bonnaroo Has Free Laundry Now, So You Don't Need To Smell Like Other People's Sweat Anymore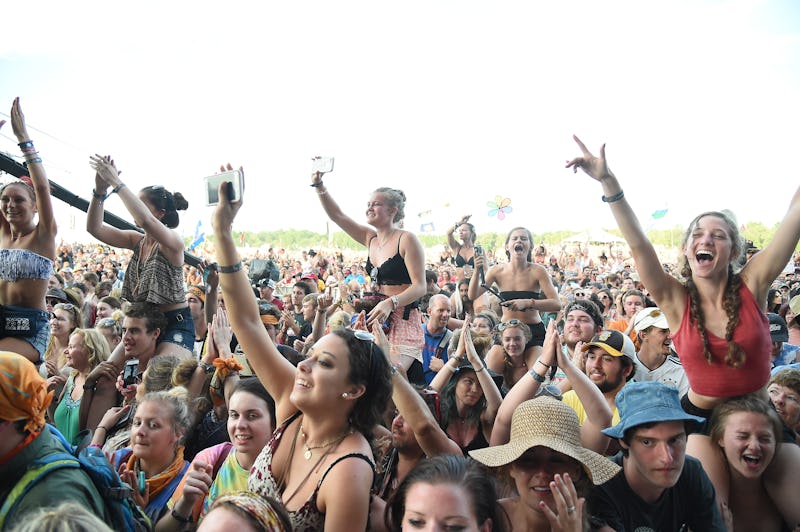 Jason Merritt/Getty Images Entertainment/Getty Images
If you have ever been to a three day long festival, then you know it has its ups and downs. But one festival in particular is going to try to make the experience a little more comfortable, where Bonnaroo will now provide free laundry service throughout the weekend.
Camping on grounds can be as tiring as it is fun, where you not only have late night parties and chances to meet interesting people, but you also have to battle it out for outlets to charge your phone and sleep inside lumpy sleeping bags. And as you go from show to show throughout the day, you'll not only get sweaty in your specially picked festival outfits, but you'll probably end up playing in mud at some point, have ketchup from your hot dog drip down on your shirt, and end up with beer spilled on you — by both your own hand and your friend's. It's just the way it is, and if you don't pack enough, you can end up feeling pretty miserable and disheveled by the last day.
But now with this free new laundry service, you can stay fresh and clean throughout the whole experience. The Manchester, Tennessee festival has come up with the LaundROO Lounge powered by LG and Vintage Clothing Swap in order to help those who don't love feeling like a dirty hippie all weekend long.
The LaundROO Lounge is a 3,600-square-foot laundry spot sponsored by LG, where you can "drop off your danced-in, partied-in clothes and let LG wash them for free." All you will have to do is drop off your dirty clothes at the lounge located in the Centeroo, and they will tell you what time to come pick them up. You will then have a neatly folded and cleaned stack waiting for you, ready to get messed up all over again.
If you have partied all you could in your clothes and don't want to wear them again, you can skip the laundry portion of the festival and instead swap your threads for something new.
Tired of your dress or feel like you have worn a certain blouse to the max? Bring your pieces over to the Vintage Clothing Swap and pick out a whole new outfit for free. But don't worry, these aren't going to be a pile of dirty clothes for you to pick through. LG sourced the help of SoHo-based vintage shop What Goes Around Comes Around to bring 2,500 pieces to the festival to help you create your perfect weekend look.
For those unfamiliar with the store, it doesn't carry Goodwill quality pieces but aims for vintage pieces from luxury labels like Chanel, Balnciaga, and Givenchy, just to name a few. That doesn't mean you're going to find a vintage Fendi leather jacket in a massive pile and take it home for free, but you can expect that the selection will be on-trend, thoughtful, and fun to pick through and create outfits with.
There will also be stylists available there in case you need some help sifting through the pieces and creating an outfit, making the experience feel that much more luxurious. All you would have to do is bring your old clothes and swap them out for the new pieces. They will then be washed and added into the stock, meaning you just might spot someone wearing your dress the next day.
The great thing about these new initiatives that the festival is doing is that it's so generous and hospitable. Everyone expects to look like a sweaty mess when they go to an outside music concert during peak summer, but here is your life raft to look a little less grubby if you don't want to.