Bonner & Sharna Were So Romantic On 'DWTS'
To say that Sharna Burgess and Bonner Bolton have electric chemistry on Dancing With The Stars is an understatement, and boy, they are not going to squash the rumors that they're romantically involved if they keep dancing like this together! Sharna Burgess and Bonner Bolton shared a romantic waltz on Dancing With The Stars, and it was like the other side of last week's dance coin.
Their debut dance on Dancing with The Stars was a cowboy-themed (Bonner is a professional bull rider, so duh) stomper where the two showed off some serious eyes at each other. It was all sex, whereas this week's waltz was soft and romantic and the tale of an epic love story. First we have lust, and now we have love. Of course, both Sharna and Bonner have denied that they're romantically involved. In fact, both have vehemently stated that they are single and r-e-a-d-y to mingle. This is one of those things that I'll believe it when I see it, because Sharna and Bonner's chemistry is like the chemistry that Robert Herjavec and Kym Johnson had when they were paired together on the show. And you know what happened after that? Those two got married and are living happily ever after. Need I say more?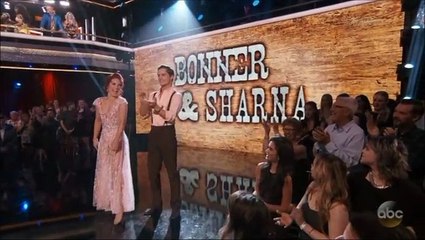 I will say, though, how impressed I am with Bonner's dancing so far. Sharna is a great teacher, and she's forming this bull-riding lump of clay into a full-fledged dancing machine. Bonner's waltz is already so elegant that I can't wait to see what else Sharna can make him do by the end of the season.